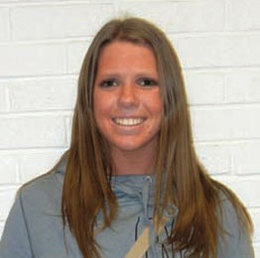 Star Athletes: April, 2013
Kelly Giedemann (pictured)
Washington Township
The Washington Township High School junior became the third member of her family to reach the 1,000-point milestone for her career during a win over Eastern this year. She joins her twin sister, Kylie, and older sister Ashley, a former Minutemaids star, in the exclusive club. The point guard averaged 13.5 points and eight assists per game this season and led Washington Township to its third straight South Jersey Group IV championship.
Mike Sutton
Sewell
The senior midfielder at St. Augustine Prep School will continue his lacrosse career at Penn State. He entered his final season with the Hermits with 124 career goals after netting 56 as a junior. Despite suffering a broken thumb that left him sidelined for the start of the season, he was hoping to return and lead St. Augustine to its first state title.
Jake Forsman
Voorhees
A sophomore wrestler at Eastern High School, Forsman won District 26 and Region 7 championships this season in the 113-pound weight class. His region title qualified him for the state tournament at Atlantic City's Boardwalk Hall. Forsman finished the year with a 35-6 record, giving him a two-year total of 60 wins.
Eliana Roth
Cherry Hill
A senior at Cherry Hill West High School, Roth was just 14 when she became the youngest skater ever to make the Skyliners Junior synchronized ice skating team. In her four years with the New York-based team, the Skyliners have won one national championship and finished second three times. This year, they won the silver medal at nationals in Plymouth, Mich., and took seventh at the world championships in Finland.
Jesse Trigiani
Moorestown
Trigiani, a member of the World Athlete Track Academy in Moorestown, recently placed second in the shot put in the 17-18-year-old division at the USATF National Indoor Youth Championships in Landover, Md. The Moorestown High School senior broke his personal-best by more than a foot with a throw of 50 feet, 6 inches.
Mark Miller
Medford
Miller has succeeded in becoming the first Supreme Grand Master in Medford's new Soccer Juggle Club.?The U14 Galaxy team member juggled a soccer ball with either his head, chest, thighs or feet consecutively 1,020 times—an impressive feat earning him a black and blue swirl wristband and his name on the Medford Soccer Club website.
Andy Murphy, Rebecca Wolf and Christopher Conquest
Cherry Hill, Marlton and Haddonfield
Murphy, a Beck Middle School student, Wolf, from DeMasi Middle School, and Conquest, from Haddonfield Middle School, have been chosen to represent the New Jersey Team in Boyds, Md., as one of the 2013 Brine National All-Stars.?The 2013 Brine National All-Star Lacrosse Academy and Brine National Lacrosse Classic will have middle school lacrosse players from different states competing in regional teams for the 2013 National Championship from June 30-July 3.
Cooper Pontelandolfo and Evan Brown
Marlton
Cooper and Evan, teammates on the Marlton Recreation Council wrestling team, both brought home titles from the South Jersey State Wrestling Championships at Williamstown High School. Cooper, a 10-year-old, captured his third straight state title, as he went undefeated in the Midget Division 73-pound weight class. Evan bounced back from a loss in his opening match and won his next six bouts in the Bantam Division 60-pound weight class to earn his first state crown.
Eric Leonard
Mount Laurel
Leonard, a senior, helped seal the best start to the spring season possible for the boys lacrosse team at Lenape—pitching a shutout in the season opener against Eastern High School. In the Olympic Conference American Division matchup, the Indians came out on top 7-0 against the Vikings.
Cole Hagerty, Alex Kinicki, Dominic Petracci, Jakob Osborn and Charles Chiango
Washington Township
Ranging from categories of Tot to Junior, these young wrestlers persevered to place first in each of their categories at the South Jersey Wrestling League Tournament, ranging from 37 pounds (Tots) for Cole to 75 pounds (Junior) for Charles. Township's varsity team also placed 3rd in the dual meet championship.
Chad Walsh and Jeff Miller
Cherry Hill
The two senior wrestlers ended their standout careers at Camden Catholic High School by taking second in the state in their respective weight classes. Walsh, a 152-pounder, was a Region 7 and District 27 champion this year and finished with a 40-2 record. Miller, a heavyweight, claimed a district title in addition to runner-up finishes at regions and states and posted a 34-5 record.
John Schellenger
Washington Township
Using a unique two-handed approach, Schellenger made great strides during his junior season bowling with Washington Township High School. He led the Olympic Conference American Division with a game average of 215 and high series of 755. He also flirted with a perfect game, coming one strike short of a 300 and settling for a 283. Schellenger helped the Minutemen to an 11-3 record.
Published (and copyrighted) in Suburban Family Magazine, Volume 4, Issue 2 (April, 2013).
For more info on Suburban Family Magazine, click here.
For information about advertising in Suburban Family Magazine, click here.
To find out where to pick up your copy of Suburban Family Magazine, click here.