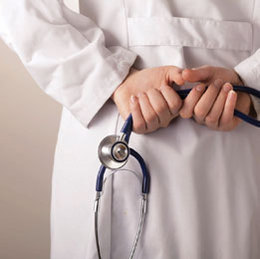 Family Doctor or Specialist?
There are benefits to both, but patients may want to consider their options before making an unnecessary trip.
When pain or illness drives a patient past the point of frustration, one might wonder whether it's time to forego the family doctor and go straight to a specialist.
Shifting insurance regulations mean many patients can take the initiative and book an appointment with a specialist without first securing a referral from a family doctor. But surprisingly, that's not always the wisest course of action.
Studies during the past few years suggest that as many as two in five visits to a specialist are unnecessary, and better health outcomes are experienced by patients who visit their primary care provider first (plus it costs less). Local doctors support this notion and want patients to know the vast majority of their needs can in fact be met by their primary physician.
"Your primary care doctor should be your first line," says Dr. Toby Soble, a physician with Family Practice Associates of Voorhees. "You can never go wrong by coming to your primary care doctor. We build a relationship over time and know your personal history and family health history, which can influence many aspects of health."
What's in a name?
Several different types of practitioners can serve as primary care providers, also known as PCPs. A primary care provider is generally a doctor, but could instead be a nurse practitioner or physician assistant. The PCP should be the main health care professional for all non-emergency situations, according to the National Institutes of Health.
Physicians who serve as PCPs are usually either family practitioners—doctors who completed a family practice residency and care for children and adults of all ages—or internists, those who completed an internal-medicine residency and care for adults of all ages.
A separate but closely related field is osteopathy, which emphasizes the way the mind and all systems of the body work together. A doctor with "DO" in his or her title has a degree in osteopathic medicine. Many osteopaths work in family practices and may appeal to patients seeking a "holistic" approach, with nutrition, fitness, stress management, etc., woven into their care.
Dr. Joseph Cavallaro, an osteopathic family practice doctor in Voorhees, emphasizes the role of preventive care.
"You're trying to prevent disease with a proactive approach," he says. "You don't always want to be fighting disease; you want to help people be healthy for their whole lives."
Local doctors say every patient should have an ongoing relationship with a primary care provider. In general, this doctor will conduct a yearly physical, including weight and blood pressure checks, an inquiry on any health concerns or changes, and often blood work to check cholesterol.
Building a relationship with this doctor over time can help him or her identify subtle changes in a patient's well-being.
"I might have an elderly patient who comes in looking and acting pretty healthy," notes Cavallaro. "But let's say I also see that patient's adult son. That patient may be the one to clue me in that Mom is getting forgetful or falling at home."
The primary care doctor may also be more accessible than a specialist. Those doctors may also have relationships with local specialists, so if a patient does need to move on to specialized care, they can help secure appointments.
If a specialist does end up being needed, the good news is that, though the relationship between primary care providers and specialists is in constant flux, often due to changing insurance regulations, it is currently changing in the patient's benefit.
"Many insurers are removing the requirement of using the primary care provider as a gatekeeper," says Dr. Cheryl Bettigole, a family physician and chief medical officer at CompleteCare Health Network, with locations throughout South Jersey. "Overall, I think this is a positive development."
Bettigole notes that in her own family, her three active young boys have sustained a fair number of injuries through the years.
"A few years ago, we would have needed one referral for radiology, another for orthopedics, and it could easily turn into a multi-day operation," she says. "That process is streamlined if you are not required to wait for referrals."
The question of cost
Depending upon your insurance policy, your appointment with a specialist, and any tests that result, may be covered.
But even if you aren't paying a higher price for that doctor's time, someone is. The Journal of the American Medical Association estimates that $900 billion of health care spending is wasted each year. That figure reflects pricey tests, such as bone scans and electrocardiograms, and prescriptions for illnesses that often resolve themselves, such as sinus infections.
Soble provides an example from her experience: "Say a young woman is demonstrating symptoms of a urinary-tract infection—a very typical illness. Without a primary care doctor, she may head to the emergency room, wait for five hours, may be seen by a urologist, and they'll do expensive tests on her that may be completely unnecessary.
"If she is my patient, I can assess her symptoms over the phone, call in a prescription, and have her follow up with an office visit in a couple of days," she explains. The patient is spared the stress of an emergency room visit, and the health care system is spared the burden of costly scans.
Cavallaro says the primary care doctor's emphasis on health and family history can help if a specialist does indeed take over a patient's care.
"If you start out with a specialist who knows none of your information, no prior test results or medical history, it's a wasted visit," he says. "We can help the specialist make an informed decision by knowing what information they would need and want."
Specialists agree that patients should maintain their ties to a primary care doctor.
"The PCP helps maintain a continuity of care," says Dr. David Hsi, chairman of the cardiology department at Deborah Heart and Lung Center, based in Browns Mills. "A patient needs someone to be in charge of their overall health, and in general, the PCP is the person who can do that and help guide you through the health care system."
When a specialist takes over
In some cases, medical practices follow a specific protocol to determine whether a patient should be seen by a generalist or a specialist. The Deborah Heart and Lung Center follows guidelines issued by the American Heart Association and the American College of Cardiology.
Heart failure, for example, progresses through four stages, says Dr. Raffaele Corbisiero, director of Deborah's Electromechanical Therapy Institute. In Stage A, the patient is not showing symptoms, but shows risk.
"Here, a primary care physician can have tremendous impact on a patient by encouraging them to make lifestyle modifications like quitting smoking and exercising," he notes.
In Stage B, in which heart failure is diagnosed, a cardiologist may step in to determine whether any procedures would improve the patient's condition. Most likely, the specialist won't play the dominant part in the patient's care until stages C and D.
But no matter when a specialist steps in, sharing information with the primary care provider first is crucial.
Bettigole adds that CompleteCare is part of a modern model in which generalists and specialists are under the same umbrella, with computerized records than can be readily shared.
"In our system, I can easily see and meet with our specialists; I know them personally," she says. "It makes it much easier to share information."
Resources
Dr. Joseph Cavallaro
701 White Horse Road, Suite 4
Voorhees
(856) 344-7916
CavallaroFamilyPractice.com
CompleteCare Health Network
Serving Cape May, Cumberland and Gloucester counties
(856) 451-4700
CompleteCareNJ.org
Deborah Heart & Lung Center
200 Trenton Road
Browns Mills
(609) 893-6611
Deborah.org
Family Practice Associates of Voorhees
805 Cooper Road, Suite 3
Voorhees
(856) 751-1777
FamilyPracticeOfVoorhees.com
Published (and copyrighted) in the Art of Living Well pull-out section of Suburban Family Magazine, Volume 4, Issue 2 (April, 2013).
For more info on Suburban Family Magazine, click here.
For information about advertising in Suburban Family Magazine, click here.
To find out where to pick up your copy of Suburban Family Magazine, click here.