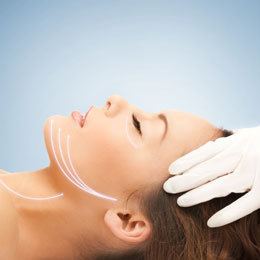 Youthful Rejuvenation
Before you go under the knife, consider the less invasive alternatives that can help you retain—or improve—your appearance.
Everyone wants to look younger. With more people getting healthy, staying active and living longer, a common complaint is "I feel great—but my looks don't reflect it." According to the experts at Harvard Medical School, dozens of changes take place as an individual ages, including a loss of fat volume in the face that can lead to saggy skin and even jowls around the neck. Wrinkles form after years of facial muscles tugging on and eventually creasing the skin—and the loss of fat only makes these wrinkles deeper. While age-related changes are mostly unavoidable, there are some ways you can counteract the changes. A variety of treatment options exist that can give your face a more youthful appearance—without going under the knife.
"Looking younger fits into the new paradigm our society is moving toward, which is non-invasive but effective forms of treatment that take 10 years off our appearance," says Dr. Jesse Liebman of LipoLaser of South Jersey. "Surgery is now becoming an option—not the norm—and should only be considered after all non-invasive options have already been exhausted."
Pooja Malik, MD, medical director of Mullica Hill Skincare, says there are three "D's" taking place in aging that lead to a change in appearance. Those include discoloration, deflation (volume loss), and descent (skin loses elasticity). "We look to take care of those three key problems and have a number of treatments that can help," says Malik. "The discoloration and sun-related issues typically start around age 30 and, by mid-30s, many patients do start to also see some volume loss."
Focus on the face
When it comes to anti-aging treatments, the focus is often on the face, and that makes sense. "The face is the most exposed area and what everyone looks at," says Malik. "Aging happens throughout the body but the face is what people notice."
With all the advancements in anti-aging technology, there are quite a few ways people can obtain a more youthful countenance without surgery. Lauren Van Lieu, medical esthetician at the Lyle M. Back, M.D. Cosmetic Surgery Center of Cherry Hill, says chemical peels are one of the most in-demand ways to get a younger look. Though they can be incredibly effective, she says there are some misconceptions about peels that keep many away from trying them. "There is a lot of fear about peels being painful and I think that keeps a lot of people away," Van Lieu admits. "While they're a little uncomfortable, our patients are often surprised to find it's much more bearable than they ever thought. The most aggressive peel we offer in this office is pretty heavy duty and it's still doable. Chemical peels work on the fine lines and wrinkles around the face."
Van Lieu says glycolic peels are used in the office. Glycolic acid is one of the more common chemical peels. A chemical peel works by applying the chemical to the face to create a controlled wound, which lets new skin take its place. Chemical peels are known to not only reduce fine lines and wrinkles but also improve the appearance of mild scars, reduce age spots and dark patches, and improve the overall look and feel of the skin. Van Lieu recommends a series of five to six treatments for the very best results. "It's a commitment but one that can really pay off," she says.
Back's office also has a special eye peel for the area around the eyes. "When we do a traditional chemical peel, we stay around the outside of the ocular bone," explains Van Lieu. "But with our eye peel, there is no sting or burn so we can go right up to the lash line and out to the side to take care of crow's feet. Most people do both a regular face peel plus the eye peel."
Malik recommends tightening treatments and says it can be effective in the jowl area or around the eyes. "We're getting nice results and the treatments are not painful," says Malik. "You'd want to do about four to six treatments for the best results. For a patient looking for something completely non-invasive, this is the best way to go."
At LipoLaser of South Jersey, Liebman is using Microcurrent Facial Contouring Technology to help patients look younger without a surgical facelift. "It uses tiny microcurrents of energy to tighten the muscles of the face—tightening and lifting the skin," Liebman says. "It also increases collagen so the skin comes back to a healthier glow. This gives you the natural look of appearing 10 years younger without that 'Joan Rivers/pulled-back' look that surgery can sometimes do. Ten weekly sessions gives great results with more youthful healthy skin and decreased fine lines."
Other trouble areas
While it makes the most sense to focus on the face for anti-aging treatments, there are other areas of the body that can be troublesome. Malik says as patients reach their 50s and 60s, they may notice sagging or deep wrinkles around the chest area, which makes wearing low-cut clothing or bathing suits uncomfortable. But there are options. "We can do a deep laser peel around the chest area to make it appear more youthful," says Malik. Liebman says another new technology called the Jet Clear procedure can also be effective for other problem areas. "The Jet Clear Machine uses a sterile jet stream of saline propelled at near the speed of sound used over the troubled areas of the skin, such as under the eyes, the hands, and on the back," he says. "The sterile saline spray cleans and abrades the top layer of dead skin on these areas. The skin is left clean and smooth, similar to microdermabrasion, but using a stream of sterile saline, not crystals like microdermabrasion. It's like power washing the skin with a sterile jet steam."
No matter what treatments you might consider, in the end it's about looking good in order to feel your best. Malik says that's the most important thing. "Most people want to look good for themselves," she says. "It boosts self-confidence and, when they look their best, they just feel better. I'm sure everyone has different reasons for wanting to look younger, but the one that's probably most common is self-confidence."
Van Lieu adds that she gets a great feeling when she can help her clients look better. "I love making people feel good about themselves and seeing them walk out of here with a big smile," she says. "Even taking just one year of age off the face can make people feel great. Fortunately, with today's technology, we can often take many years off the face and help people have a much more youthful appearance."
Resources
LipoLaser of South Jersey
100 W. Old Marlton Pike
Marlton
(856) 872-2003
LipoLaserFat.com
Lyle M. Back, M.D.
Cosmetic Surgery Center of Cherry Hill
1942 Route 70 E.
Cherry Hill
(856) 751-7550
ILoveLyleBack.com
Mullica Hill Skincare
201 Bridgeton Pike
Mullica Hill
(856) 478-4700
MullicaHillSkincare.com
Published (and copyrighted) in the Art of Living Well pull-out section of Suburban Family Magazine, Volume 4, Issue 2 (April, 2013).
For more info on Suburban Family Magazine, click here.
For information about advertising in Suburban Family Magazine, click here.
To find out where to pick up your copy of Suburban Family Magazine, click here.