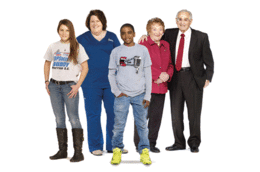 2013 Citizens of the Year
Every now and then you meet someone who is not content to be another face in the crowd, someone who realizes it's not the size of the gesture but the thought that counts when it comes to making a difference in the lives of others. We've featured a number of such local residents throughout the past year in our monthly Star Citizens section—ranging from elementary-aged all the way through senior citizens—and now the time has come where we take a look back at the best of the best, plus put a spotlight on a few new people who have caught our eye.
This year, we've chosen 24 people to feature as our Suburban Family Citizens of the Year. We hope you'll agree the contributions they have made to their friends, families and communities are inspiring, no matter how big or small.
Ann Coyle
Audubon
For the past nine years, Coyle has facilitated a bereavement support group at Virtua Voorhees Hospital, where she is a neonatal intensive care nurse. As the leader of HOPING (Helping Other Parents In Normal Grief), Coyle is the first person to sit with parents whose newborns don't survive. She is also the facilitator of the hospital's Angel Garden, which is a memorial garden and waterfall where families can visit to remember their lost children. The garden was in the blueprint for the new hospital Virtua was building, and while there was not enough funding to complete it, Coyle led the charge to raise the $30,000 needed to make the garden a reality through cookbook and bake sales, quilt raffles, and more. In recognition of the time and dedication the 25-year NICU veteran shows her patients and their families, Coyle was named the 2012 winner of The Johnson & Johnson Campaign for Nursing's Future "Amazing Nurse" contest. She was also honored in December as part of the 2012 CNN Heroes: An All-Star Tribute live broadcast show.
Sean, Matthew and Christopher Beane
Haddonfield
The three Beane boys, together with their parents, Christopher and Mary, donated $6,000 to the Intensive Care Nursery (ICN) at Our Lady of Lourdes Medical Center through their namesake charity, The Beane Boys Foundation. The money was raised at the foundation's annual golf outing, which has been held for the past six years and has raised $22,500 to date. The most recent donation will be earmarked for disadvantaged families who may not be able to afford the supplies they need to take care of their babies during their early days at home. The foundation is named for twins Sean and Matthew, who spent three months in the ICN in 2003, and Christopher, who was there for a few days in 2007. Mary also spent eight weeks in the antenatal unit prior to Chris' birth.
Nolan Walter
Medford
After learning that children in the Dominican Republic used milk cartons or other improvised items as baseball gloves, Walter, now 12, decided to do something about it. With the help of his parents and siblings, Walter held collections at several local schools for baseball gloves and other sports equipment to donate to the children. His family traveled to the Caribbean during their spring break to deliver the gear in person.
Matthew Grosmick
Washington Township
Utilizing skills he learned in his eighth-grade shop class, Grosmick hand-crafted more than 80 wooden games to donate to the pediatric ward and emergency department at Underwood Memorial Hospital in Woodbury. The Washington Township student, now a junior, created the puzzles and games as part of his Eagle Scout requirements, but helping to bring a little joy to the hospital's patients was a major driving force of the project.
Zoey and Paris Atabek
Mount Laurel
The Atabek sisters traveled to Ghana in West Africa to deliver school and dental supplies to students in need. The Atabeks, now Lenape High School alumni, are Girl Scouts, and received a Gold Award for their efforts. They were also recognized by the Mount Laurel town council for earning the highest honor a Girl Scout can achieve.
Mary Lamielle
Voorhees
After being housebound for years due to chemical sensitivity, Lamielle started the National Center for Environmental Health Strategies in Voorhees as a way to advocate for those with conditions like hers, and to help promote healthy and clean environments. In recognition of her efforts, the Camden County freeholders honored Lamielle with a 2012 Camden County Freedom Medal. The award is presented to citizens who embody the character of Dr. Martin Luther King Jr.
Dylan Cohill
Medford
As a student at Shawnee High School, Cohill was more than just a successful student-athlete. He also played an active role in his community by volunteering at Faith Presbyterian Church and traveling to Tennessee and Pennsylvania on mission trips to help the less fortunate. He also lent a hand to the Special Olympics, and assisted with Great Escape, a conference for middle school students at the University of Pittsburgh, all experiences that are undoubtedly helping him now through his first year at Wesley College.
Brad Bono
Haddonfield
Bono knows first hand, as the father of an autistic child, how technology can positively affect the growth of children with autism spectrum disorders. With his son in mind, Bono donated six Apple iPads and four interactive applications to the Child Development Program at Our Lady of Lourdes Medical Center. The new technology is being used to help enhance the curriculum for children with ASD at the center.
Meghan Vizzard
Mount Laurel
When her 19-year-old cousin was diagnosed with cancer, Vizzard, then a sixth-grader at Hartford School, made her a fleece blanket she could take to her chemotherapy treatments. Her cousin liked the blanket so much that she asked Vizzard to help her make one for a friend. That's when the idea for Project Cozies 4 Chemo was born. Since its inception, Vizzard has raised more than $1,200 to make soothing blankets for children dealing with cancer. Last April, she visited the Cooper Cancer Institute in Voorhees to personally deliver blankets to patients there.
Trudi and Irv Herman
Moorestown
The Hermans started a chapter of "It Takes A Village," a national grassroots volunteer group that provides assistance to seniors, people with disabilities, and returning veterans in Moorestown. But in just the last year, the group has drastically expanded to cover Cinnaminson, Delran, Hainesport, Maple Shade and Mount Laurel. That's all thanks to the dedication of a couple dozen—and rising—volunteers. The "neighbors helping neighbors" initiative aims to make it possible for these individuals to live independently in their own homes by assisting with daily activities such as grocery shopping and doctors visits. The group, which is looking for more clients, also provides companionship to those who need a sympathetic ear. There are currently 55 Villages across the nation, and the Hermans' branch is the first for South Jersey.
Elena Zangerle
Marlton
As a Doane Academy senior, Zangerle spent her spring vacation last year in an unconventional way: swinging hammers and distributing donations of clothing and supplies during a service trip to impoverished districts of Guatemala. Zangerle was joined by a small group of classmates for the week-long trip, which culminated with the building of a new deck for the local nutrition center.
Adriane Ajayi and Monica Procaccio
Monroe Township, Pitman
Ajayi and Procaccio were a driving force behind Gloucester County College's new "Veterans' Bookshelf" initiative, which encourages students to donate rather than sell their used textbooks to help students who are veterans. The program, which is managed by the school's Student Veterans Organization and assisted by the Vanguard literary club, collects books that veterans can borrow until they receive the financial assistance they need to purchase books themselves.
Rocco Fiorentino
Voorhees
Fiorentino, now a sophomore at Eastern High School, has spent many hours advocating for blind and visually impaired children, like himself, and their families. As a result of his efforts, $1.5 million has been dedicated to Braille services and education in New Jersey, and with the help of local legislators, he was able to convince the governors of New Jersey and Pennsylvania to sign a bill naming October "Blindness Awareness Month." Last summer, Fiorentino was the recipient of the American Foundation for the Blind's Helen Keller Award, which honors people who continue Keller's legacy to leave the world a better place than they found it.
Kelly Adams
Medford
A special education teacher at Haines Sixth Grade Center and program director for the Medford-based Kaleidoscope Therapeutic Riding Program, Adams received the Sy Kantrowitz Humanitarian Award for her efforts to improve the lives of special needs children and students. Along with fulfilling her teaching duties at Haines, Adams also guides the therapeutic horseback riding program at Flora Lea Farm, where children receive a unique form of physical and speech therapy while working hands-on with horses. The nonprofit offers equestrian therapy for kids and adults with special needs such as autism, cerebral palsy and traumatic brain injuries.
Spencer Levy
Cherry Hill
Spencer, now in sixth grade, has raised more than $3,200 for the Children's Hospital of Philadelphia through his Cookies for Kids campaign. He started the venture in 2008 at just 6 years old when he decided it would be a good idea to have a bake sale and donate the proceeds to CHOP. He has beaten his previous year's fundraising record each year, and in 2012 raised $1,052 for the cause.
Grace Baccare
Haddonfield
Two years ago, Baccare, now a junior at Haddonfield Memorial High School, started a campaign to collect gently used prom dresses to donate to girls in need. Last year, Baccare was able to gather 30 dresses for the cause, enabling girls in Gloucester City to enjoy their big night out without the stress of having to buy an expensive gown. The dresses that were not used were donated to Fairy Godmothers Inc., a national organization that holds "Prom Fairs" where high school girls can purchase new and gently worn formal gowns for $10.
Saadiq Wicks
Voorhees
Since creating "LLLet Me Finish," a group committed to inspiring young people who stutter, last year, 11-year-old Wicks has received some impressive accolades. Among them is meeting actor Paul Rudd at Rudd's All-Star Bowling Benefit, where Rudd donated the proceeds to "Our Time," a theater company that uses the arts to build the self-esteem of children who stutter. Our Time recently chose LLLet Me Finish as its official educational, anti-bullying and awareness-building program. Through T-shirt sales and other fundraisers with LLLet Me Finish, Wicks and his mother hope to hold workshops and forums to help raise awareness of the speech disorder. Wicks is also working on raising enough money to send five children to a camp Our Time sponsors for children who stutter. He's also working on holding his own weeklong day camp in Voorhees this coming July 15-19 for those ages 6-11. Kids will participate in character awareness activities, theater workshops, sports-themed events, and more. For more information, visit OurTimeStutter.org/LLLet-Me-Finish or call (856) 952-4375.
Samantha Marker
Mount Laurel
As the teen librarian at the Mount Laurel library, Marker has done her best to get teens involved and to care about the facility. Among the many programs she has instituted while expanding the offerings for teens, Marker created a Teen Advisory Board to institute fun physical activities like Humans vs. Zombies, as well as creating the Mega Mega Teen Tunes concert event and leading a 65-student summer volunteer group. In recognition of her efforts, Marker was honored with a Rising Star Award from the New Jersey Library Association.
Crow Woods Gardeners
Haddonfield
At the peak of last summer's growing season, volunteers from the Crow Woods Community Garden donated as much as 100 pounds of produce a week to the Food Bank of South Jersey. The idea to donate the excess produce came from gardener Brenda Zadjieka, who herself delivered up to 100 pounds of fresh tomatoes, cucumbers and more to the food bank and people in need. With a record membership of 100 last year, the group has continued to grow since its inception in 1982, so this year's donation should be even more impressive.
Angela Donato
Washington Township
After months of lobbying, Donato and her family, who together form the Toni Donato Bolis & Baby RJ Foundation, were rewarded for their hard work with the signing of the "Kulesh, Kubert and Bolis" law, which allows prosecutors to charge those driving while illegally using a cell phone with being reckless, meaning prosecutors can then file criminal charges against them if they cause serious injury or death as a result of the use. Donato lost her nine-month pregnant sister, Toni, in a head-on collision caused by a distracted driver, and has made it her mission to educate the community on the dangers of distracted driving. Campaigning for the law, which bears her sister's last name, is just one initiative Donato has taken to make people more aware of the need to simply put the phone down.
Pankhuri Jha
Moorestown
When Jha visited India to help teach the local children English and math, she learned first hand how willing they are to learn and express themselves. In an effort to encourage them to reach further for their dreams, Jha began publishing Baal Chaupaal, a literary magazine full of poems, essays and stories by children of India, New Zealand and the U.S. She partnered with the Ark Foundation, an organization that promotes a universal education method for children, to develop the magazine, and all proceeds are donated to the foundation. Jha, now a senior at Peddie School in Hightstown, hopes the magazine will eventually advocate children's literacy and expression on both global and national levels.
Kayla Memis
Harrison Township
Student advocate, fundraiser and peer cheerleader are just a few titles Memis can already add to her resume as a freshman at Clearview Regional High School. Most recently, she helped to develop the Harrison Township TOPSoccer program, which provides athletes with disabilities the chance to hit the field and learn the sport. She formed the organization with her father's help, but he gives her all the credit for her impressive recruitment. Though the program only expected four to 10 athletes to sign up for its first season, 35 signed up, along with dozens of buddies—the nickname for the young mentors teaming up with the kids to teach them the right skills. The program recently evolved into TOPSports, with plans in the works for baseball, basketball and more. As a big sister to a brother with a disability, Memis has also been active in Buddy Walks, which raise funds for Down syndrome awareness programs, and has led a school campaign for zero tolerance of the "R" word.
AJ Mattia
Washington Township
Battling bone cancer has not slowed this seventh-grader down. If anything, it has made him stronger. After sustaining the amputation of his left leg due to the disease last year, Mattia teamed up with the Go4theGoal foundation to raise funds and awareness in support of pediatric cancer. Since the partnership was created, Mattia has appeared on national television, and convinced representatives for the Ben Franklin Bridge and the Borgata in Atlantic City to light their structures up in gold for pediatric cancer awareness, among other things. Mattia also launched his own personal effort "Lace Up 4 Pediatric Cancer" where he sells bright, gold shoelaces for a $5 donation to the cause.
Lou Faiola
Cherry Hill
The owner of Cherry Hill's School of Rock, Lou Faiola, teamed up with reality TV producer Steve Holtzman to form Bands of Brothers, an online reality TV show aiming to raise awareness for servicemen and women with post-traumatic stress disorder. The show revolved around the formation of three rock bands made up of 12 veterans who were preparing for a concert on Veterans Day. All proceeds from the show and concert were donated to Give an Hour, a nonprofit based in Bethesda, Md., that provides free counseling and other mental-health services to veterans. Following a successful first season, which wrapped up in November, a second season is now in the works, with the hopes of reaching even more people suffering from PTSD.
Published (and copyrighted) in Suburban Family Magazine, Volume 4, Issue 1 (March, 2013).
For more info on Suburban Family Magazine, click here.
For information about advertising in Suburban Family Magazine, click here.
To find out where to pick up your copy of Suburban Family Magazine, click here.