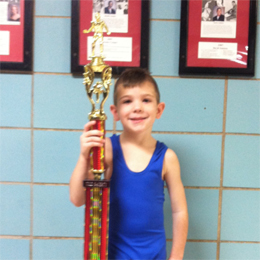 Star Athletes: March, 2013
Voorhees Middle School Soccer Teams
Voorhees
The girls and boys soccer teams of Voorhees Middle School are on a roll. In the Camden County Championships, both teams left as winners. With their undefeated 11-0-2 record, the boys also won the 2012 League Championship for the second year. They were undefeated last year with a 13-0 tally.
Cole Hagerty
Washington Township
(pictured) Several Washington Township Junior Wrestlers placed at the recent Jimmy Reese Memorial Tournament at Highland Regional, including 5-year-old Cole Hagerty—who walked away with a first place trophy as tall as himself. In the 38-pound tot category, Cole pinned his final opponent in a time of 1:28.
Josh Borrelli
Medford
Shawnee High School basketball point guard Borrelli has been leading the Renegades toward victory. The team was 17-2 earlier this season, including 6-0 in the league, and Borrelli is the 15th student in Shawnee history to score 1,000 points during his basketball career.
Mario Tobia
Mount Laurel
Tobia, an athlete and graduate of Cinnaminson High School, was honored at the annual Philadelphia Sports Writers Association banquet. He was presented with the 2012 Most Courageous Athlete Award. Although blind since the age of 50, Tobia has been golfing for the last seven years.
Taylor Ng
Haddonfield
Haddonfield Memorial High School senior Ng recently won all of her matches in the United States Tennis Association Level 2 National Open. She competed at the Baseline Tennis Center of the University of Minnesota in two doubles and five singles with 32 other girls age 18 and under. The National Open event lasted three days and two of the girls Ng played against in the singles matches ranked in the top 75 in the entire U.S.
Austin Wetterau
Medford
Wetterau, a Shawnee senior wrestler, became the first with the Renegades to win 100 matches. At 170 pounds, it happened against Egg Harbor when he pinned his opponent in 1:40. Wetterau completed his career record at 100-20 and his team won 11 of 14 bouts, boosting their season record to 11-0.
Meghan Malloy
Haddonfield
After many accomplishments, including winning the South Jersey Group 2 championship and being South Jersey's best finisher at the Meet of Champions, the New Jersey Track Coaches Association gave Haddonfield senior Malloy the title of South Jersey's Cross Country Runner of the Year.
Giovanni Augustine, Yazmine Wade, Philip Hoover and Liam Hughes
Moorestown
The weekly Civility Awards in Moorestown, a program started just this past year, are granted to players on a youth sports team who are nominated by their coaches. Some of the qualities promoted by the award are sportsmanship, integrity and teamwork. Recently, these athletes were recognized for going above and beyond their call by displaying a positive attitude and supporting their teams on and off the field.
Jenna Zagoren
Cherry Hill
Cherry Hill West junior Zagoren qualified for the USA Swimming Scholastic All-America Team. Each year, USA Swimming recognizes its members who excel in both the classroom and the pool. The Scholastic All-America Team is made up of high school student-athletes who have a grade point average of 3.5 or higher and who have achieved the required time standard in a single event. Zagoren joins just 1,230 athletes nationwide.
Dave Robinson
Mount Laurel
Robinson, originally from Mount Laurel and a graduate of Moorestown High School, has been eligible for the Pro Football Hall of Fame for the last 34 years, but it wasn't until Feb. 3 that he received the call that he was in. A distinguished outside linebacker, Robinson won two Super Bowls and an NFL championship during his time with the Green Bay Packers and Washington Redskins.
Alena Rakita
Cherry Hill
Cherry Hill native Alena Rakita, just 11 years old, came in first place in the girls 14-and-under division in this year's annual Norcross Run the Bridge 10K, the largest such event in the region. She beat her next closest competitor by nearly four minutes and posted an overall time of 51:16.
Ana Baranowski
Marlton
Holy Cross High School student-athlete Ana Baranowski signed a Letter of Intent with Stetson University that has awarded her financial compensation for women's lacrosse. Baranowski was the only Holy Cross player to score in every game her team played last year. Last season, she led the Lancers with 36-plus goals and has one more spring season ahead before graduation.
Published (and copyrighted) in Suburban Family Magazine, Volume 4, Issue 1 (March, 2013).
For more info on Suburban Family Magazine, click here.
For information about advertising in Suburban Family Magazine, click here.
To find out where to pick up your copy of Suburban Family Magazine, click here.