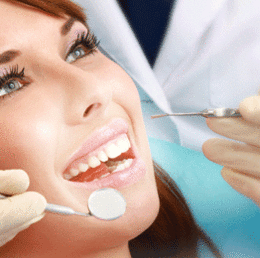 A Fresh Start
With the latest in cosmetic dentistry procedures, patients will no longer be afraid to smile wide.
Do you avoid smiling because you don't like the way your teeth look? Maybe a special family event is coming up and you are unhappy with how your smile looks, or, worse yet, perhaps you fear it could interfere with your career advancement. Reasons vary, but one thing is clear—Americans are increasingly turning to cosmetic dentistry to improve their appearance. According to the American Academy of Cosmetic Dentistry (AACD), Americans spend $2.75 billion a year on cosmetic procedures.
Thanks to advances in cosmetic dentistry, dentists have the tools to more easily create healthy smiles. The path to those smiles and dental wellness depend on patient needs, which can include uneven, misshapen, chipped, discolored or missing teeth as well as receding gum lines. According to Medline Plus, a National Institutes of Health Web service, teeth whitening, bonding of front teeth, and tooth-colored fillings are the most frequently requested procedures.
A variety of treatments
In Dr. Gail Childers' practice, Periodontal Health Professionals, which has offices in Marlton and Turnersville, the ages and reasons for work vary from teenagers who need simple procedures after braces are removed to women in their 20s and early 30s who want to improve their appearance. "I also have many patients, 55 to 60, who want to get some work done before retirement," says Childers. "They've put everyone first and now it's their turn."
So where do you begin? According to Childers, cosmetic dentistry is often a team effort. "Before a patient invests time and money in cosmetic work, a periodontist should confirm the patient has adequate oral support for the work," he cautions. "If there are problems with the gums and/or bone, it's important to determine what caused the problem as well as to correct it."
Is the problem clenching or grinding teeth, or improper brushing? Are the teeth sitting correctly? Sometimes the gum line needs to be adjusted or bone recontoured or regenerated; perhaps the patient has periodontal disease. In some cases, periodontal surgery is used to correct irregularities, by adding or removing gum tissue in certain areas to provide a proper framework.
With Dr. Mary F. Farren, whose Cherry Hill dental practice revolves around family and cosmetic dentistry, diagnosis and treatment of periodontal disease is a major focus. Patients are often unaware of some of the symptomless infections that can occur, which can destroy the gums and bones. Whether patients do experience symptoms, including bleeding, red or swollen gums, or have no apparent signs, Farren explains that proactive evaluation is important to avoid bone and tooth loss along with other medical conditions.
If the problem is poorly positioned teeth, it is best to consult with an orthodontist first. But once a strong foundation has been established, it's time to meet with a general dentist, prosthodontist (a dental specialist who is skilled in the replacement of missing teeth and the restoration of natural teeth) or, in some cases, an orthodontist.
For patients concerned about the outcome of a procedure, state-of-the-art "computer imaging" allows a dentist to create visual restoration on a computer screen. "By designing my patients' smiles, teeth height, shape and color digitally, it's less of a guessing game for my patients because they can see beforehand what the results will look like and make an informed decision," explains Dr. Howard Lassin, who offers family, cosmetic and restorative dentistry in Cherry Hill.
Patients who have struggled with the problems associated with dentures, including bone loss, tooth decay and periodontal disease, may benefit from "overdentures." The AACD website describes overdentures as an alternative to traditional dentures, combining a fixed bridge anchored by dental implants. This technique prevents bone loss that could result from dentures alone.
Lassin recalls an older female patient who suffered for years with a lower removable denture. Due to years of wearing one, she had little remaining bone to support a comfortable denture. "Our team was able to create a non-removable prosthesis (a combination of dental implants and a fixed bridge) with which she can eat anything with comfort and security. She now smiles and is enjoying her life much more."
One of the simplest cosmetic fixes is whitening for discolored teeth that are otherwise healthy. Another option is porcelain veneers, made from ultra-thin shells of porcelain that are matched to your exact tooth color. They are permanently bonded to the fronts of teeth, giving them an entirely new appearance. Dr. LaDerrick Bullock of the South Jersey Center for Advanced Dentistry in Marlton recently treated a young woman who was embarrassed by her dark-colored teeth. "We restored her smile and her confidence with veneers."
The confidence dentists can help instill in their patients is often the driving force behind what they do, and a wide smile tends to be a sign of a job well done. In Farren's office, they use a whitening approach that combines an in-office procedure and a take-home kit to achieve the most optimal results. The Sapphire system involves chairside teeth whitening, in which natural teeth can become six to 10 shades lighter within 30 minutes. To further reinforce the outcome, patients are provided with a take-home bleaching kit after the procedure.
"Our patients smile with greater pride and ease no matter if they require [whitening], a crown, bridge or full dentures," Farren says, adding they also have what's called a Cerec machine, which allows them to fabricate porcelain crowns in one day by using computer technology to create an esthetic restoration specifically for each patient.
"Patients really love this technology and the fact that they do not have to endure yucky impressions, a second office visit to get their crown put in, and temporaries that tend to fall out," Farren says.
More structural support
If small gaps between teeth make you self-conscious, applying composite material can close them. For large gaps or other surface flaws, the dentist may recommend veneers or refer you to an orthodontist. You and your dentist can determine whether bonding, veneers or braces are the best treatment option.
If minor flaws such as chipped, broken or misshapen teeth are affecting your smile, "bonding" may be a solution. The dentist applies and shapes or "bonds" the plastic filling material directly to the tooth, creating a more natural replica. With exposure to a high-intensity blue light, the resin hardens almost instantly and can be sanded, smoothed and polished until it closely matches the natural shade and shape of surrounding teeth.
If you hesitate to smile because of missing teeth, dental implants with a crown built on the implant may be an option. Dental implants replace the roots of lost teeth, providing a foundation for crowns that look, feel and function like natural teeth and help to maintain the bone support of adjacent teeth, extending their life span.
If a tooth has been badly broken or is structurally weak, a crown may be needed. Today, crowns on front teeth are made of tooth-colored porcelain. It may be all porcelain, or, more typically, porcelain with metal inside that fits over the tooth.
Although the American Dental Association recognizes only two specialties—prosthodontics and orthodontics—close to 8,000 dentists, who are AACD members, attend continuing education courses to stay abreast of the newest developments and become certified in cosmetic dentistry techniques.
Today, advances in cosmetic dentistry make it easier and less painful for anyone to achieve a healthier, more attractive smile.
Resources
Dr. Mary F. Farren, DMD
1908 Springdale Road
Cherry Hill
(856) 751-6606
MaryFarrenDMD.com
Lassin Dentistry
1401 N. Kings Hwy.
Cherry Hill
(856) 795-8080
LassinDentistry.com
Periodontal Health Professionals
Locations in Marlton and Turnersville
(856) 983-5593, (856) 228-4141
DrGailChilders.com
South Jersey Center for Advanced Dentistry
750 Route 73, Suite 209
Marlton
(856) 452-0089
MarltonDentist.com
Published (and copyrighted) in the Art of Living Well pull-out section of Suburban Family Magazine, Volume 4, Issue 1 (March, 2013).
For more info on Suburban Family Magazine, click here.
For information about advertising in Suburban Family Magazine, click here.
To find out where to pick up your copy of Suburban Family Magazine, click here.