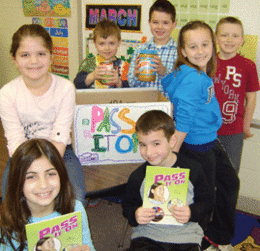 Star Students: February, 2013
Washington Township High School Students (pictured)
Washington Township
The students of Washington Township High School crowded the gym, dancing until 8 a.m. on Jan. 18 during their Monzo Madness fundraiser. The two week-long fundraiser, which culminated with a night of dancing, collected $30,000 from participating students through the Interact Club in support of ALS research. Since the event started in 2003 by former teacher Tracey Naval— who lost her sister to ALS—the school has raised more than $150,000.
Erin and Chloe Chen
Moorestown
Erin and Chloe Chen auditioned and won positions on the South Jersey Band and Orchestra Directors Association's (SJBODA) Honor Music Ensembles. Erin, a cellist, won a position in the high school group as a ninth-grader, while her younger sister, Chloe, who plays the clarinet, won a position in the middle school group as a seventh-grader. SJBODA is an organization that fosters and supports quality music education in the area.
Harrington Middle School students
Mount Laurel
Seventh- and eighth-grade students from Harrington Middle School put forth an outstanding performance during their first showing at the Holy Cross Math Tournament, with seven advancing to the top 16 individual finals. Two teams also went on to beat 50 other competitors at Holy Cross High School and joined one other local school in the final team's competition, ultimately placing third.
Timothy Martin
Medford Lakes
Martin, a student at King's College, decided to take his studies out of the country this spring. The junior was selected as the winner of a scholarship to aid his courses at the Shanghai University of Finance and Economics in Shanghai, China, where he will focus his studies on international business.
Cherokee High School Students
Marlton
In the National Russian Essay Contest, 12 Cherokee students competed by writing an essay on the topic "Our School." In the competition level "beginner," eight students (Jordan Betze, Robert Gillin, Zachary LoPresti, Emily McGovern, Kurabek Mukhamadiev, Yulduz Mukhamadiev, Elizabeth Popov and Nicholas Viggiano) received the silver award and three (Matison Jaffe, Amanda Mueller and Jessica Rusch) received bronze. In the native speaker category, Anvar Ibragimov won the bronze. A total of 1,220 students participated in this national contest.
Lenape Future Business Leaders of America
Mount Laurel
Out of the 30 members of Lenape's FBLA who participated in the Southern Regional Competition, 14 placed, with five members receiving First Honors: Roshan Vasoya, Andrea Orta, Devin Vasoya, Natasha Mathur and Alec Shah. These students will be representing Lenape at the FBLA State Leadership Conference on March 14 in topics such as accounting, marketing, sports management, and many more.
Jeremy Penn and Monica Wei
Cherry Hill
Cherry Hill East seniors Penn and Wei led their peers in a molecular biology and bioinformatics research project with Rutgers' Waksman Student Scholar Program. The students participated in genomic sequencing analysis of a duckweed plant. The novel gene sequences they analyzed have been published in the National Center for Biotechnology Information Database.
Symone Johnson-Arline
Voorhees
To encourage literacy among students, the Kresson Elementary School first-grader joined her teacher's Reading Olympics event. But Johnson-Arline went above and beyond, reading more than 400 books within only two months.
Fourth- and fifth-graders at Thomas Paine Elementary
Cherry Hill
Fourth- and fifth-grade students at Thomas Paine worked for several months on a large mural advocating peace. Painted across the wall behind the school's stage, the students painted the word "Peace" in 27 different languages. An image of a dove sits in the middle, and serves as a prominent daily reminder for the students.
Medford Memorial seventh-graders
Medford
Schools from all across the East Coast turned in work for Beneficial Bank's Beneficial Foundation School Challenge, but only 10 were chosen—one of them being the seventh-graders at Medford Memorial Middle School—as the finalists to win a $5,000 grant. Students worked with the staff to come up with a community education project that fit within the guidelines of the competition, then submitted results as one of more than 100 entries. Along with the grand prize of $5,000, students also have the opportunity to win $1,000 or $500 to go toward the school.
Christopher Canal
Haddonfield
Canal, an eighth-grader at Christ the King Regional School, won first place in the Lions Club of Haddonfield's annual Peace Poster Contest. His work was submitted for consideration by art teacher Jill Palacki. Along with the Lions Club recognition of his message of peace, Christopher won a savings bond and a plaque to commemorate his creative work.
William Allen Middle School OASIS Club
Moorestown
The students of Pam Keller's OASIS Club at William Allen Middle School have been very active the last couple of months. After December's projects wrapped up, they made casseroles for local homeless shelters in January—recognizing the fact that the need to reach out to those less fortunate extends well beyond the holidays. This month, they visited the Evergreens retirement community with floral arrangements and cards they made for Valentine's Day.
Published (and copyrighted) in Suburban Family Magazine, Volume 3, Issue 12 (February, 2013).
For more info on Suburban Family Magazine, click here.
For information about advertising in Suburban Family Magazine, click here.
To find out where to pick up your copy of Suburban Family Magazine, click here.