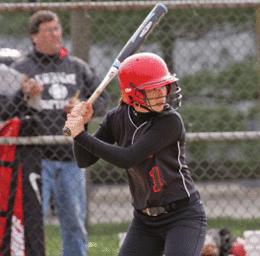 Softball
Bishop Eustace Crusaders
PLAYERS TO WATCH: Junior infielder Brianne Innamorato was a first-team all-Olympic Conference National Division selection. Senior catcher Mary Kate Dunn was a second-team choice.
OUTLOOK: The Crusaders were hit hard by graduation and, while expected to be competitive, won't be picked among the favorites in the National Division. Eustace will be guided by first-year coach Kat Dreitlein and she will bring a lot of enthusiasm to the program.
Camden Catholic Fighting Irish
PLAYERS TO WATCH: The Irish will have one of the top batters with senior pitcher Susan Wysocki and senior catcher Alexandria Summers, who were both first-team all-Olympic Conference National Division choices. Senior outfielder Phylicia Pellot was a second-team choice.
OUTLOOK: The Irish are the defending Olympic Conference National Division champions and advanced to the S.J. Non-Public A championship before losing 3-2 to St. John Vianney in eight innings. Once again, Camden Catholic will be a threat to win both championships. As usual, the Irish will be a major contender in the Olympic National Division and a threat in the postseason as well.
Cherokee Chiefs
PLAYERS TO WATCH: Sophomore pitcher Patricia Griffin and senior first baseman Shelby Rohrer were second-team all-conference players. Other returning veterans include junior outfielder Samantha Albertson, sophomore pitcher Dannie Dinsfriend, senior catcher Ciara Catling and senior shortstop Katie Oligino. Seniors Georgie Streb and Brittany Hackman were key letter winners.
OUTLOOK: The Chiefs were 7-14 last season and, while improvement is likely, they are expected to be a year away from contention. With two sophomore pitchers, the future is bright for coach Nicole Lum's team.
Cherry Hill East Cougars
PLAYERS TO WATCH: Junior outfielder Casey Clark earned first-team all-Olympic Conference American Division honors. Senior infielders Rebecca Froyd and Lindsay Savar were second-team choices. Senior Emily Shaffer was a starter at shortstop who could see time at catcher this season. Junior Megan Martin is a third-year starter at second base. The Cougars have pitching depth with junior Michelle Sachais and freshman Kendall Geis. Among the other veterans are junior outfielder Andi Leff, sophomore infielder-outfielder Kendall Boardman, senior rightfielder Alex Peipher and junior catcher Sarah Birchmeier.
OUTLOOK: The Cougars were 5-15 last season but an indication of how competitive they were was the fact that they lost seven one-run games. So with a relatively experienced team returning, the Cougars look to get to the .500 level, although it is never easy while competing in the Olympic Conference American Division.
Cherry Hill West Lions
PLAYERS TO WATCH: The Lions have two returning first-team all-conference performers, junior centerfielder Alicia DeFlaviis (.479) and junior shortstop Sierra Machinski (.342, 25 RBIs). Returning second-team all-conference choices are sophomore leftfielder-catcher Linda Kovacs (.544 on base percentage) and junior pitcher Jamie Robertson, who had a 1.75 ERA. Also back are senior second baseman-pitcher Caitlyn Somers and sophomore third baseman Taylor Thompson. Others back include seniors Devan Carrigan, Georgeanne Siller, Olyvia Smith, Katie Lass, Cassidy Ward and Caitlyn Somers and sophomores Chelsea Holiday, Diana Cordisco, Brittany Robertson, Sara Palatnick and Alana Pappas.
OUTLOOK: The Lions won't be favored in the Olympic Conference National Division but could surface as an outside contender.
Clearview Pioneers
PLAYERS TO WATCH: The Pioneers return two players who earned second-team all-Tri-County Royal honors: senior outfielder Allyson Pennypacker and senior infielder Shannon Puthe. Junior pitcher Alison Turner was an honorable mention choice.
OUTLOOK: After an 11-11 season, the Pioneers look for improvement. To demonstrate how difficult the Royal Division is, Clearview went 3-7 in the division. This is a team capable of moving up, but won't be listed among the Royal Division favorites.
Eastern Vikings
PLAYERS TO WATCH: While Senior Madison Tiernan is a two-time soccer all-American, she is also an outstanding softball player, a second baseman and catalyst at the top of the order. Coach Jamie McGroarty feels she is the best leadoff hitter in South Jersey. Other veterans include senior shortstop Jax Buckley, senior pitcher Megan Parker, senior third baseman-outfielder Kim Jevic, senior catcher-outfielder Maddie Haftel and sophomore catcher-outfielder Ally Schmus.
OUTLOOK: The Vikings were 22-4 and won the state Group 4 championship, but must replace several key graduates including pitcher Stephanie Vuono. Megan Parker should be solid on the mound, which means that the Vikings, while not the favorite in the Olympic American, can't be discounted as being a contender either.
Gloucester Catholic Rams
PLAYERS TO WATCH: Senior shortstop Carly Todd is a Rutgers recruit who batted .488 with 25 runs and 18 RBIs. She is among six players who earned all-conference honors. Others returning first-team selections are senior pitcher Abby Merryman (13-6, 2.22 ERA) and junior outfielder Maria Petrongolo (.450, 21 RBIs). Junior first baseman Annie Robinson (.577, 5 HR, 40 RBIs) and sophomore catcher Angela Antonini (.309) were second team choices. Other veterans include senior outfielders Julianne Justice and Katie O'Shea, sophomore pitcher-outfielder Marissa Cappello, sophomore third baseman Allison McCarthy and senior outfielder/designated hitter Kate Wright. Junior outfielder Bailey Stang and sophomore outfielder Bria McGuinness are key returning letter winners.
OUTLOOK: The Rams lost just one starter from an 18-7 team, so they should seriously challenge for the Tri-County Diamond Division title. In addition, the Rams are among many contenders in an extremely deep South Jersey Non-Public A field.
Haddonfield Bulldogs
PLAYERS TO WATCH: Senior pitcher Rachel Cipolla is a fourth-year starter who will also be hitting at the top of the lineup. Junior outfielder Natalie Motolese has started since her freshman year. Sophomore catcher Samantha Maloney enjoyed a strong first varsity season. Sophomore third baseman-first baseman Mallory Ilves started every game last season and projects as the regular third baseman. Sophomore Arpie Senopoulos was an outfielder starter but she may move to the infield this year. Other players vying for time include sophomore outfielders Julia Fonshell and Sofia Endres, sophomore infielders Emma Hoffman and Juliana Kadar, sophomore pitcher-infielder Harley George, senior pitcher-infielder Rachel Reinicker, senior infielder-catcher Lauren Potts, senior infielder Ginger Day, senior designated hitter Izzy Reed, and senior infielder Dallas Luciotta.
OUTLOOK: The Bulldogs won't be among the favorites in the Colonial Conference Liberty (where defending champion Haddon Heights remains the favorite), but they have the ability to improve on a 7-11 record. A key will be the continued development of players from a talented sophomore class.
Kingsway Dragons
PLAYERS TO WATCH: Junior infielder Tori Danner was a first-team all-Tri-County Royal selection. Senior infielder Erica Pyla-Gibson was a second-team choice.
OUTLOOK: The Dragons are defending Tri-County Royal and South Jersey Group 3 champions and annually field one of the top programs in South Jersey. Yet Kingsway suffered several key losses to graduation, including all-South Jersey pitcher Kelsey Dominik. Even with all the losses, the Dragons will remain competitive—but possibly not as dominating as a year ago.
Lenape Indians
PLAYERS TO WATCH: The Indians return four players who earned second-team all-conference honors: senior infielder Paige Lillie, junior outfielders Dallas Hogan and Kristen Young, and junior pitcher Lindsey Manera. Other returning veterans are sophomore first baseman Taylor Warrick, sophomore catcher Olivia Mahon, senior second baseman Brittany Simonka and senior leftfielder Lindsey Modugno.
OUTLOOK: The Indians were 3-5 in the Olympic American Division last season and could surface as an outside contender this year. This is an experienced team, which may not be the American Division favorite, but appears ready to take it a level up.
Moorestown Quakers
PLAYERS TO WATCH: Junior pitcher Audrey Weller and junior catcher Alexa Massa were first-team all-conference choices. Other returning starters include senior second baseman Jess Carlino, sophomore third baseman Rachel Fordham, senior shortstop Allison Francisco, senior centerfielder Jackie D'Argenio and senior rightfielder Alyssa Lukridge. Other key returnees include junior infielder Molina Semple, senior outfielder Meredith McGinnis, and sophomore infielders Jenna Grant and Saylor Brisson.
OUTLOOK: The Quakers were 14-9 last season and have the ability to surpass that win total this year. While not being the favorite in the Burlington County Liberty Division, coach Bill Mulvihill's team has the ability to contend, especially with such a formidable pitcher-catcher combination.
Paul VI Eagles
PLAYERS TO WATCH: The Eagles have three returning first-team all-conference players: senior catcher Stephanie Heresniak, junior infielder Brielle Pietrafesa and junior outfielder Dylan Jarvis. Sophomore infielder Megan Wall (pictured) was a second-team choice. Sophomore Alexa Toner shared time on the mound and was 9-3. She will be the No. 1 pitcher this season. Other key veterans include right fielder Jessica Castiglia and sophomore outfielder Gabby Marino.
OUTLOOK: The Eagles were 15-9 and placed second to Camden Catholic in the Olympic National, and so they should remain a contender for the conference title. Dawn Mader, who coached the team from 1998-2001, is again taking over the program. This is a team that should have a solid offense and, if the pitching comes around, the Eagles could be dangerous.
Seneca Golden Eagles
PLAYERS TO WATCH: Senior third baseman Samantha Foster was a first-team all-conference choice while junior outfielder Hailey Markel and junior catcher Julianne Vanella were second-team choices. Other returning players include senior infielder Kristen Taylor, junior pitcher Kaila Gerber, sophomore outfielder Kaeleigh Bowman, sophomore infielders Madison Critchfield, Gianna Decker and sophomore catcher Charlee Greco.
OUTLOOK: The Golden Eagles were 5-11 last season and the immediate goal is improvement on the win total. Right now, Seneca appears to be a year away from contending in the Olympic National Division, but the future appears bright with several talented young players.
Shawnee Renegades
PLAYERS TO WATCH: Senior pitcher-third baseman Jacklyn Pezzato, who is ranked No. 1 academically in her class, is an experienced pitcher. Senior shortstop Lily Shontz is a third-year varsity performer. Other key returning players are junior second baseman Alexis Gordan, senior outfielder Miranda Martine, sophomore pitcher-infielder Connor Gilligan, sophomore catcher-infielder Taylor Gilligan, sophomore infielder Sam Guarino, sophomore outfielder-catcher Kaitlyn Konopka, junior outfielder Samantha Malsbury and junior utility Allison Churylo. Among the newcomers are sophomore outfielder Miranda Mink, senior outfielder Micky Bacchus, senior catcher-outfielder Miranda Bovit and sophomore first baseman-pitcher Quinn Halpin.
OUTLOOK: After going 23-3 and winning the Olympic Conference Patriot Division, the Renegades will be a major threat in the Olympic Conference American Division. They open their season in a tournament in Orlando, which should be excellent preparation for the year. In addition, coach Paula Escudero (182-116) could reach the 200-win milestone with another outstanding season.
Washington Township Minutemaids
PLAYERS TO WATCH: Senior catcher Kylie Mulholland, senior pitcher-outfielder Taylor Coroneos and senior first baseman Kristen Turner were first-team all-conference choices. Sophomore infielder Jessica Hughes was a second-team choice. Senior outfielder Barb Barron is another key returning starter. Among the returning letter winners are junior infielder-outfielders Alyssa Cudeyro and Alyssa Petner, sophomore infielder Lauren Sandelier and sophomore infielder-outfielder Dominique Palagruto.
OUTLOOK: The Minutemaids will again be a major contender in both the Olympic American and S.J. Group 4. Washington Township also has the look of a preseason Top 10 team in South Jersey.
Published (and copyrighted) in Suburban Family's High School Spring Sports Preview, January, 2013.
For more info on Suburban Family Magazine, click here.
For information about advertising in Suburban Family Magazine, click here.
To find out where to pick up your copy of Suburban Family Magazine, click here.