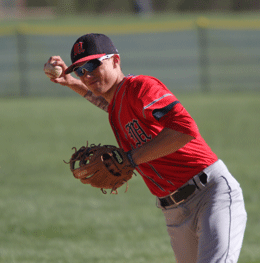 Baseball
Bishop Eustace Crusaders
Players to watch: Senior pitcher-third baseman Zac Gallen is a University of North Carolina recruit. Gallen and sophomore third baseman-shortstop Chris Jones were first-team all-conference selections. Gallen was 4-3 with a 2.93 ERA and two saves, while batting .333. Jones hit .404 with 19 RBIs and had a .942 OPS. Senior catcher Sam Steele and sophomore outfielder Nick Browne were second team all-conference choices. Steele had a .411 on-base percentage and Browne had an .852 OPS. Junior lefthander-centerfielder Devin Smeltzer (2-0, 21 strikeouts, 14 2/3 innings) will be another key member of the rotation and the outfield. Junior Mike Krusinski, who was a designated hitter last season, will likely be a corner outfielder. Among the other veterans are junior outfielder-pitcher Dan Marano, junior pitcher-shortstop Jack Brandt, senior pitcher-third baseman Fran DiRubbo and sophomore pitcher-infielder Justin Hagenman.
Outlook: The Crusaders went 19-7 and shared the Olympic Conference National Division with Paul VI. This season, Eustace goes in as the National Division favorite and a threat in the loaded South Jersey Non-Public A field. Coach Sam Tropiano's team is capable of being among the top five in South Jersey.
Camden Catholic Fighting Irish
Players to watch: Junior shortstop Joe Craig batted .394 and was a first-team all-conference choice. Junior outfielder-pitcher Christian Bilan (pictured) batted .380 and was 2-2 on the mound. Senior Colan Miller is expected to be the No. 1 pitcher. Other returning starters are senior outfielders Mike Wheeler and Ryan Alvite, junior catcher Dom Messina, junior outfielder Albert Faiola and junior pitcher-outfielder Tom Gallagher.
Outlook: Last season, the first under coach Bob Bergholtz, Camden Catholic was vastly improved, going 13-13 and earning wins over Olympic National Division co-champions Paul VI and Bishop Eustace. Like most teams, the Irish's season will be determined by their pitching, but this should be a team capable of a winning season and possibly surfacing as an outside conference contender.
Cherokee Chiefs
Players to watch: Senior pitcher Sean Kelly was a first-team all-conference selection and a Rutgers recruit. Senior outfielder Zach Ellin earned second-team all-conference honors. Senior middle infielder Ryan Krupa and junior first baseman Jake Powell are other returning starters. Returning letter winners include senior outfielder Joey Baglivo, senior catcher Justin Baglivo, senior pitcher Shane Coolahan, senior middle infielder Ben Varone, junior pitchers Matt Curry and Frank Rosetti, junior outfielder Brendan Gumm and junior catcher-infielder Max Joseph.
Outlook: The Chiefs must replace six starters and two of the top three pitchers from a 23-6 team that won the South Jersey Group 4 title, was runner-up in the Diamond Classic, and placed second in the Olympic Conference American Division. Still, the Chiefs remain a contender in the American and Group 4. While not the favorite, this is a team that should play better after a month, once the new starters earn some valuable experience.
Cherry Hill East Cougars
Players to watch: The Cougars have a pitching staff that can compare with any in the Olympic Conference American Division. Senior Alex Dimpter was East's Pitcher of the Year. Junior Nick DiEva has made a verbal commitment to Stony Brook. Zach Lang also complements this deep staff. The offense is led by junior right fielder Nick Ciocco, who batted .386 and is a third-year starter.
Outlook: The Cougars were 14-14 last season and, in 11 of the losses, they scored three or fewer runs. The pitching is expected to be solid, so the success depends on whether the Cougars can develop offensive consistency. This is a team that won't be listed with the preseason favorite but is capable of beating anybody in this difficult division.
Cherry Hill West Lions
Players to watch: Senior first baseman-pitcher Will Allen hit .417. Senior pitcher-outfielder Matt Giampetro batted .271 with 13 RBIs. Senior shortstop-pitcher Brad Machinski was a second-team all-conference selection after batting .400 and earning three wins on the mound. Sophomore infielder A.J. Wright was a first-team all-conference performer after batting .350 with 22 RBIs. Other returning letter winners include senior pitcher-third baseman Brandon Perna, senior infielder A.J. Sohacki, junior catcher Kyle Bordner, junior pitcher-outfielder Matt Owens and sophomore outfielder-pitcher Josh Machtinger. Among newcomers to watch are senior outfielder Eddie Dunn, senior outfielder-pitcher Kevin McLaughlin, junior outfielder-pitcher Wilson Brickner, junior third baseman-pitcher Hayden Remphrey, junior second baseman-pitcher Brandon Zachary, junior third baseman-pitcher Sean Kyser, sophomore pitcher-outfielder Alec Fisher, sophomore infielder-pitcher Joe Santaguida and sophomore pitcher-shortstop Jeff Dixon.
Outlook: The Lions went 16-12 and advanced to the semifinals of the Joe Hartmann Diamond Classic, but lost seven starters and 10 letter winners to graduation, yet this won't be a rebuilding season. Under coach Dan McMaster, the program is at the point where it is competitive on an annual basis and this year is no different. West is moving from the Olympic Patriot to the Olympic National. The Lions won't be favored in the National, but will have the ability to compete favorably with any of the teams.
Clearview Pioneers
Players to watch: Senior pitcher-shortstop Dave Young and junior pitcher-centerfielder T.J. Dezzi were first-team all-conference players. Senior catcher McCabe Reim was an honorable mention choice. Other key returning players include senior pitcher-third baseman Matt Pennell, senior pitcher-outfielder Jay Gorman, senior outfielder Dan Kelley, senior pitcher-outfielder Paul Rucci, senior outfielder Ryan Costello and junior pitcher Keith Ryback. Others adding depth include junior outfielder George Kerasinis, junior pitcher-infielder Matt DeFrank, junior pitcher Alex Hochberg, sophomore infielders Jacob Drozd and Jaryd Leady, junior infielders Vinnie Bocchicchio, Danny Frederick and Ronnie Mestichelli, sophomore catcher Dalton Reim and senior infielder Tyler Cassidy.
Outlook: The Pioneers appear improved from last year's 10-12 team and, while not the favorite, could make a run at the Tri-County Royal Division title. One of the strengths is that there are several options for coach Rocco Cornacchia on the mound.
Eastern Vikings
Players to watch: The Vikings have two players who have made college commitments: senior catcher-infielder Nick Tierno (La Salle) and senior pitcher-outfielder Steve Priolo (Marist). Tierno hit .452 with 29 runs. Priolo was 4-2 with a 4.16 ERA. Other key veterans include junior third baseman-outfielder Tom Flacco (.385, 17 RBIs), senior outfielder Ryan Delaney, senior catcher Billy Beasley, senior pitcher-first baseman Connor Travis (.467), junior first baseman-designated hitter Jake Quinn (.300), senior second baseman Ben Hoffman and junior outfielder-designated hitter Tyler Pagaduan. Key letter winners include senior outfielder-pitchers Matt Costa and Alex Bussison, senior first baseman Matt Marella and senior Dylan McCarthy. Among other newcomers are sophomore infielders Corey Kresont and Noah Clement, senior pitchers Will Nicoletto and Kevin Cameron and junior catcher Anthony Regalbuto.
Outlook: The Vikings were 17-10 last season and finished third in the deep Olympic Conference American Division. Eastern won't be the favorite in the American, but has the ability to contend. The same goes for South Jersey Group 4.
Gloucester Catholic Rams
Players to watch: Senior right-hander Mike Shawaryn is a potential pro prospect who saw limited action last year due to injury. He was 2-0 with a 2.80 ERA and 10 strikeouts in 10 innings. He enjoyed a strong fall. Sophomore right-hander John Murphy filled in for Shawaryn as the team's ace and went 7-2 with a 1.40 ERA. Senior outfielder Giovanni Gussen was an all-conference player who led the Rams with a .455 average. He had 40 hits and 26 RBIs. Last season, senior Frank Ragazzino (.441, 11 RBIs) and senior John Theckston (.341, 11 RBIs) split time at catcher. Both could also serve as designated hitters. Other experienced players include senior infielder-outfielder Tim Holder (.293, 14 RBIs), junior pitcher Steve Mondile (4-0, 1.38 ERA), junior pitcher Mike Mercer (3-0, 0.67), and sophomore pitcher Dante Scafidi (3-0, 1.67). Other key letter winners include senior first baseman-pitcher Pat Hiester, senior outfielder Mark DeJesse, senior infielder Derek DeMaria and junior infielder-outfielder Phil Dickinson.
Outlook: The Rams were hit hard by graduation from a team that went 28-4 and won a third straight state title, last year in Non-Public A. In addition, former Gloucester Catholic star catcher Mike Rucci takes over for legendary Dennis Barth as coach after Barth took the job at Rutgers University-Camden. Still, with Shawaryn and Murphy on the mound, the Rams have as good a duo as anybody in South Jersey. Once again the Rams will vie for the top spot in South Jersey and for a fourth straight state crown, but it may take a month or so for the offense to jell.
Haddonfield Bulldogs
Players to watch: Junior outfielder-pitcher Mike McLaughlin is a two-time first-team all-conference selection. Last season, he hit .348 with five home runs and 30 RBIs. Senior pitcher Jason Cavanaugh was also a first team all-conference choice after going 8-2 with a 1.77 ERA. Senior Stephen Noll was 4-0 with a 2.52 ERA. Other returning starters are junior second baseman-pitcher Carter Fichter (2-2, 3.37) and junior first baseman-pitcher Mark Ostbye (.286). Key letter winners include senior catcher Mike Ranalli, sophomore infielder Sean Funke and junior pitcher Matt Cassell. Among newcomers are six sophomores: third baseman-pitcher Jake Thorndike, centerfielder Mike DeFeo, outfielder-pitcher Mark Walker, shortstop Mark Jones, infielder-pitcher Sean Noone and infielder-outfielder Charlie Clarke.
Outlook: The Bulldogs were 19-7 and finished second last season in the Colonial Conference Liberty Division. This year, with their mound experience, they should seriously contend for the title. In addition, Haddonfield should be a South Jersey Group 2 contender as well.
Kingsway Dragons
Players to watch: Senior pitcher-outfielder John Paul Beshada and senior catcher Jim Candelora were first-team all-conference selections. Senior first baseman-pitcher Jim Dilsaver batted .336. Senior third baseman Wes DeVoy hit .387 as a sophomore, but had an injury-plagued junior season. Sophomore Anthony Esposito hit .308 as the starting right fielder. Senior pitcher Nick Listro missed last season due to injury, but has garnered college interest due to his work this summer and fall. Other players who should be competing for playing time include second baseman Ryan Magerr, shortstop Brendan Dukes, first baseman Ronnie Ippolite, outfielder Jason West, pitcher-outfielder Jason Phillips, outfielder Matt Lesyk, catcher-outfielder Matt Helmandollar, pitcher Luke Falkenberg and infielder Peyton Bosco.
Outlook: The Dragons were 13-10 and very competitive last year and this season should be no different. They won't be the favorites in the Tri-County Royal Division but could be among the potential contenders in a division that won't lack any top teams. Williamstown, Delsea and Clearview could be the teams to beat, but teams such as Kingsway and Cumberland Regional can't be overlooked in a division where there are no easy games.
Lenape Indians
Players to watch: Senior pitcher Kevin Milley was a second-team all-conference selection who is a University of Delaware recruit. Senior pitcher Sam Nocito has committed to Rowan. Other experienced seniors include outfielder Danny Beach, second baseman Tyler Mixon, shortstop-third baseman Jason Clapper, shortstop-third baseman Matt Jolly, catcher-designated hitter Javier Gonzalez, outfielder Niko Celia and pitchers Scott Wilhelm and Aaron Olsen. Senior catcher Ryan Weaver and senior outfielder Ryan Tilley are key returning letter winners. Newcomers to watch include junior pitcher Steve Bohrer, junior pitcher-third baseman Anthony Guido and sophomore outfielder Ben Fadool.
Outlook: The Indians are coming off a 16-10 season and once again will be among the contenders in the Olympic Conference American Division, but won't be the favorite. That will fall to Washington Township, with Cherokee probably next in line; but Lenape, with a number of potential pitchers, can't be discounted.
Moorestown Quakers
Players to watch: Senior third baseman-pitcher Tyler Kaiser is a Rider recruit. Other returning starters are senior outfielder-designated hitter Drew Pederson, junior outfielder-pitcher Dallas Clark and senior second baseman-pitcher Jesse Fante. Returning letter winners are junior pitcher Scott Zimmer, senior catcher Alex Campbell and senior outfielders Ben Carson and Jimmy Clark. Among the newcomers are junior infielder Justin Varga, junior pitchers Alex Humes and Zach Michaud, outfielder Cameron Pendino, junior outfielder Chris Li, senior infielder K.J. Kulik, senior outfielder Jeff Brigg, senior infielder Chris Heeneke, senior outfielder Alex Cannuli, and junior infielders Devin Connelly and Joe McGinley.
Outlook: The Quakers graduated six starters from a 16-7 team and won't be the favorite in the Burlington County Liberty Division, where Rancocas Valley and Northern Burlington will earn that distinction. Still, under coach Bill Donoghue (212-110), Moorestown has one of the top programs in South Jersey and, once this team gains some experience, it could be dangerous. That means the Quakers could be a team to watch once the postseason begins.
Moorestown Friends Foxes
Players to watch: Senior shortstop Spencer Bard was an all-Friends League selection after batting .360 with 15 runs and a .450 on-base percentage. Senior pitcher-outfielder Colin Gregory is the returning staff ace after going 4-4. He also had a .400 on-base percentage. Sophomore pitcher-second baseman Adam Quaranta was an all-league player as a position player after batting .510. He was also the closer, going 3-0 with a save. Other returning starters include senior right fielder Alex Howard, senior left fielder Nate Riggins, junior catcher Steve Mannion, junior outfielder Peter Bader, and junior second baseman Ricky Barash. Among key young players include three freshmen: pitcher-shortstop A.J. Dunham, pitcher-outfielder Matt Mullock and pitcher-first baseman Mitchell Mullock. The sophomores to watch include catcher Luke Bianco, first baseman Shailen Doshi, second baseman Tommy Martin and outfielder C.J. Eni.
Outlook: The Foxes went 13-6 last season and a realistic goal is to earn a Friends League playoff berth and to also be competitive in the South Jersey Non-Public B tournament after winning two S.J. tournament games last year. Coach Ron Obermeier has a good mix of youth and experience and this is a program nobody will want to face in the postseason.
Paul VI Eagles
Players to watch: Senior outfielder Nick Gallo is an all-South Jersey performer who is a George Mason recruit. Junior catcher-outfielder Devin Ruiz batted .462. Pitchers that coach Pat Fisher will be counting on include seniors Ben Seklecki and Dominic Bisirri, junior Ryan Aleszczyk and sophomore Matt McKeown.
Outlook: The Eagles went 15-7 and shared the Olympic Conference National Division with Bishop Eustace. This is a team that has to replace most of the lineup, but the Eagles should remain competitive, although not the favorite. Coach Fisher has done a good job turning the program around and the Eagles expect to contend regardless of how many players must be replaced.
Seneca Golden Eagles
Players to watch: Senior pitcher-third baseman-catcher Greg Santoro hit .327 and was 3-6 with a 3.56 ERA while earning second-team all-conference honors. Other veterans include senior infielder T.J. Crowell, senior pitcher-infielder J.J. Morrow and junior pitcher-shortstop Eric Shugars. A nice addition is senior pitcher Sam Shevelew, a varsity player who was injured last year. A number of juniors up from J.V. include catcher-pitcher-outfielder Chase Vena, who saw varsity time last year, outfielders Robert Roach, and Ryan Bowman, infielders Bryce Sondberg and Patrick Donnelly, catcher John Maurer, and pitchers Brett Lyons and Allen Kniffin.
Outlook: The Golden Eagles won the 2011 state Group 3 title but fell to 5-17 last year due to heavy losses to graduation. Once again, this team was hit hard by graduation. Senior pitcher-outfielder Matt Gall, who hit .297 and had a 3.23 ERA, is out for the season due to injury, which is a major loss. The Golden Eagles won't be picked among division favorites but they could be a winning team.
Shawnee Renegades
Players to watch: Senior outfielder Jarret DeHart is an LSU recruit and all-South Jersey performer. Senior catcher-first baseman Brian Lawler joined DeHart on the all-conference team. Senior first baseman-outfielder-pitcher Nick Montefusco returns after missing part of last season due to injury. Other key veterans include senior pitcher-third baseman Dylan Mengel, junior pitcher Scott Leventon and senior second baseman Ryan Clark. Among the key returning letter winners are senior catcher Craig Conville, junior second baseman Nick Corbi, and senior pitchers J.J. Fritsch and Eric Schoenberg.
Outlook: The Renegades hope to improve on last year's 11-12 record but they move into the Olympic American Division, which could be the best in South Jersey, so the schedule will be more difficult. The offense, led by DeHart, should be solid and the key will be pitching depth for coach Brian Anderson's team.
Washington Township Minutemaids
Players to watch: Senior right-hander Billy Grubb went 7-1 with two saves and a 2.16 ERA in earning all-South Jersey honors. Junior right-hander Mark Scarpa was 6-2 with a 1.21 ERA. Senior catcher Ryan Long was a first-team all-conference choice after batting .341 with 36 runs and 16 RBIs. Senior first baseman Shaine Hughes is a Monmouth recruit who batted .412 with three home runs and 26 RBIs in earning first-team all-conference honors. Senior pitcher-third baseman Tommy Hildebrand batted .325 and was 3-0 with a save and a 3.20 ERA in 15 1/3 innings. Senior shortstop-pitcher Matt Long was 7-0 with a 2.30 ERA in earning first-team all-conference honors. Also back as starters are junior centerfielder Nick Hartz, who was not caught in 12 stolen base attempts, and junior right fielder Chris Hartz (.329). Junior Blake Vaczi started the last six games in left field. Among the other letter winners are junior second baseman Colin McAllister, senior pitcher Dylan Warburton, senior outfielders Joe Cotton, Sean McGough, Tyler Fisher and Brian Sommermann. Among the newcomers are junior outfielder Justin Sommermann and senior left-hander Dom DeAngelo.
Outlook: The Minutemen have won or shared the last two Olympic Conference American Division titles and will be favored to win three in a row for the first time in school history. Coming off a 24-3 season, Washington Township will not only vie for a division and South Jersey and state Group 4 title, but the Minutemen, under the guidance of veteran coach Bill Alvaro, should make a serious run at the No. 1 spot in South Jersey.
Published (and copyrighted) in Suburban Family's High School Spring Sports Preview, January, 2013.
For more info on Suburban Family Magazine, click here.
For information about advertising in Suburban Family Magazine, click here.
To find out where to pick up your copy of Suburban Family Magazine, click here.