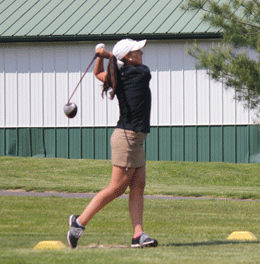 Golf
...From the pages of Suburban Family Magazine's Spring High School Sports Preview...
BISHOP EUSTACE
PLAYERS TO WATCH: Junior Liam Mulligan and senior Andy May were first-team all-conference choices. Mulligan averaged a 38 (for nine holes) and May averaged 39. Junior Matt Georgetti had a 43 average and was a second-team all-conference choice. Seniors Pat Biche and Conor Carroll also averaged 43, while classmate Chris Schiavo had a 44 average. Other potential contributors include Jack Circus and Zach Pharo.
OUTLOOK: After going 14-6 and sharing the Olympic National Division title with Seneca, Bishop Eustace could improve on that win total. The Crusaders have enough experience to compete for the division and eventually a state title.
CAMDEN CATHOLIC
PLAYERS TO WATCH: Senior Pauline DiGianivittorio will be the team captain this season. Other returning golfers are senior Natalie Kirch, junior Dane Stolinski and Stuart Matznick, and sophomores Patrick Gardner, Jessica Griffith, Alexandra Valerio and Collin Zelinsky.
OUTLOOK: With eight returning letter winners, the Irish look to improve on a 3-16 record in what was a rebuilding season last year. With four of the eight returning golfers in the sophomore class, the future appears bright for the Irish.
CHEROKEE
PLAYERS TO WATCH: Key returning veterans are senior Jevon Bell, junior twins Blaine and Liam Lafferty, junior David Quinn and sophomore Colin Geary. All were in the slots from second to No. 6 last year, with the Laffertys in the 2-3 positions.
OUTLOOK: Coach Craig Coughlin returns an experienced unit and the Chiefs will be competitive in a very difficult Olympic Conference American Division. They won't be the favorites but are capable of beating any team in the division.
CHERRY HILL EAST
PLAYERS TO WATCH: Junior Billy Spitzer is the most experienced returner from last year's 16-3 team that won the Olympic Conference American Division. Others back are senior Brant Edmonds, junior Adam Bergen and sophomores Colton Cardea, Mike Zilberfarb and Sam Amon.
OUTLOOK: The Cougars were a senior-laden team last season and won't be favored to defend their title in the American Division. That said, if the young players develop quickly, then East could be among the contenders in this difficult division.
CHERRY HILL WEST
PLAYERS TO WATCH: The Lions have an experienced group returning led by seniors Lisa Denish, Matt Semola, Tim DeCoursey, Michael Juan and junior Kyra Denish. Among the newcomers to watch is freshman Alexander Covelli.
OUTLOOK: Playing a difficult schedule, the Lions won a single match last season and, while they likely won't contend for any titles, upward movement is likely with a veteran team.
CLEARVIEW
PLAYERS TO WATCH: Senior Austin Kohler is a four-year varsity performer and No. 1 on the team. He was a Tri-County all-star selection, with a season match average (including tournaments) of 39.0. Senior Sean Raimondo was the No. 2 golfer and also an all-star with a season match average of 41.1. Senior Mike Vulpio is a fourth-year performer who will likely compete for the No. 3 spot after a 43.3 season match average. He earned second-team All-Tri-County honors. Other key returners are senior Marissa Mannino and juniors A.J. Mitchell, John Dempsey and Nick Cozzi.
OUTLOOK: The Pioneers were 16-2 and won the Tri-County Royal Division, so they remain the team to beat. Coach Dan Lafferty has experience and depth and it will be difficult to wrest the Royal Division title from the Pioneers.
EASTERN
PLAYERS TO WATCH: Senior Zach Wilson is known as one of the area's better long hitters. He averaged 40.2 last season for nine holes and his low round was 36. Wilson will be the leader of a young team for coach Joe Murphy, who enters his sixth season with a 62-38 record.
OUTLOOK: Wilson will match up well with any team's No. 1, but the Vikings must develop depth to be a contender in the Olympic American and Group 4.
GLOUCESTER CATHOLIC
PLAYERS TO WATCH: Senior Meagan Bonner and sophomore Connor Goodrich (pictured) were first-team all-conference choices while senior Darren Raudenbush was a second-team choice. Others back include sophomores Austin Regan and Ryan Gervasi.
OUTLOOK: The Rams were 10-2 and won a share of the Tri-County Conference Classic Division. They should be a contender once again.
HADDONFIELD
PLAYERS TO WATCH: Sophomore Jake Klaus was second in the Colonial Conference meet while junior Anthony VanDervort was third. Other veterans include seniors Chris Biddle and George Pelose, and junior Del Giannotti.
OUTLOOK: The Bulldogs were 15-1 last season and have the ability to reach or surpass that record this season. This is a top program that usually contends for a sectional title and this season should be no different.
KINGSWAY
PLAYERS TO WATCH: Senior Grant Gardiner was a first-team all-Tri-County Royal selection who had a 37.9 match average (for nine holes). Other returning veterans include senior Brian Heino (46.5), senior Jimmy Amorebella (48.4), senior Jorge Diaz-Sanin (48.7), junior Ben Kelley (49.1) and junior Mike Leone (51.1).
OUTLOOK: The Dragons are coming off a 10-4 season and will challenge for the Tri-County Royal Division title, although Clearview remains the favorite. Gardiner has a chance to be among the top golfers in South Jersey.
LENAPE
PLAYERS TO WATCH: Senior Joe Daly is a third-year varsity performer who returns with the best nine-hole average of 43. Other veterans include senior Ryan Segal (46), senior Jason Malinowski (47) and sophomore Greg Tandourjian (47). Among the newcomers to watch are senior Christian Porreca and junior Taylor Hughart.
OUTLOOK: The Indians were 12-8 last season but graduated five starters, so they would do well to match last year's record. Daly looks to be an individual with the capability of qualifying for the individual state tournament.
MOORESTOWN
PLAYERS TO WATCH: On the boys team, junior Justin DeVany was a first-team all-Burlington County Liberty Division selection while senior Mike Dobbs was a second-team choice. Other returning veterans include junior Liam Hughes and seniors Tom Muccifori, Graham Slater and Connor Jones. Among the newcomers to watch is freshman Josh Pederson. On the girls side, returning veterans include senior Angelique Sweeney, juniors Allison Lin and Crystal Tan, and sophomores Aine Filler and Gillian Marini.
OUTLOOK: For the boys, the Quakers shared the Liberty Division last season with Burlington Township, a team that went on to win the Meet of Champions. Once again, Moorestown will be a contender not only for a divisional title, but a sectional as well. The rivalry with Burlington Township for both titles will be one of the interesting facets of the season. For the girls, they are the only South Jersey school with a full girls' golf schedule, although Cumberland also fields a team. Moorestown competes in the Central Jersey Girls Golf League. Last season, the Quakers were 12-4 overall and 8-2 in the league and, while not considered the favorite, coach Charlotte Heenan is expected to field a unit that will contend for a sectional tournament berth.
MOORESTOWN FRIENDS
PLAYERS TO WATCH: Junior Anthony Mahon was last season's team MVP. Other returning veterans include senior Vincent Salvano, juniors Andrew Schultz, Adrian Ryczak, Kenan Soso and John Leibundgut, and sophomore Scott Abrams.
OUTLOOK: After going 1-7 last season, the Foxes aren't expected to contend in the difficult Friends league where Abington Friends and Friends Central are among the frontrunners. With a relatively experienced group, led by Mahon, the immediate goal is to improve on last year.
PAUL VI
PLAYERS TO WATCH: Junior Jack Wagner was a second-team all-Olympic Conference National Division selection. Other key returning golfers include seniors Sean Sanchirico, Pete DeStefano, and Erin Johns, junior Matt Everett and sophomores Nick DeMarco, Julia Davis and Anthony DeStefano.
OUTLOOK: The Eagles were 9-10 last year and the first goal is to get over the .500 mark. Paul VI won't be picked to challenge the likes of Bishop Eustace and Seneca in the National Division, but this should still be a highly competitive team.
SENECA
PLAYERS TO WATCH: Two returning regulars are seniors Colin Lubner and Tom DePalma. Senior Tom Capraro returns after a year's absence, while senior Alan Cicatiello, junior Jamie Papagno and sophomore Sam Dion are among other key returning golfers.
OUTLOOK: The Golden Eagles were 11-1 and shared the Olympic National title with Bishop Eustace. It's possible that Seneca could be the biggest challenger, but Eustace will be the favorite. Seneca has qualified for the sectionals in the first nine seasons of its program and it's a realistic goal to keep this streak intact.
SHAWNEE
PLAYERS TO WATCH: Sophomore Max Goldstein was a second-team all-conference selection. Senior Macklin Kaiser is another key returner.
OUTLOOK: The Renegades lost six letter winners from a 13-6 team. With such an inexperienced unit, they would do well if they came close to matching last year's record.
WASHINGTON TOWNSHIP
PLAYERS TO WATCH: Junior Joe Russo came in the second in the Carl Arena Tournament, which consists of most of the top golfers in South Jersey. He shot a 73. He also won the Gloucester County Tournament with a 70 and earned first-team all-conference honors. Senior Justin Elwell was second in the Gloucester County Tournament with a 71 and also made first-team all-conference. Junior Mike Gormley was a second-team all-conference selection. Other veterans back are juniors Mark Graziano and Matt Graziano and sophomore Nick Sarin.
OUTLOOK: The Minutemen will contend for the Olympic American title and also for a South Jersey Group 4 title. Washington Township may not be favored in either, but there is enough experience and talent back to make a run at both.
Published (and copyrighted) in Suburban Family's High School Spring Sports Preview, January, 2013.
For more info on Suburban Family Magazine, click here.
For information about advertising in Suburban Family Magazine, click here.
To find out where to pick up your copy of Suburban Family Magazine, click here.