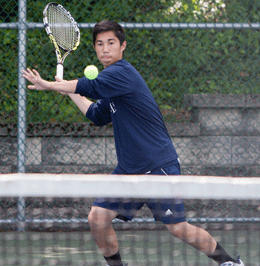 Boys Tennis
...From the pages of Suburban Family Magazine's Spring High School Sports Preview...
BISHOP EUSTACE CRUSADERS (pictured) Sophomore Christian Akerley was a second-team all-conference selection. Among the other veterans are senior Eric Mintz and sophomore Jeremey Muhr.
The Crusaders should field a competitive team, one capable of competing for the Olympic Conference National Division title.
CHEROKEE CHIEFS
Sophomore Rohit Panjala was a second-team all-conference performer. Other returning letter winners include seniors Matt Reyes and Evan Lee and junior Bryan Korth. Junior Connor Style is among the key newcomers.
The Chiefs were 12-10 overall last year and 5-7 in the always difficult Olympic American. After seeing their first and second singles players graduate, the Chiefs will be competitive but also rebuilding. If they are able to match last year's record, that would be a good achievement.
CHERRY HILL EAST COUGARS
Senior Hank Davis is a four-year varsity performer who played at No. 1 singles. Senior Ari Boyarsky and junior Nikhil Shukla saw time at No. 3 singles. Players who were doubles performers were seniors Dylan Fingerman, Greg Frank and Jay Park, and sophomore Sam Yoon. Another player competing for time is sophomore Dan Jang.
The Cougars had many first-time varsity performers during a 10-8 season. Now with seasoning, the Cougars figure to be improved. Whether the team is able to contend for a sectional title will depend on the development of the young players.
CHERRY HILL WEST LIONS
Sophomore Michael Genovese played No. 2 singles last year. Senior Max Matez and senior Phil Shin competed at No. 1 doubles last season while senior Louis Stewart was at No. 2 doubles.
The Lions won't be picked to win the Olympic Conference National Division, but this is a team currently capable of earning a winning record. The four returning players have solid experience and much will depend on how newcomers perform.
CLEARVIEW PIONEERS
The Pioneers have four players who earned all-conference honors. Senior Andrew Weiss was a first-team choice at singles while senior Alex Lang was a second-team choice at singles. Seniors Luke Juhring and Rob Wittman were second-team choices at doubles.
The Pioneers went 17-3 and placed second in the Tri-County Royal Division (twice losing by 3-2 scores to champion Delsea). Once again, Clearview will be a major contender for the conference title.
EASTERN VIKINGS
Senior Seth Rose was a first-team all-conference performer at No. 1 singles. Others who earned all-star mention in doubles were seniors Jared Pearl, Eric Zhao, Alex Kim and Brandon Feldstein. Other veterans are seniors Xiaomao Ding, Kevin Huang and Jacob Grossman.
The Vikings were 22-5 and finished behind Shawnee in the Olympic American. With a strong senior unit, coach George Kemery's team will again be contenders in the American and South Jersey Group 4.
GLOUCESTER CATHOLIC RAMS
The Rams return junior Zach Kummer and four seniors: Eric Prasoliwicz, Mike Vinici, Kevin Otto and Mike Leonchuck. Of those players, Prasaliwicz and Vinici are the only ones with extensive varsity experience, having both played first doubles.
After finishing 8-15, the Rams would do well to match that record this year with such a relatively inexperienced team.
HADDONFIELD BULLDOGS
Junior Max Oberholtzer was 39-8 at No. 2 singles. Sophomore Mike Alberto was 38-4 at No. 3 singles. Junior Isaac Anderson was 41-3 at No. 1 doubles and is 81-8 in his career. Sophomore Tommy Dodson was 31-2 at No. 2 doubles and No. 3 singles. All four returning starters were named to the South Jersey Tennis Coaches Association All-Group 2 first team and Anderson was a SJTCA first-team all-South Jersey selection. Freshman Sam Oberholtzer will be a key new addition. Also contending for time will be senior Grayson Kohs, Joey Moramarco and junior Charlie Carr.
The Bulldogs went 31-2, won the South Jersey Group 2 title, and should be contenders for a sectional and state crown once again. Haddonfield was South Jersey's top ranked team and the Bulldogs won't relinquish that spot very easily. Coach Jeff Holman (965-161) may not reach 1,000 wins this season with the boys' program, but he should come close.
KINGSWAY DRAGONS
Senior Peter Brennan was a second-team all-Tri-County Conference Royal Division selection at singles and will be the leader of this year's team.
At press time, a new coach had yet to get hired, but this is a program that is usually very competitive. With Brennan leading the way there is no reason to believe it won't be this year.
LENAPE INDIANS
Senior Ian Patel was 19-7 at No. 3 singles. Senior Charlie Shvartsman was 14-9 playing singles and doubles. Other doubles players back are seniors Steve Acchione and Andrew Isopi, who was 15-3, and sophomore Tommy Sha (17-7). Other potential contributors include sophomore Zach Silver, junior A.J. Goldstein, junior Cliff Christine and freshmen Nathan Perrone and Johnny Cao.
The Indians will be a contender for an Olympic American and South Jersey Group 4 title, but likely not the favorite in either. The key will be replacing last year's top two singles players, Mike Perrone and Dan Sha.
MOORESTOWN QUAKERS
Sophomore Ryan Dickerson was 33-4 at No. 1 singles and named the South Jersey Tennis Coaches Association Player of the Year. Junior Tyler Blessing was 26-9 at No. 3 singles. Junior Jacob Fox and senior Peter Nicholson were 21-7 at No. 2 doubles. Senior Hamza Husain was a NJSIAA quarterfinalist last season at No. 1 doubles.
Coach Bill Kingston enters his 40th season with a 991-179 career record and the winning should continue. Last season, Moorestown went 26-6 last season and won the South Jersey Group 3 championship. Once again, the Quakers will be favored to defend their sectional title and will seriously contend for the No. 1 spot in South Jersey.
MOORESTOWN FRIENDS FOXES
Senior Luke Timber played No. 1 singles and was an honorable mention in the all-Friends League. Sophomore Spencer Kelly was 11-5 at No. 3 singles. Senior Tom Heitzman played No. 1 doubles while seniors Eric Harkaway and Austin Harris and sophomore Adam Mohsen-Breen played No. 2 doubles. Among newcomers, sophomore Brian Panius earned some varsity experience and freshman Harvey Robin could contend for a varsity spot.
The Foxes were 11-8 and lost in the South Jersey Non-Public B finals last year. While not the favorite in Non-Public B, coach Mike Bodary's team will be in contention once again. Playing in the always difficult Friends League will be good preparation for the state tournament.
PAUL VI EAGLES
Returning starters include juniors Anthony Ragone and Bobby Whittle, and sophomores Giovanni Sparacio and Seamus Plunkett.
After going 7-11 last season and losing to Gloucester Catholic in the first round of the playoffs, Paul VI certainly has the ability to improve. With four key veterans returning, a realistic goal would be a winning record.
SENECA GOLDEN EAGLES
Seniors Cooper Morrison and Ira Vought and junior Jake Davies saw singles action return. Senior Matt Riches played first doubles and senior Ryan Rossi and junior Stephen Moschini competed at second doubles.
The Golden Eagles finished second behind Timber Creek in the Olympic National and, with all but one player returning, will contend for the division title.
SHAWNEE RENEGADES
Junior Justin Kang was a first-team all-conference performer. Senior Luke Snyder earned second-team all-Burlington County honors in first doubles.
The Renegades are the defending Olympic American and South Jersey Group 4 champions and will contend in both. Kang is the type of experienced veteran who will lead this team, but the Renegades must overcome some key losses to graduation, including Tyler Arsenault.
WASHINGTON TOWNSHIP MINUTEMEN
Sophomore Chase Eldridge played at No. 2 singles last year. Senior Steven Hauser was No. 3 in singles. Junior Justin Rodriguez and senior Jeffrey Holtaway competed at No. 1 doubles while senior Anthony Beadling and Jerry Bellisima were at No. 2 doubles. Freshman Spencer Cook is among the key newcomers to watch.
After going 9-11, the Minutemen look to get above the .500 mark. They won't be picked ahead of the likes of Eastern and Shawnee, but there is enough experience for coach Cindy Surplus' team to show improvement.
Published (and copyrighted) in Suburban Family's High School Spring Sports Preview, January, 2013.
For more info on Suburban Family Magazine, click here.
For information about advertising in Suburban Family Magazine, click here.
To find out where to pick up your copy of Suburban Family Magazine, click here.