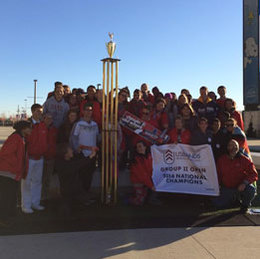 Star Students: November, 2012
Andrew Jaffe, Joseph Kiernan and Austin Harris (pictured)
Voorhees, Haddonfield, Willingboro
These three Moorestown Friends School seniors, from Voorhees, Haddonfield and Willingboro, respectively, were recently selected as semifinalists for the National Merit Scholarship Competition. The 2011 Preliminary SAT/National Merit Scholarship Qualifying Test served as the screener for the award with the highest scorers from every state making up the potential finalists. The semifinalists represent less than one percent of a state's seniors.
Alejandro Rojas
Mount Laurel
Rojas, a Burlington County College student from Delran, was honored with the first ACCESS scholarship for social media excellence. Presented by RE/MAX Connection Realtors, Rojas earned the scholarship after spending his summer with three other students writing blogs for 20 realtors who work out of RE/MAX Connection offices. The five blogs under Rojas gained more than 1,400 unique impressions, which was three times higher than the second-place blogger. Rojas may use his $2,500 scholarship at BCC or a four-year college or university.
Haddonfield Friends School students
Haddonfield
In honoring a former student, the kids of Haddonfield Friends School, a PreK-8 Quaker school, made donations to Go 4 The Goal, a foundation battling pediatric cancer, in exchange for being able to wear a silly hat to school for the day. They raised more than $300.
Billy Sikora, Matt Rasner, Morgan Savich, Shakhnoza Muradova
Marlton
The Future Business Leaders of America Club at Cherokee High School stepped up and made their mark with the Evesham Utilities Authority's Clean Communities Initiative by clearing debris covering sewer grates along Willow Bend Road from Main Street to Tomlinson Mill Road.
Cuyler Vena
Tabernacle
Cuyler Vena, a 2012 Seneca graduate, was the 2012 Burlington County recipient of the Officer Fred Baker Memorial Scholarship. Cuyler earned the scholarship based on his volunteer work in fire and emergency medical services in Tabernacle and for his career goals in public safety.
Aaron Ferber
Cherry Hill
Moorestown Friends School senior Aaron Ferber of Cherry Hill was named a National Hispanic Recognition Program Scholar. The National Hispanic Recognition Program identifies nearly 5,000 outstanding Hispanic/Latino students each year based on their performance on the PSAT and their grade point average. The program sends a list of all recognized students to subscribing colleges and universities that are particularly interested in academically outstanding seniors of Hispanic/Latino heritage.
Washington Township Tri-M Music Honor Society
Washington Township
The Washington Township Tri-M Music Honor Society recruited 42 students into its ranks during its annual induction ceremony. Stanford Thompson, the 25-year old CEO of the program Play On, Philly, was the guest speaker while the students received pins for their accomplishment.
Students' Movement Against Cancer
Marlton
Cherokee's student group Students' Movement Against Cancer assisted St. Christopher's Hospital for Children in Philadelphia with their annual Oncology Talent Show. The students served dinner, cheered on both patients and former patients who performed songs, skits and dances, and helped clean up to wrap up the evening.
Mark Lingaya and Justin Jacobs
Mount Laurel
The National Achievement Scholarship Program, which gives recognition to outstanding African-American high school students, recognized Lenape's Lingaya and Jacobs for being among 1,600 semifinalists across the country.
Seventh- and eighth-grade Girls Matter! classes at Medford Memorial
Medford
The 45 students in Joni-Jean Crivello's Girls Matter! class—an optional enrichment course at Medford Memorial—helped raise money for the South Jersey Breast Cancer Coalition in October. This class concentrates on issues such as women's leadership, history and current events. This year, through bracelet and ribbon sales along with a Walk for the Cure event on the school's track, they raised approximately $1,500.
Mrs. LaGrossa's and Mrs. Peluszak's fifth-grade classes
Voorhees
These fifth-graders have been busy practicing for the annual fifth-grade concert—"Joust! A Mighty Medieval Musical." With students acting out the parts of jousting knights, damsels, court jesters and more, it's sure to be a unique performance for parents and the community on Dec. 13.
TJ Token and Bucket Filler Lunch Winners
Washington Township
Staff who observe a student being courteous and helpful here hand them TJ Tokens, and students give Bucket Fillers to peers who are kind or considerate. Each month, names are drawn from TJ Token and Bucket Filler recipients to have a special lunch with the principal, Gary Breen, and guidance counselor, Charles Vogt. October's winners were Don Brown, Lauren Chi, Nahmere Graves, Naomi Weidner, Davion Allen, Fia Cardoso, Jazmyn Funches, Andrea Lopez, Maddie Van Horn and Quasir Robinson for TJ Tokens; Dominic Revelli, Jo'nathan Silver, Emily Doto, Sharina Siraj and Cameron Healy for Bucket Fillers.
Published (and copyrighted) in Suburban Family Magazine, Volume 3, Issue 9 (November, 2012).
For more info on Suburban Family Magazine, click here.
For information about advertising in Suburban Family Magazine, click here.
To find out where to pick up your copy of Suburban Family Magazine, click here.