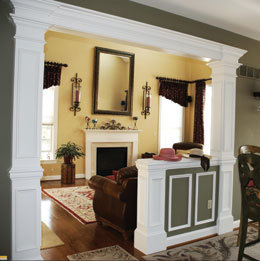 Home Trimwork
A New Perspective: With a little crown molding and detailing, Home Trimwork can provide your living space with a whole new look.
It's the holiday season yet again, and for homeowners across South Jersey, that means one thing: a near constant flow of guests coming in and out of the home for visits and celebrations. For the dedicated team at Home Trimwork, this time of the year means a busy schedule, with customers looking to give their properties an affordable and refreshing boost before their home starts to fill up.
After all, trimwork like crown molding, wainscoting, chair rails, and more are quick changes that make a big difference. And additional services, including closet organization and remodeling, can make a hectic holiday a lot easier.
When you need a change, there's no better company than Home Trimwork. President Igor Szczerba, a third-generation carpenter and trimwork specialist, is known as the area's leading contractor for molding in New Jersey, Pennsylvania and Delaware. "It's a project that doesn't cost a lot of money, but adds big value to your home," he says. "In just one or two days, you can take a room from boring to breathtaking."
Getting started
When a client is interested in discussing a project, one of their designers will analyze the space to offer design ideas and show the client samples of quality moldings and a full portfolio of completed projects from satisfied customers. A quote will be prepared on the spot with everything itemized so the client can pick and choose the services he or she is interested in.
"We show clients some pictures of the rooms with no molding and later with it," explains Szczerba. "This demonstrates how trimwork can have an almost magical effect on the look and character of a home. There are hundreds of before and after photos on our website that would get anyone inspired, and that really shows what a difference it makes when trimwork is properly done."
Trends in home trimwork
Szczerba says that first-floor molding makeovers are very popular with his clients, because they can completely revitalize a room with little cost. "Many of our clients will have us replace a typical builder's grade two- or three-inch molding with a substantial molding with much richer detail," he explains. His team is ready to come in and fix those imperfections, prepared with a clear understanding of what is important in home style.
"That's what makes us stand out," Szczerba says. "We do a lot of planning, a lot of sketching before we do the work. Our carpenters make sure anything they put up makes sense. We pay a lot of attention to proportions, which is a big thing. We follow symmetry and balance."
More than just trim
Home Trimwork offers a whole new world of easy home improvements, including a customer favorite—closet organization. When you need to hide just a few more presents from wandering eyes or find a spot for that big, bulky winter coat, a custom closet can make all the difference.
Just look to their Facebook page, where photos of client closet renovations and projects are proudly displayed for customer inspiration. HomeTrimwork.com has even more photos and ideas to run with. Interested customers can simply send in photos of their desired project or closet and receive a quote back before moving forward.
Home Trimwork offers a world of online variety to give customers time to warm up to their new project and develop their own ideas with less stress. "It takes the pressure off," Szczerba explains. "By the time we come out there, customers have a better idea what we're going to be offering."
Satisfied customers
You can find a happy Home Trimwork customer all across the area. One such local client is Beth and Tim Dougherty. "My husband and I were so impressed with how smooth and timely everything worked out," Beth says. "We also wanted to let you know that our installer, Alex, did a fantastic job. He was such a hard worker and never stopped all day until the job was done. It looks great and we are very happy with it."
As a testament to the respect Home Trimwork has accrued in the industry, the company's team of designers, carpenters and painters participated in an episode of the DIY Network show Man Caves, filmed in Union. The company did all the carpentry work, which can be viewed on its website and Facebook page Facebook.com/HomeTrimwork.
Home Trimwork is currently offering a special molding package for $1,975 that includes all materials and painting for two doorways, one room of crown molding, and one room of wainscoting.
To schedule a free estimate and a design consultation with a carpentry specialist, contact Home Trimwork at (800) 888-4467, or e-mail them at info@hometrimwork.com. For more information, visit the company on the Web at HomeTrimwork.com.
Published (and copyrighted) in Suburban Family Magazine, Volume 3, Issue 9 (November, 2012).
For more info on Suburban Family Magazine, click here.
For information about advertising in Suburban Family Magazine, click here.
To find out where to pick up your copy of Suburban Family Magazine, click here.