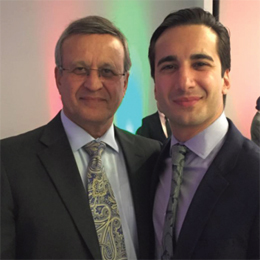 Right at Home
Sometimes the best option for your parents is to let them age in place.
Somewhere around 10 o'clock in the morning, Bertram Maginnis is gently woken by his daughter, Karen Goski. The old-fashioned Irish father of six makes his way into the shower while his breakfast is prepared. The agenda for the day includes various responsibilities mixed with pleasures, from walking the dogs to setting the table. He might take a break to watch his favorite television shows or visit with extended family. At 11 o'clock in the evening, he goes to bed, warm and contented with the day, and proud of what he has accomplished. "My father is a very independent soul, a good man," Goski says.
Maginnis' day may seem typical for many retirees, until you learn that he is 89, uses a walker and has dementia. His short memory means he has a tendency to wander off, and his physical disabilities make him likely to fall and seriously injure himself. He can never, ever, be left alone.
Despite the challenges, Goski and her family have chosen to keep Maginnis at home. "Myself, and my brothers and sisters, feel very strongly that he took care of us, and now we will take care of him."
Fortunately, the family has help—through professional home care. "That is the best part," Goski adds. "We can bring someone in who is reputable and trustworthy. I did a lot of research."
Home care allows Maginnis to live as independently and with as much dignity as possible, all while making the situation of caring for an elderly parent manageable. "Selfishly speaking, home care gives me my life back. I can go to work without worry, knowing that my dad is going to be absolutely fine. This enables him to stay in his own little place," Goski says. "That is important to him."
A variety of options
According to the National Association for Home Care and Hospice (NAHC.org), the latest statistics available show approximately 12 million individuals currently receive care from more than 33,000 providers (for causes including acute illness, long-term health conditions, permanent disability, or terminal illness).
Still, many families may hesitate to choose home health care because they don't know their options. For these families, there is good news.
"In South Jersey, there are many home care options that allow a person to stay in their home a long time," says Dorina Szczepanski, director of Business Development at Vitacare Services. "It really makes staying at home a real good option as someone ages in place."
Carla S. Fleming, director of Spring Hills Home Care Services, the agency that helps to provide care for Maginnis, agrees. "They typically customize the level of care to each client's own unique and individual circumstances and care requirements, ranging from wound care after surgery to highly complex, high-tech nursing care."
Kelly McCabe Tandourjian, owner of TLC HomeCare Services, explains further. "Companion/Homemaker Services would be best for adults needing an extra pair of hands around the house. Companions can provide supervision, meal preparation, grocery shopping, light housekeeping, linen changes as well as transportation to doctor appointments or other outings as desired. The second level of care is Personal Care provided by a certified home health aide. Certified home health aides are trained in bathing, transferring, toileting, grooming and dressing."
While companions are generally highly trained to do their jobs, the regulations for certified home health aides are more stringent. "Certified home health aide care is the bulk of our business," says Szczepanski. "There are 76 hours of training through an approved course regulated by the state of New Jersey, plus background checks. They also must work under the supervision of an RN (registered nurse)."
Choosing what's best for your family
For families who may be worried about the expense of this care, Fleming has some important information. "Depending on the level of home care and/or home health care, these services can be paid via health insurance payors, including Medicare, Medicaid, veterans benefits, non-profit organizations, such as the MS Society, long-term care insurance, automobile insurance payors, workers compensation insurance, other government programs such as state waiver programs, private health insurance, and HMOs, as well as out of pocket co-pays and private pay."
When selecting a home care agency, the best advice is to do your research. Some providers offer complete full-service care, while others offer only limited help. Szczepanski explains: "There are organizations called registries. They act more as a placement service. The cost can be less expensive, but it leaves the consumer at a disadvantage because they have no recourse. There is no nurse monitoring the service." Also, the person providing the care is an "employee," and the client themselves could be responsible for paying the withholding taxes, warns Szczepanski. "It doesn't happen often, but it is a risk."
How can families decide what is the best course of action when it comes to the care of their aging parent? "The decision of home care versus assisted living or nursing home services is largely based on one's own preference, living arrangements, mental status and/ or safety precaution," says Fleming. "There is no right or wrong answer to this critical question. Researching all of the options available in your neighborhood, city, state, and/ or region will make this imperative decision fairly an easy one."
But as Szczepanski says, "Home care is usually the best option. I think one of the best things in having a home care option is that there is less confusion and depression."
And Goski couldn't agree more. "I've seen the parents of friends who are in a nursing home. "They [the aging parents] get very scared, and feel very vulnerable. For my dad, I know he feels good. He feels safe. It works for us.
"Having my dad with us has been very rewarding. He has experienced a lot of family events, such as my son getting married. We have a lot of laughter. It is not all peaches and cream of course, but all in all it has been wonderful."
Resources
Spring Hills Home Care Services
1450 Marlton Pike E.
Cherry Hill
(800) 618-9973
Spring-Hills.com/Home_Care
TLC HomeCare Services
310 Commerce Drive
Moorestown
(856) 234-8700
TLCHomeCareServices.com
Vitacare Services
1200 Laurel Oak Road, Suite 107
Voorhees
(856) 783-8200
VitacareServices.com
Published (and copyrighted) in the Art of Living Well pull-out section of Suburban Family Magazine, Volume 3, Issue 9 (November, 2012).
For more info on Suburban Family Magazine, click here.
For information about advertising in Suburban Family Magazine, click here.
To find out where to pick up your copy of Suburban Family Magazine, click here.