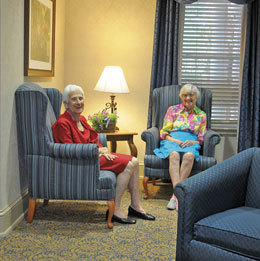 Collingswood Manor
Inspiring Seniors
A new person-directed philosophy is an exciting game-changer. For a long time, senior care facilities were not in the inspiration business. They focused on health care and safety, providing a place for seniors when living at home was no longer an option. But rejuvenating their clientele, creating inspirational and fun activities that would ignite a joy for life? Not so much. That is changing, and leading that charge in New Jersey is Collingswood Manor.
Collingswood Manor is part of United Methodist Homes, a series of 10 communities serving senior men and women for more than 100 years. Services at the senior care community include residential and assisted living, respite and hospice care. Also available is skilled nursing, housekeeping, medication assistance, health monitoring, activity reminders, personal care and more. The Manor has amenities, too, including a bistro, dining room, rotunda, living room, library, chapel, gift shop, sunroom, porches and butterfly garden.
Change has come
Collingswood Manor also has a brand new spirit. Soon, the buildings will be more home-like and the staff and residents will work together to change the way everyone interacts and experiences their lives there. "This is about transforming how we live and operate in the business. We'll have a system where people have more of a voice. It's a person-directed philosophy," says Len Weiser, executive director of Collingswood Manor.
There are three phases to this process: building transformation, organization transformation, and a voice/choice transformation. The building transformation will take time but is underway, says Weiser. "Years ago when you had more health care needs, you had less choice in life. Health care was built on the 'hospital model.' You were sick, so this is what was done for you. But with 50 people calling this home, we need to make it more of a home."
The physical changes include making individual living rooms and dining rooms, changing hallways or wards into "households," and creating "neighborhoods," with three households in each. Organizationally, there will be hierarchal changes. People working day to day—the team—will be self-directed and make the decisions. The business "leaders" will become consultants, helping to navigate processes so that decisions made can be realized. Although adhering to some companywide policies, the team will handle things such as schedules and conflict-resolution on their own, allowing the homes to function independently and differently from each other.
Shifts already underway include "Tea and Chat," a program where residents meet monthly with chefs to suggest food changes, and the resident committee working with the activity department on different options for residents.
How this came about
These changes began long ago, when stakeholders and residents began to find the original model was no longer working. "We were caught up in a cycle of being efficient health care providers, but this is not a factory," says Weiser. "A variety of different philosophies were discussed and we knew we needed to make more person-directed choices," he says.
"In life, we get to make decisions on our own. There's no reason an elder who lives here can't have the same options. It helps them get engaged in life," he says. "People move here because of the loss of autonomy—the loss of a spouse, of family. When they're told what to do, they lose more control of their lives. But now, they make decisions and are happier. The staff is happier and more engaged, too. They have a voice; they get to know the individual better."
Much of these changes have been spearheaded by Action Pact, a change agent organization that has been in long-term care for more than 15 years. "They have experienced this need to change and have been part of it. They work in all the communities to find the best tools," says Weiser. Collingswood Manor has signed to work with them for two years.
Ongoing transformation
Change never ends, says Weiser. "Residents and associates will change, and new experiences and resources will be available. That's the fun part," he says. "Collingswood is already established. So on tours, we tell families about the changes, where we are now and where we want to be. This all causes excitement."
He sees this attitude leading to higher retention, everyone continuing to get more active and involved, and even a decrease in illness as clinical benchmarks improve and residents enjoy life more. The end result will be good for everyone, says Weiser. "Everyone will be much happier."
Collingswood Manor is located at 460 Haddon Ave., Collingswood.
For more information, call (856) 841-4331 or visit UMH-NJ.org.
Published (and copyrighted) in Suburban Family Magazine, Volume 3, Issue 8 (October, 2012).
For more info on Suburban Family Magazine, click here.
For information about advertising in Suburban Family Magazine, click here.
To find out where to pick up your copy of Suburban Family Magazine, click here.