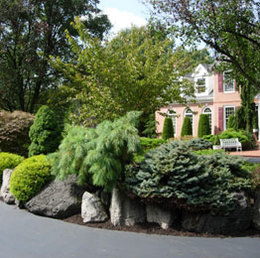 SLS Landscaping, Inc.
Change of Seasons: Designing a Winter Landscape Plan with SLS Landscaping.
Colder temps and shorter days are headed for South Jersey, but that doesn't mean landscaping plans should be stored in the shed until the spring. While lush foliage isn't at the fore, there are plenty of year-round projects perfect for the autumn and winter months.
SLS Landscaping, Inc. of Lumberton is in the business of designing, building and maintaining incredible outdoor living spaces. They have been serving South Jersey since 1992, creating both residential and commercial exterior spaces customized to each owner's specifications and dreams. Their ultimate goal is to provide customers with an enjoyable, healthy and thriving landscape.
Focus on the season
During the fall, SLS works on continued hardscape installations, landscape maintenance, seasonal pruning needs, aeration, seeding and fertilizer applications, as well as fall leaf cleanup. But it is also a good time to look at your needs for next year and plan accordingly.
"Fall is a good time to plant larger caliper shade trees, in addition to bedding plantings," said Eric Setzer, a landscape designer and project manager with SLS. "Evergreen screen plantings, used to help hide unwanted views, should also be considered this time of year. As the deciduous trees drop their leaves and open up the landscape, undesirable views become more evident. A lot of people are looking for color even though there isn't a lot of woody shrub flowering color this time of year; we're going to suggest plants that have interest via fall foliage or architectural form."
Setzer noted that if homeowners are still looking to enhance their yard for fall, "we have a lot of plants that produce vibrant fall colors before they drop their leaves, including burning bush, Japanese maples, crape myrtles and other beautiful flowering specimen trees and plants."
Hardscaping by SLS
Just because the last leaves have hit the ground doesn't mean your outdoor space can't remain beautiful until spring buds begin popping up. SLS also specializes in hardscaping, including natural stone renovations of patios, front stoops and steps, walkways, driveway extensions, rear patios, fireplaces and other outdoor living spaces. An outdoor area is perfect for the cooler fall and Indian summer days. "It's a good time to enjoy outside," Setzer notes. "It's the time of year when you want to sit around a fire pit, and really experience your landscape and the outdoors."
As homeowners prepare for longer evenings in the winter months, landscape lighting projects become more in demand.
"Specific accent lighting brings out the natural beauty of the dormant plants," Setzer says. "What we like to do is to spotlight trees, shrubs and architectural elements with lighting to bring out a different aspect of the landscape, especially during the seemingly endless darkness. Fall and winter are great times to highlight the branch habit (the bare plant stem) of the plant. When there isn't much else to look at, it's nice to accent the shape of the plant."
Design and craftsmanship
SLS Landscaping prides itself on its ability not only to listen, but also to hear what its customers want and need. "We feel that a landscape is more than something to look at; it needs to be inspirational to all that enjoy it," said Steve Stranz, SLS landscape architect. "At SLS, our ideas and plans are logical, and our installations are a great value."
"The test of a good landscape company is their commitment to practicality," Stranz says. "We want our landscapes to stand the test of time. Our main strength is our reliability. The service element in the care of the landscape is key, as is the relationship with the owner of the property."
South Jersey homeowner Kevin King was so pleased with SLS after their work that he signed up for their lawn maintenance program. "When you find someone that's good, you stick with them," he says. SLS put together a competitively priced plan for King's paver patio, outdoor kitchen and fire pit, and presented him with an outstanding landscape design. "They understood our vision even more so than we did. After meeting with Steve from SLS, it was very evident right away that they were by far the ones that could do what we were looking for."
King and his family couldn't be happier with the way they were treated. "I didn't have to worry about a thing," he says, adding he can't wait to use the fire pit on cool nights with his kids this fall.
SLS Landscaping
641 Eayrestown Road
Lumberton
(609) 518-5263 SLSLandscape.com
Published (and copyrighted) in Suburban Family Magazine, Volume 3, Issue 7 (September, 2012).
For more info on Suburban Family Magazine, click here.
For information about advertising in Suburban Family Magazine, click here.
To find out where to pick up your copy of Suburban Family Magazine, click here.