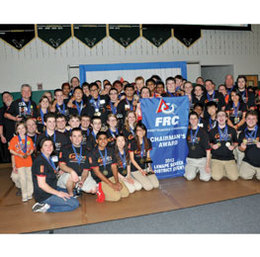 Star Teams: September, 2012
Washington Township Girls' Tennis Teams
Washington Township
The Washington Township High School junior varsity and varsity girls' tennis teams (pictured) recently volunteered many hours reaching out to families at the Ronald McDonald House in Camden. The girls brought over games and manicure supplies, as well as cookies and ice cream, for the temporary residents. They also donated more than 100 books they had collected.
U11 Boys Magic
Moorestown
The 23rd Annual Labor Day Tournament, hosted by the Moorestown Soccer Club, helps kick off the fall season, and it got off to a great start for this U11 team. They came in second place, with a 2-0-1 record, during the two-day tournament, which included more than 120 teams from across the state.
Marlton Cardinals
Marlton
This Marlton 10-year-old B team, coached by Joe Borucki, is a developmental team and greatly improved over the course of the season, winning four local tournaments (Voorhees, Mount Laurel, Maple Shade and Medford) and coming in second twice (Sacred Heart and Marlton).
Tavistock Hills Swim Team
Haddonfield
At the Tri-County Championships, the Tavistock Hills Swim Team broke eight team records in one meet. The Boys' 15-18 fly, broken by David Rowe, had not been broken since 1969. Anna Long broke her own record in the 8 and under backstroke, as did Jessie Cashman in the 15-18 fly. Cashman also broke a 15-18 backstroke record. The Girls' 8 and Under medley relay, the Boys' 15-18 medley relay, and the Girls' 15-18 medley relay records were also broken.
U12 Spirit of USA Club field hockey team
Medford
For the second year in a row, the U12 Spirit of USA Club field hockey team celebrated a first-place win in the Disney Junior Field Hockey Showcase at Disney's Wide World of Sports. The tournament champions won eight of nine games, and far outscored their opponents.
Washington Township 9U Travel Baseball Team
Washington Township
The Washington Township 9U travel baseball team won the Cal Ripken Regional Championship on Aug. 7 by beating the Piedmont, Del., team 16-5. The 9U team had won their district and state tournaments on their way to the regional tournament in Edison.
Team Speed 16U Basketball
Cherry Hill
Team Speed, made up of 12 boys from the South Jersey area, recently placed in the Swoosh World Championship tournament in Las Vegas. They finished the competition with a 13-5 record, giving them a third-place finish out of 164 total teams.
Haddonfield Memorial High School Boys' Soccer Team
Haddonfield
The Haddonfield Memorial High School boys' soccer team did more than win the second annual Nick Gazzara Memorial Soccer Tournament in August; they helped keep Gazzara's memory alive. Gazzara, a talented soccer player with Sacred Heart, was killed in a car accident a year and a half ago. His family organized this annual tournament to raise money for a scholarship fund as well as raise awareness of the importance of safe driving among teenagers.
Team Italy
Mount Laurel
The girls of Team Italy dominated summer basketball this year, wrapping up their season with an 8-1 record, and coming out on top as champions of the Joseph Kessler Memorial Basketball Association's fifth/sixth-grade league.
Eastern Jr. Vikings
Voorhees
The Friday night lights experience took on a whole new dimension for the 70-pounders of the Eastern Jr. Vikings on Aug. 31. These youngsters were given the opportunity to take the field at halftime of the Temple Owls vs. Villanova Wildcats to show their skills off to the thousands of football fans at Lincoln Financial Field in Philadelphia.
Marlton Lightning Red U18
Marlton
This summer, the Lightning weren't taking any breaks. Their hard work during a three-day tournament earned them the 2012 Region 1 Championship title. The boys faced off against 16 teams along the East Coast, defeating Virginia's Vista RFC 93 in the final round with a shutout score of 2-0.
Moorestown Tigers
Moorestown
The young athletes of the Tigers third and fourth-grade youth softball team swept their summer league with an impressive 14-2 record. Many of the girls have played together for several years already, and that teamwork showed when they came out on top of the eight teams in their league.
Published (and copyrighted) in Suburban Family Magazine, Volume 3, Issue 7 (September, 2012).
For more info on Suburban Family Magazine, click here.
For information about advertising in Suburban Family Magazine, click here.
To find out where to pick up your copy of Suburban Family Magazine, click here.