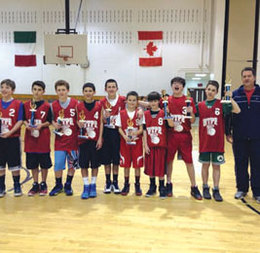 Star Coaches: September, 2012
Anthony Lamonica and Lou Burgo
Washington Township
Lamonica (pictured) and Assistant Coach Burgo recently led their Washington Township Galaxy U10 boys soccer team to victory, going undefeated and clinching first place in the Spirit United Kickoff Classic in West Chester, Pa.
Dori Bryson and Maureen Bretschneider
Moorestown
The coaching team of Bryson and Bretschneider kicked off their U13 Wildcats' season by guiding them to second place, with a 2-1 record, during the two-day Labor Day Weekend Tournament, which included more than 120 teams from across the state. This is the 23rd year Moorestown has hosted the event.
Ryan Franks
Medford
How do you replace a soccer coach with a career record of 665 wins? Maybe start by hiring a member of his 2001 state championship team. With Brian Gibney now retired, Shawnee High School turned to Franks, who served as the team captain of that championship team before moving on to play soccer at Gettysburg College, followed by a short coaching stint there. Though representing a new generation, Franks is confident he can maintain the consistency of talent the Renegades have pumped out, and he's anxious to get to work.
Dennis Barth
Gloucester Catholic Jr./Sr. High School
After 19 seasons, and a record of 485-94-1, Barth stepped down as the head baseball coach to take on the same post at Rutgers University in Camden. Barth led the Rams to an impressive nine state championships during his reign, and he now leaves the team in the hands of Mike Rucci, who was the head coach at West Deptford High School, and was also a former standout on Barth's team in the late-90s and early 2000s.
Jennifer Poorman Hodgson and Keith Hodgson
Marlton
During the month of July, the Hodgsons led nine talented Cherokee musicians, the Cherokee Musical Ambassadors, who joined with performers from high schools all across the Northeast on a musical tour of six countries in central Europe. American honors music students have been serving as musical ambassadors to Europe for more than 35 years with the American Music Abroad program.
Glenn Gess, Jim Dugan and Buzz Miller
Haddonfield
These coaches led the Haddonfield U13 boys soccer team to their first tournament, going undefeated in all four games they participated in. The team—also known as the Black Dawgs—scored 14 goals over the course of the Marlton tournament, and only allowed one goal in on their net while competing at Cherokee High School.
Scott Keesal
Cherry Hill
Scott Keesal has been coaching and managing the Cherry Hill Atlantic 10U Little League baseball team since they were as young as 7, and his years of hard work has paid off. This summer, he led the team to win second place in the state finals, beating out 364 competing teams to earn the honors.
Robert DePersia
Cherry Hill
DePersia is known for leading a talented group of travel basketball players in his 16U Team Speed squad, and he proved once again that he can lead them to the top. Under DePersia's guidance, the team, made up of athletes across South Jersey, came in third at the Swoosh World Championships this summer in Las Vegas, playing against more than 100 of the best teams in the country. Just two years ago, DePersia's 14U team captured first place at the same tournament.
Mark Wechter and his coaching staff
Washington Township
Wechter and his staff are out to prove that tough guys can wear pink. Along with their varsity team, they'll be donning pink during the first-ever "Pink Game" on Sept. 28 to help raise money for breast cancer research. They'll all be wearing pink shirts, uniforms and laces, and patrons will have the opportunity to purchase T-shirts and rally towels to help raise money for the nonprofit "Helping Others with Breast Cancer."
Dave Risell, Al Reithmeier, Larry Ninerelland and Mike Chow
Mount Laurel
Whatever this coaching team is doing, it's working. Under the guidance of Risell, Reithmeier, Ninerelland and Chow, their 15U Mount Laurel softball team went 5-1 during the annual Gloucester City Softball tournament, defeating Babe Ruth champions the Willingboro Jemz for the title.
Rob Reynolds
Marlton
Reynolds helped guide his young Marlton 8U Reds team through a shutout 25-0 season, the most successful of the Marlton Recreation Baseball league. Reynolds, a former Minor League player, also led the team to a state championship and to the finals of the Cal Ripken League Regional Tournament.
Head Coach Dean Ciminera and assistant coaches Bob Taraska, Mike Caruso and Wayne Brown
Voorhees
This coaching team oversaw a successful season for the GVAA Rangers baseball team, earning a 3-0 record in the playoffs, achieving the title of 2012 Babe Ruth varsity champions of the Gibbsboro Voorhees Athletic Association.
Published (and copyrighted) in Suburban Family Magazine, Volume 3, Issue 7 (September, 2012).
For more info on Suburban Family Magazine, click here.
For information about advertising in Suburban Family Magazine, click here.
To find out where to pick up your copy of Suburban Family Magazine, click here.