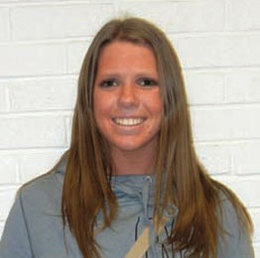 Star Athletes: September, 2012
Justin Kelly
Marlton
This 12-year-old Marlton boy won first place in his division at the Run for our Troops charity 5k race on Sept. 8 at Cooper River Park in Pennsauken. The race helped raise nearly $10,000 to build specifically designed homes for physically disabled veterans. He came in 5th place overall, finishing with a time of 21:03.
Aleksandra Brittain
Cherry Hill
Brittain, a lifelong ice skater, is now listed at No. 7 in solo ice dancing in the eastern U.S. thanks in part to her gold medal win at the Garden State Games this summer. Now a senior at Cherry Hill East, Brittain will be compete in next year's State Games of America.
Mario Tobia
Mount Laurel
Tobia can outplay you in a game of golf, and that's no small accomplishment. That's because Tobia has been almost entirely blind in both eyes since 1995. The golfer was recently announced as one of the top three competitors nationally in the American Blind Golfers league, competing all around the country. He is currently preparing for the American Blind Golfer National Championship—a tournament he's won twice—in October.
Elizabeth Fox
Marlton
Fox, of St. Joseph's University, was named to the Division I Academic Honor Roll in August. Fox, a midfielder on the lacrosse team, started all 16 games last season while maintaining her strong performance in the classroom.
Henry Schuitema
Medford
Schuitema, a 21-year-old with Down syndrome who has been competing in gymnastics since he was just 7 years old, received a once-in-a-lifetime opportunity at this year's New Jersey Special Olympics Summer Games—the chance to represent the state's 2,300 Special Olympic athletes and recite the Special Olympics oath during the opening ceremonies. Schuitema trains with the United Team at Will-Moor gymnastics in Medford.
Zach Grant
Haddonfield
Not one, not two, but three touchdowns by Zach Grant helped lead Paul VI to a football win against Cherry Hill West earlier this month with a final score of 44-6, which included an impressive 71-yard run by Grant.
Katie Czermanski and Gabriella Nestore
Washington Township
Czermanski and Nestore were both named All-Americans at National Cheerleading Association (NCA) Cheer Camp this August. The Washington Township High School varsity girls were among the few selected out of the camp, which brought together varsity, junior varsity and freshman teams from NCA organizations all across the tri-state area.
Hank Davis, Jake Silpe, Mike Cerota, Max Raiken and Justin Fendrick
South Jersey
Davis, Silpe and Cerota, from Cherry Hill East, along with Raken, of Bishop Eustace, and Fendrick, of Eastern, helped lead their South Jersey basketball team to its second gold medal in the Maccabi Games held in August in New York. They defeated the Philadelphia team, 67-55, in the 13-16 year old age bracket. The Maccabi games makes up the largest sports program for Jewish teenagers in the world.
John Reid
Mount Laurel
Reid may just be a sophomore at St. Joe's Prep, but his skills on the football field have caught the eye of Boston College, Rutgers and several others across the country. More scholarship offers are expected as this year's season is just getting started.
Brendan Meagher
Medford
Meagher helped his Deer Brook Bluefish swim team place third in the 56th annual Burt German Tri-County Swimming Championship in August, but he also clinched the team's first gold medal in an individual event. In the 11-12 age bracket, he recorded an impressive time of 1:13.57 in the 100-medley. He also won silver in the 50 breast stroke.
Miriam Gilbert
Voorhees
Gilbert, an ultra runner, goes long distances through grueling terrains. Most recently, she completed the 24 Hour Around the Lake Race, a full day's competition in Wakefield, Mass. She clocked in 83.32 miles.
Tyreek Robinson
Moorestown
Robinson, a junior, got the chance to play in the very first game of the season against Moorestown High School, and you would never know he was the backup quarterback. Filling in for injured Drew Pederson, Robinson threw two touchdown passes in the first quarter alone, three total in the game, helping his team seal a 25-19 victory.
Published (and copyrighted) in Suburban Family Magazine, Volume 3, Issue 7 (September, 2012).
For more info on Suburban Family Magazine, click here.
For information about advertising in Suburban Family Magazine, click here.
To find out where to pick up your copy of Suburban Family Magazine, click here.