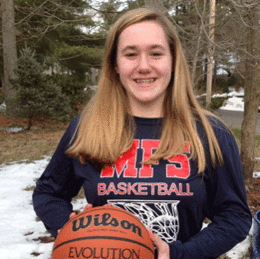 Star Athletes: August, 2012
Nikki Broome, Breanna Gleason, Morgan Sage and Jamie Bowne
Marlton
It was a record-smashing season for the Woodstream Barracuda's Relay Team (pictured), consisting of Nikki Broome, Breanna Gleason, Morgan Sage and Jamie Bowne. The girls broke two club records this summer, taking the 200-medley record held since 2002 and the 200-freestyle relay held since 1999.
Becky Stiles
Medford
Michigan State freshman and Shawnee High School graduate Stiles was recently selected as one of the 102 field hockey players to attend Junior National Camp. After outstanding performances at several national championships for field hockey this year, Stiles earned her spot at the camp, which was held in July at the University of Massachusetts at Amherst. She had the opportunity to train with some of the top coaches in the country and to compete with some of the best athletes in the country as well.
Jack Utke
Marlton
Utke, an eighth-grader at DeMasi Middle School, earned the title of 2012 Brine National All-Star for lacrosse. With this title, Utke has secured a spot at the 2012 Brine National All-Star Lacrosse Academy and National Lacrosse Classic where he will represent New Jersey.
Kaylie Takacs
Cherry Hill
Takacs, an 11-year-old pitcher, struck out 11 batters, only allowing three hits during her team's Atlantic Softball Majors Championship game. The Lady Gators went on to defeat the Lady Panthers 9-0 in the final game, earning them the title of champion.
Kevin Steel
Moorestown
Steel, a 2010 Moorestown High School graduate, may not have made the trip to London, but he still made his hometown proud by making it to the Olympic Trials for swimmers, placing him in lanes beside the best swimmers in the country. Steel, a junior at the University of Arizona, had a time of 1:03.28 in the 100-meter breaststroke.
Michael Marchitto
Voorhees
Marchitto was awarded the team MVP for Eastern High School in 2012, the second year in a row he has earned this title. He has been a varsity starter for four years, and has earned all-conference honors for three consecutive years.
Vince Voiro
Cherry Hill
Voiro, 22, was recently drafted to play Major League Baseball by the Oakland Athletics. Voiro had an excellent career in high school at Cherry Hill West and in college at the University of Pennsylvania, where he led the Quakers in wins, innings pitched and strikeouts. The star pitcher was selected in the 15th round of the Major League Baseball's First-Year Player Draft.
Ray Spadaro
Washington Township
After being selected as one of 80 amateurs to play alongside PGA Tour golfer Webb Simpson at an event at Aronimink Golf Club in Newtown Square, Pa., Spadaro shocked everyone by shooting closer to the pin on a par-3 on the course's 17th hole. Pretty impressive, considering Simpson later stole the championship title at the U.S. Open. Spadaro earned a custom-designed club for his win.
Annie Johnson
Medford
In the final track event of the season, the NJSIAA Meet of Champions, Shawnee senior Johnson led the group of top six finishers from the state Group meets who qualified for the Meet of Champions. She achieved a star position as the fastest female in the state after winning the Meet of Champions 100 and 200 meters. In the 100 meters, her personal best and winning time of 11.82 seconds was the sixth fastest by a South Jersey girl. Her winning 200-meter time, 24.55, was also recognized as outstanding.
Jim Cashman
Haddonfield
Haddonfield Memorial High School's star offensive lineman has moved on to the NCAA, signing on to play with Boston College's Division 1 team, a team well-known for their impressive offense. The winner of Maxwell Club's 2011 Player of the Year is expected to red shirt for his first year with the team.
Austin Moody
Mount Laurel
Playing for Mount Laurel in the Camden County American Legion Baseball League, pitcher and high school senior Austin Moody got his team off to a great start at the District 3 Tournament opener against Hopewell in late July. He pitched all nine innings, allowed eight hits, and led his team to a 8-5 victory.
Jen Hoffman
Westmont
Hoffman, a graduate of Haddon Township High School, completed the MS Mud Ruckus this summer. Hoffman was diagnosed with MS in February of 2008 and, in December of 2011, she set the goal to complete the MS Mud Ruckus. Determined to achieve that goal, she began intensive training that not only helped her to succeed, but also improved her overall health and wellness. She hopes her journey will inspire others who are diagnosed with MS.
Published (and copyrighted) in Suburban Family Magazine, Volume 3, Issue 6 (August, 2012).
For more info on Suburban Family Magazine, click here.
For information about advertising in Suburban Family Magazine, click here.
To find out where to pick up your copy of Suburban Family Magazine, click here.