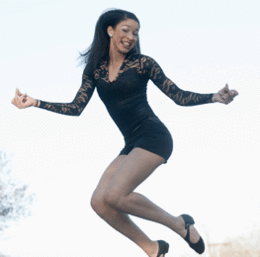 Jazz Unlimited Studio of Dance Arts
Generations of Dancers

A love of the art form leads to transforming lives.
If Marlton is known for anything, it's being home to one of the largest, most popular dance studios in the country. After growing steadily for 40 years and today boasting more than 1,500 students, Jazz Unlimited Studio of Dance Arts is a staple in the area, a tradition that is to be applauded. And if you trace that amazing success, you'll find it leads to one person—Artistic Director Carryl Slobotkin.
As a young woman, Slobotkin had a passion for dance. So it was no surprise when, upon graduating as a physical education major, Cherry Hill High School let her run their dance program. "It took off and was really popular," says Slobotkin. The classes grew for years and, after Slobotkin left to have children, she and her husband went into business together. "I told him that I thought we could run our own studio and we did, but I never thought that this was where my career would take me," she says.
Since Jazz Unlimited opened more than four decades ago, Slobotkin has done everything she can to build it into one of the biggest in the nation. "We're one of the few that has six studios in one location," she explains. But more than size, quality is her focus here. "We keep up with the most contemporary techniques happening in dance. I was taught by the best in the field in New York, so I bring in master teachers from there for the dancers." One of the current "best" in New York—Andy Blankenbuehler, the Tony Award-winning choreographer for In the Heights—thrilled the school with a recent visit to teach a class.
The studio has a vast range of special groups and classes, sure to keep every age group happy—from the 2-year-olds in the "Mommy & Me" class to adults in their 50s and up. "Our dance ensemble, I call them our 'varsity team,' do great things. We've traveled to China; we've gone all over the country. It's a very well-known group and a very strong program." The school teaches every type of dance from hip hop to ballet. Slobotkin's dedication to her school's quality is evident by her recent invitation to present at the Dance Teacher Summit in New York City. Among 1,500 teachers and owners, Slobotkin was one of just 12 dance studio owners picked to show others how to make it in this business. It's her third year at the summit, and she loves the experience.
"It's wonderful. It's specifically designed for and attended by studio owners, studio teachers and dance educators from all over the world," she says. "The problem with dance teachers is that few are businesspeople. They know dance, but they need to know how to run a business. The summit gives them the understanding of the business. It shows them what they need to know."
With a school the size of Jazz Unlimited Studio of Dance Arts, Slobotkin knows some parents may be concerned their kid would get lost. She makes sure that never happens. "I am very hands-on," she says. "I break all the classes down by age and ability, from the top dancers way down to beginners. Children can begin as young as 2 or 3, and as they grow, they get new teachers. We keep things changing because it keeps them interested. They can grow in this school," she says. Children ages 3 to 5 are put into very specific groups, because at those young ages it's very important to have separated creative classes, she says. Beyond that, Slobotkin makes sure she is always reachable. "My husband and I are the owners. We're here seven days a week. We have great people in place, too, so you probably won't even need us. But if you do, we're here."
Slobotkin has long been connected to her students. In fact, of the 20 or so teachers she employs, three-fourths grew up with her. "They danced here and then came back to work for me. And now, I have students bringing their kids. It's great," she says.
There are many reasons why people come to Jazz Unlimited Studio of Dance Arts. "Some children just want to be motivated, to have exercise for recreation, to keep their bodies in shape. Others come to learn about self-esteem, discipline, respect and life lessons. Dance teaches children so much," says Slobotkin. "It gives them skills for life beyond dance."
Jazz Unlimited Studio of Dance Arts is located in Marlton Crossing Shopping Center, 201 S. Route 73, Marlton. For more information, call (856) 983-6608 or visit IBJazz.com.
Published (and copyrighted) in Suburban Family Magazine, Volume 3, Issue 6 (August, 2012).
For more info on Suburban Family Magazine, click here.
For information about advertising in Suburban Family Magazine, click here.
To find out where to pick up your copy of Suburban Family Magazine, click here.