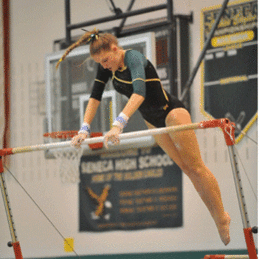 Gymnastics
Cherokee Chiefs
PLAYERS TO WATCH: Returning seniors include Ariel Anderson (all-around), Sarah Shoop (all-around) and Victoria Wanagosit (floor). Among the returning juniors are Lauren Armus (all-around), Sarah Herman (vault, beam, floor), Danielle Smith (all-around) and Breanna Sweely (all-around). Anderson and Smith have both qualified for the state championship the past two seasons.
OUTLOOK: The Chiefs were 6-2 last season under coach Brian Moore and have the ability to meet or surpass that mark this year. Lenape and Washington Township are the conference favorites, but Cherokee could also make some noise with a veteran team.
Lenape Indians
PLAYERS TO WATCH: Senior Elana Molotsky competes in the all-around and was an all-state selection. Junior Marissa Toci, is another all-around gymnast who was an all-South Jersey performer. Other key veterans include sophomore Melissa Friedhoff, junior Heather Puglisi, sophomore Elizabeth Reid and sophomore Kayah Frable. Incoming freshmen twins Brooke and Caroline Nestor and Ally Wesoly should add to this promising team.
OUTLOOK: The Indians will be a competitive threat to all local schools, capable of beating any team on any given day. Molotsky and Toci had the highest all-around scores at the Olympic Conference Championship last October and will bring strength.
Seneca Golden Eagles
PLAYERS TO WATCH: Juniors Jordan Powelson and Jessi Van Horn and sophomore Jodi Schauer are the returning regulars from last year. The team has high expectations for incoming freshmen Elizabeth Andress, Emily Gardner and Gabby Magasic. Among other newcomers include senior Destiny Gilliland, junior Brittany Wienckowski, sophomore Victoria Castro and freshman Jamie Cesanek.
OUTLOOK: The Golden Eagles were 3-4 last season and have a very young team. That said, Seneca is capable of compiling a winning season. Coach Dusty Carroll says that Powelson, a team co-captain, has had a strong off-season. Van Horn, also a co-captain, is returning from injury and her comeback will be key.
Shawnee Renegades
PLAYERS TO WATCH: Senior Kerry Farnum is one of the leaders on this still relatively young team. Other key returning gymnasts include juniors Rachel Balzan, Chelsea Hill, Jordan Ramaglia and Amanda Reeder.
OUTLOOK: Coach James Baker is optimistic that Shawnee will have a strong season, which means the Renegades should be among the top programs in South Jersey. What is most encouraging is this year's turnout, with approximately 30 expected to come out for the team.
Washington Township Minutemaids
PLAYERS TO WATCH: Junior Victoria Adriano is a team captain who was a sectional qualifier in the all-around and an individual state qualifier on the balance beam. Junior Kaeley Van Zoeren was a sectional qualifier on floor and beam. Sophomore Grace Sobeleski was sectional qualifier on beam last season. Sophomore Giavanna Salvatore will be the fourth all-around gymnast. Last season, she qualified on beam for sectionals.
OUTLOOK: Washington Township is the defending league champion and the Minutemaids will make another strong run for the title. WTHS annually conducts one of the top programs in the area and this year should be no different.
Published (and copyrighted) in Suburban Family's High School Fall Sports Preview, July, 2012.
For more info on Suburban Family Magazine, click here.
For information about advertising in Suburban Family Magazine, click here.
To find out where to pick up your copy of Suburban Family Magazine, click here.