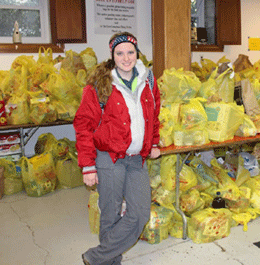 Star Citizens: June, 2012
Dominic and Michael Valentino, Allyson Grunza and Jake Wisniewski (pictured)
Washington Township
Four Wedgwood Elementary School students were honored for their efforts in the school's annual National Multiple Sclerosis Society Read-a-thon, which raised $4,122.50 for the worthy cause. The district honored the top reader, Jake Wisniewski, who read 205 books; and the three top fundraisers: brothers Dominic and Michael Valentino, and Allyson Grunza, who each raised more than $500 for the cause through donations and sponsorships.
Rocco Fiorentino
Voorhees
Fiorentino, a freshman at Eastern High School, was honored on June 7 with the American Foundation for the Blind's Helen Keller Award. The award honors someone who continues Keller's legacy to leave the world a better place than they found it. Fiorentino is a longtime advocate for blind and visually impaired children, as well as their families, and due to his efforts, $1.5 million is being dedicated to Braille services and education in the State of New Jersey this year.
Brownie Troop #28401
Mount Laurel
The third-grade students of Mount Laurel's Brownie Troop #28401 collected 3,600 books to be donated to disadvantaged elementary and middle schools in Camden. In addition to helping others, the girls have embraced their love of books and reading with this project and hope to spread their passion for literacy to others.
Robert L. Smith
Moorestown
The Moorestown Friends Alumni Association honored Robert L. Smith with the Alice Paul Merit Award at the school's annual "Dinner Among Friends" in early May. He was recognized for his leadership in independent school education and his authorship of A Quaker Book of Wisdom.
Courtney Capella
Marlton
Capella, a senior at Cherokee High School, was awarded the Burlington County School Counselors' Association "I Care" Award last month for her volunteerism in the community. The award recognizes a student who has demonstrated caring and humanitarian concern for others in an admirable and unselfish manner.
Kelly Adams
Medford
Adams, a teacher at Haines Sixth Grade Center and program director for the Kaleidoscope Therapeutic Riding Program, received the Sy Kantrowitz Humanitarian Award for her efforts to improve the lives of special needs children and students. In addition to volunteering with animals elsewhere in the community, Adams guides the therapeutic horseback riding program at the Medford-based farm, where children receive a unique form of physical and speech therapy while working hands-on with horses.
Spencer Levy
Cherry Hill
Fifth-grader Spencer founded Cookies for Kids when he had the idea to donate the proceeds of a bake sale to the Children's Hospital of Philadelphia. He just completed his fifth annual Cookies for Kids Bake Sale, collecting a total of $1,052. In total, he has raised more than $3,200 for CHOP and has beaten the previous year's fundraising record each year.
D.J. Mele
Marlton
Mele, a sophomore and varsity wrestler at Cherokee High School, has been using his wrestling singlet to promote awareness for autism. His blue singlet is adorned with puzzle pieces and it reads "Wrestle Against Autism." He wore the singlet at three national tournaments and was able to raise funds for the Wrestle Against Autism tournament in Ohio.
Grace Baccare
Haddonfield
For the second year in a row, Haddonfield High School junior Baccare led her campaign to collect gently used prom dresses for girls in need. She was able to gather 30 dresses for girls in Gloucester City so they could enjoy their big night without the stress of buying an expensive gown.
Howard Mann Sr.
Moorestown
Retired officer Mann Sr. was recently honored for his many years of service to the Moorestown Police Department by Burlington County Prosecutor Robert D. Bernardi in May during the annual PROCOPS (Prosecutor's Recognition of Citizens or Public Servants) awards dinner. Mann retired from the force last August after 41 years of service to Moorestown.
Mike Bochey
Mount Laurel
Bochey, a senior at Lenape, was recently awarded the Lenape High School Volunteer Service Award. The award recognizes a student who has gone above and beyond in service to others. Bochey has dedicated much of his time to the Mount Laurel Fire Department and is committed to keeping the community safe, according to the school's principal and the teachers who nominated him.
Chelsea Morgan, Jenna Meister, Marcia Marchetta, Jull Nawoyski, Lauren Cleaver
Washington Township
These five girl scouts in Washington Township were honored with the Gold Award, the highest award in scouting, by Mayor Barbara Wallace. The award is for scouts in grades 9-12 who complete two journeys as a senior scout or ambassador. Their projects ranged from a 9-1-1 project to holiday crafts for kids in shelters to educating children on exercise and nutrition.
Published (and copyrighted) in Suburban Family Magazine, Volume 3, Issue 4 (June, 2012).
For more info on Suburban Family Magazine, click here.
For information about advertising in Suburban Family Magazine, click here.
To find out where to pick up your copy of Suburban Family Magazine, click here.