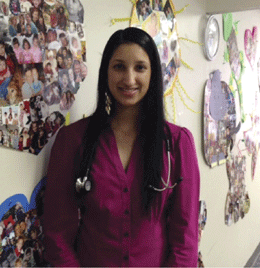 Advocare
Advocare: Family Care
Advocare Pediatric & Adult Medicine provides accessible and convenient treatment for South Jersey.
Advocare Pediatric & adult Medicine, with offices in both Marlton and Sicklerville, offers convenience not typically associated with medical care. As a family practice, the staff sees everyone from infants to geriatric patients, and the physicians are also available to patients after hours. In addition to multiple convenience factors, the practice offers top-notch care with a down-to-earth patient approach. This has been a winning combination in keeping South Jersey residents both happy and healthy.
One thing that sets Advocare Pediatric & Adult Medicine apart is accessibility. While most people associate the doctor's office with long waits and difficulty in accessing a physician directly, Advocare Pediatric & Adult Medicine aims to be accommodating.
"We're always available to our patients," says S. Jay Mirmanesh, MD, MBA, a board-certified pediatrician and specialist in newborn care, as well as the head of the practice. "The patients get our cell numbers and are able to talk to the physician directly. We're also available for same-day appointments when patients are sick, and, when someone comes in for a visit, the maximum wait time is typically only 10 to 15 minutes."
Adding to the convenience factor is a new on-site allergy department, allowing children to get their allergy testing done right in the office. That's keeping a lot of parents—and their kids—happy. "We see a lot of kids with both allergies and asthma, so having the testing done right here makes sense," says Mirmanesh. "Children can also have their immunotherapy treatments done right here."
With so many kids participating in multiple athletic activities nowadays, sports injuries have also become a common problem. Mirmanesh says they see a variety of orthopedic injuries in the office and have begun treating these sports injuries right on site. That saves time and makes things easier on both the parent and the child. "We do our own casting here for uncomplicated fractures and a lot of parents like that because they don't have to make another trip to an orthopedic or to the hospital," says Mirmanesh. "We can handle it right here in the office."
In July, Mirmanesh's son will join the practice, making four board-certified doctors available for patient care. John C. Mirmanesh, MD, has done extensive research on gastrointestinal diseases and will bring that expertise to the practice. He also follows in his father's footsteps as a currently board-eligible pediatrician.
While his father previously served as medical director of the Newborn Intensive Care Unit at Virtua Memorial and Easton hospitals, Dr. Jay Mirmanesh says it was actually his kids that inspired him to go into private practice, as he wanted hours that would be more conducive to spending time with them. Today, he is also the clinical assistant professor of pediatrics at Drexel University College of Medicine as well as a family physician for the Philadelphia Flyers.
Lovelle McFadden-Parsi, DO and Esther Malave, MD, make up the other two physicians available at Advocare Pediatric & Adult Medicine. McFadden-Parsi is a board-certified pediatrician and has a special interest in female adolescent care and endocrine disorders, while Malave specializes in family medicine. "Dr. Malave also specializes in nutrition and obesity as well as holistic medicine. She is well aware of the problem our country faces in terms of the obesity epidemic," says Mirmanesh. "With all of our patients, we believe strongly in preventive care and are focused on doing whatever we can to prevent problems before they become something more serious."
For preventive care, routine physicals or "well checks" are recommended on a regular basis, even for adults. For healthy adult individuals up to age 40, Mirmanesh says a physical every other year is recommended. But for adults older than 40, it's yearly; and for those with any sort of health conditions such as diabetes, asthma or other major illnesses, he advises they be seen at least annually so that their health can be more closely monitored.
With a focus on preventive care and serving families as conveniently and completely as possible, Advocare Pediatric & Adult Medicine is setting the bar high in South Jersey. But in the end, Mirmanesh says it really comes down to the patients, emphasizing: "We really do care about all the families we see here."
Advocare Pediatric & Adult Medicine
12000 Lincoln Drive, Suite 311 |?Marlton
(856) 985-8100
800 Liberty Place
Sicklerville
(856) 728-7900
Published (and copyrighted) in Suburban Family Magazine, Volume 3, Issue 4 (June, 2012).
For more info on Suburban Family Magazine, click here.
For information about advertising in Suburban Family Magazine, click here.
To find out where to pick up your copy of Suburban Family Magazine, click here.