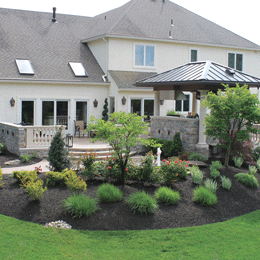 Gill's Landscaping
Gill's Gives Back
…Special Advertising Section from the pages of Suburban Family Magazine…
Gill's Landscaping helps create the perfect backyard living space for summer.
Each summer season, homeowners long for that perfect backyard oasis of lush green grass, fragrant flowers, towering trees, ponds, waterfalls and beautiful lighting to make it all twinkle and glow. Wishing doesn't make it so, but Gill's Landscaping has the staff, the expertise, the tools and the good old-fashioned "know how" to make dreams turn into interlocking walkways surrounding beautiful gardens.
As an industry leader in South Jersey for 20 years, Gill's Landscaping has carved out a niche as the consummate full-service landscaping and maintenance company in the region. They are the "go-to" business for every facet of the landscape redo or the initial landscape design for your home.
With Gill's, each customer receives only the highest quality plant and bedding materials to grow in your garden. Inferior materials and mulch can lead to gardens with a short life expectancy and beds filled with unsightly weeds. Repair and replacements for shoddy work end up costing the customer more in the long term.
Gill's Landscaping maintains a New Jersey Home Improvement Contractors License, DEP Pesticide License and an IANJ Irrigation License to ensure quality service and much-needed expertise.
Let's Start at the Beginning
Gill's in-house certified horticulturalist and landscape designers take the time to interpret your needs and turn them into a concrete plan of action. Sometimes your vision doesn't quite work with how you physically want to use the space. All of these issues are taken into account by Gill's when planning your ultimate dream landscape. Gill's takes information obtained from their initial free in-home consultation. Satisfied customers Ken and Pat put it best: "Ed and his hard-working crew [gave us a] beautiful bit of paradise. Everyone worked tirelessly, even in the rain, to complete our hardscape and garden. Many thanks to the crew and especially Ed for his talent in making everything turn out so perfectly."
Gill's Landscaping takes each client through their process from start to finish. Their experts will educate you about all the elements of your particular landscape and what can be done to make that space uniquely your own. The team will also teach what will be required from you to keep the newly designed or renovated gardens looking as pristine as possible for years to come.
From Luscious Lawns to Beautiful Backyards
Do you require just a comfortable garden or an incredible entertaining space complete with an outdoor kitchen? Is a poolscape part of your big plan? Gill's can tackle projects large and small, including landscaping, irrigation, hardscaping and more.
To fully enjoy all the newly landscaped areas surrounding your home, night lighting is an essential element. Dramatic and effective spotlighting will illuminate the way for guests coming to your home and add the warm, glowing ambiance to quiet intimate dinners on your patio. All the latest options can be part of your landscape package.
Irrigation is overlooked but it should never be forgotten. As the owners explain, proper irrigation is the salvation of any homeowner. Sprinkler systems can and will do much of the work necessary to keep your lawn and gardens beautiful and lush for years to come.
Giving Back to the Community it Serves
The owner of Gill's Landscaping recognizes the importance of giving back to the community it has called home for more than 20 years. Gill's has offered free landscaping services to the Brown family of Mickleton, while husband Matthew remains in the military, deployed in Somalia. Wife Tracy, who is home taking care of the couple's children, could hardly find the time to take care of the lawn, and was employing a babysitter to watch her kids each week so she could mow the grass.
Gill's heard about her situation and took on the mowing, fertilization, tree trimming and mulching.
"They wanted to do as much as they could to help our family as a way of thanking my husband for his service to our country," says Brown. "They are so nice to care about others in the community and they do quality work. They will have a lot of future business from us too." u
For more information, visit GillsLandscaping.com or contact (856) 223-9770.
Published (and copyrighted) in Suburban Family Magazine, Volume 3, Issue 3 (May, 2012).
For more info on Suburban Family Magazine, click here.
For information about advertising in Suburban Family Magazine, click here.
To find out where to pick up your copy of Suburban Family Magazine, click here.