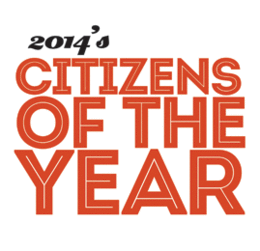 Star Citizens: May, 2012
Brad Bono
(pictured)
Haddonfield
Bono recently donated six Apple iPads and four interactive applications to the Child Development Program at Our Lady of Lourdes Medical Center. The new technology will help enhance the curriculum for children with autism spectrum disorders (ASD).
Jeff Snyder and Orchard Valley Middle School students
Washington Township
This Orchard Valley Middle School seventh-grade humanities class, under the direction of teacher Jeff Snyder, organized a schoolwide shoe drive to help African children. After spreading the word about their project with flyers and an informational video, the students collected 125 pairs of shoes that will be donated to an African relief agency.
Susan Bass Levin, Francis J. Orlando Jr. and Frank N. Messina
Cherry Hill, Haddonfield
These three South Jersey citizens each received the Senator Walter and Leah Rand South Jerseyan of the Year Award in April. Cherry Hill residents Bass Levin (pictured), president and CEO of the Cooper Foundation, and Orlando, a retired Superior Court judge, along with Haddonfield's Messina, were honored for their leadership contributions to the area.
Mary Finuoli
Voorhees
Finuoli received an award recognizing her work as a volunteer at the M. Allan Vogelson Regional Branch Library in Voorhees, where she has dedicated her time and effort since 2006. Volunteers are vital to the library and enable the Camden County Library System to provide better services to the communities it serves.
Meghan Vizzard
Mount Laurel
Meghan, a sixth-grader at Hartford School, started Project Cozies for Chemo and has raised more than $1,200 to make soothing blankets for children dealing with cancer. This April, she visited the Cooper Cancer Institute in Voorhees to personally donate blankets to patients.
Jenny Silver
Cherry Hill
Robins' Nest volunteer Silver received the Outstanding Youth Volunteer Award at a volunteer appreciation event in April. She was recognized for her "exceptional generosity and ambition," inspiring others and for bringing "smiles to the faces of children."
Trudi and Irv Herman
Moorestown
This couple started a chapter of "It Takes A Village," a grassroots volunteer group serving Moorestown and Mount Laurel, which aims to help seniors live independently in their own homes. The group will provide services like rides to doctors and the grocery store or simply providing companionship.
Michael Bochey
Mount Laurel
Lenape senior Bochey received the 2012 Volunteer Service Award at a recent award ceremony at the school. He was recognized for his many hours volunteering his time to keep the community safe through his time with the Mount Laurel Fire Department.
Elena Zangerle
Marlton
Zangerle spent her spring vacation swinging hammers and distributing donations of clothing and supplies during a service trip to impoverished districts of Guatemala. The Doane Academy senior was joined by a small group of classmates for a week-long trip, culminating with building a new deck for the local nutrition center.
Meghan Locantora
Medford
Locantora, a registered dietitian who works for ShopRite of Medford, educated fourth- and fifth-grade students from St. Mary of the Lakes School on the importance of healthy eating. Locantora taught the kids about the new MyPlate food system and how to shop for healthy, balanced meals.
Monica Procaccio
Deptford
Procaccio was a driving force behind Gloucester County College's new "Veterans' Bookshelf" initiative, which encourages students to donate used textbooks to help students who are veterans. Rather than selling the books, the Veteran's Bookshelf, sponsored by the school's Vanguard Club, will donate books to students who served in the military and need financial assistance.
Birches Elementary School
Washington Township
Students and staff came together to collect several thousand dollars while raising awareness for diabetes at a walk-a-thon held on school grounds during the first week of May. A total of $3,743.93 will be donated for juvenile diabetes research.
Published (and copyrighted) in Suburban Family Magazine, Volume 3, Issue 3 (May, 2012).
For more info on Suburban Family Magazine, click here.
For information about advertising in Suburban Family Magazine, click here.
To find out where to pick up your copy of Suburban Family Magazine, click here.