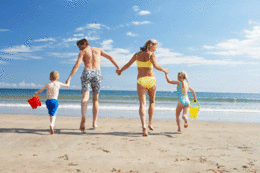 Family Shore Guide
The vacation season is almost here, which means it's time for families to once again flock to the Jersey Shore for fun, adventure, sightseeing and tasty boardwalk treats. We asked some local experts for an insider's look and compiled their suggestions for our third-annual Family Shore Guide. Here, there are some new ideas for boardwalk destinations and day trips, sugary snacks and fresh seafood, pup-friendly hotels and even ways to create a romantic night out for Mom and Dad. Pack your flip flops, load up the car, and don't forget the sunscreen!
Meet me by the water
Visit the familiar wooden planks of Ocean City's 2.5 mile long boardwalk, where you'll find rides, classic food and plenty of ways to spend family time. New this year is the Thrill Zone at Gillian's Wonderland Pier (Sixth Street and the Boardwalk, Ocean City, 609-399-7092), featuring a glow in the dark mini-golf course, Wacky Worm roller coaster and more at this longtime crowd favorite. Seasoned beachgoers will recommend parking your towel by the 12th Street beach for easy bathroom access, or heading to 57th street for a more quiet experience and the surf beach, too.
Sea Isle City's Promenade is 1.5 miles of paved space, lined with shops, eateries and places to view the ocean—a great place to jog, ride bikes or take a leisurely stroll. Head anywhere between 35th and 40th streets for the best shops at the center of town, or, if water sports are your teen's pasttime, Sea Isle's 54th street surfing beach has the best waves.
Wildwood's three famous piers are packed with amusements for kids and adults alike. At Morey's Piers (3501 Boardwalk, Wildwood, 609-522-3900), you've got endless options of rides, including their famous Raging Waters waterpark overlooking the ocean. This season brings a new family experience, with the River Adventure, a renovated take on a lazy river, with realistic rock facades, cascading waterfalls and geysers to get you soaked. Ticket bundles are optional for all the parks, including three- to five-day passes.
Long Beach Island's 18 miles of pristine white beaches offer calm bays where the kids can dip their toes, as well as great surfing spots. Avalon and Stone Harbor beaches share the same beach tags, so you get double the scenery for the same price; there are many lifeguard-protected beaches and designated areas for inflatable rafts and surfing. The beaches are even handicap accessible, with free "surf chairs" available to reserve from Community Hall (3001 Avalon Ave., Avalon, 609-967-3066).
Family Dinner
Eating out with the family can sometimes be a chore, with so many palates to please, but luckily the Shore is full of casual dining spots ranging from world-famous pizza joints to fresh seafood grills. Try Long Beach Island's Chicken or the Egg (207 N. Bay Ave., Beach Haven, 609-492-3695)—better known as The Chegg to locals—to indulge in an array of wings with sauces like honey barbecue and Jamaican Jerk, plus old-fashioned milkshakes, burgers, breakfast and more served 24 hours a day in season.
Oceanside Seafood Restaurant & Fresh Seafood Market (2489 Dune Drive, Avalon, 609-368-2114) is the place for fresh seafood platters, heaping bowls of pasta with lump crab or shellfish, and special dishes for the kiddies.
We've got a big spot in our stomachs for The Mad Batter (19 Jackson St., Cape May, 609-844-5970), which serves up picturesque breakfast and seafood in three unique dining areas, but Harpoon Henry's (Beach Drive and Browning Ave., North Cape May, 609-886-5529) is where we'd recommend for sunset dining and jumbo lump crab cakes. With three full-sized locations in Ocean City and one in Somers Point, Manco & Manco (MancosPizza.com)—which debuts its new name this season after 55 years as Mack & Manco—continues to draw crowds for its crisp tomato pies and big slices, making it an easy choice for a quick dinner before you hit the arcades.
Day Trips
Lions, tigers, and an African safari—oh my! Spend the day exploring the Cape May County Zoo (707 Route 9 N., Cape May Court House, 609-465-1033) and learn about animals from all across the world. Just a short drive from all the Shore towns and conveniently off the Garden State Parkway, your family can meet more than 250 species of animals and get up close with snow leopards, camels or a golden lion tamarin.
If shopping is more your style, the Bay Village Shops (9th St. and Bay Ave., Long Beach Island, 609-492-2800) houses 23 boutiques, shops and eateries in one historic spot, where you can "get a donut at the bakery, grab a burger at the bistro and get a hermit crab for your child all in a one block radius." With more than 40 shops, a scenic lake and a train for the kids to ride, Historic Smithville and Village Green (1 N. New York Road, Smithville, 609-748-6160) is a location you won't want to miss. The shops are located on the way to Atlantic City, with quaint lodging options right in the village. Check out unique events planned all summer that the entire family can enjoy.
Do you know there are 11 lighthouses along the Jersey Shore? We recommend heading to see the Barnegat Lighthouse (208 Broadway, Barnegat Light, 609-494-2016), known locally as "Old Barney" in LBI; the Absecon Lighthouse (31 S. Rhode Island Ave., Atlantic City, 609-449-1360), which stands proudly as the third tallest in the nation; and the gleaming Cape May Lighthouse (215 Light House Ave., Cape May Point, 609-884-5404), which is surrounded by a historic visitor's center and a wooden walkway out to the beach. Kids and families can climb each of the attractions for a small fee.
Of course, no trip to the Shore would be complete without spending a whole day getting some fresh air and seeing the sights. Before hitting the boardwalk, stop by Annarelli's Bike Store (1014 Asbury Ave., Ocean City, 609-399-2238), which both sells and rents bikes in a family-friendly atmosphere that will keep you coming back each year. Shield's Bike Rentals (11 Gurney St., Cape May, 609-884-BIKE) rents brightly colored beach cruisers by the hour or by the day, plus kids' bikes and surreys for two or four, so you can cruise the island in style.
For Kids and Teens
After the kids have showered and eaten dinner, send them off to Congo Falls Adventure Golf (854 Asbury Ave., Ocean City, 609-398-1211). With two courses featuring a choice between PG and PG-13 ratings (the older rating features some scary elements, but nothing risqué), this attraction will appeal to the younger kids and teens alike, whether it's a first date or family fun night. Does your teen live on adrenaline? Sea Isle Parasail (86th St. and the Bay, Sea Isle City, 609-263-5555) will take him or her to new heights (with parents' consent); or head to Island Watersports (97th Street on the Bay, Stone Harbor, 609-368-6114) for an extreme adventure with waverunner rentals and water trampolines.
Indulge your inner swashbuckler at Dark Star Pirate Cruises (Sweet Briar and Park Blvd., Wildwood, (800) 979-3370). Designed with kids in mind, the "modern pirate boat" takes you on an interactive cruise with an entertaining pirate crew, and includes face painting, a treasure hunt and a water cannon battle, plus take-home souvenirs like a pirate mug and eye patch.
Parents' Night Out
Make reservations, don your best, and make it an evening to remember. For a romantic dinner out, The Diving Horse (2109 Dune Drive, Avalon, 609-368-5000) offers a menu which changes weekly and the freshest local seafood; At Ventor's Domenico's (5223 Ventnor Ave., Ventnor, 609-822-1300), you can bring your favorite wine while indulging in Italian-inspired fare. Need a getaway from the kids? Stop in to the new Cape May Brewing Company (1288 Hornet Road, Rio Grande, 609-849-9933). For $11, you can taste four beers and take home a souvenir pint glass.
After dinner, take a short drive to Cape May Point, better known as "Sunset Beach" (9502 County Highway 606, Cape May Point, 609-572-6488) and the very southern tip of our state. Bring a blanket and some chairs to count down to the sunset, while looking across the Delaware Bay and see the famously-sunken concrete ship, the S.S. Atlantus.
If you can book a sitter, a night in Atlantic City can't be beat. New resort Revel (500 Boardwalk, Revel Beach, Atlantic City, 609-572-6488) has you covered with gaming, shopping and signature dining locations manned by two Iron Chefs: Spanish tapas restaurant Amada by Jose Garces and American Cut steakhouse by Marc Forgione. If the nightlife is your thing, check out the venues at Borgata (1 Borgata Way, Atlantic City, 609-317-1000), such as the poolside Sunbar, where you can enjoy a cocktail in the cool summer breeze.
Rainy Day
No matter how hard we beg, sometimes the weather just doesn't cooperate. On rainy days, head to the Naval Air Station Wildwood Aviation Museum (500 Forrestal Road, Cape May Airport, 609-886-8787) and learn about a variety of planes and aircraft and how they work. In Stone Harbor, the Wetlands Institute (1075 Stone Harbor Blvd., Stone Harbor, 609-368-1211) is where you'll explore award-winning gardens, an aquarium and the salt marsh trail, and learn about the ecology of the area and the animals that inhabit it.
Lucy the Elephant (9200 Atlantic Ave., Margate, 609-823-6473) is a unique and spectacular structure that dates back to 1882. (It's older than the Statue of Liberty!) Climb the six-story elephant for $7 or $4 for kids.
The kids won't believe their eyes after seeing the collection of oddities at Ripley's Believe it Or Not (1441 Boardwalk, Atlantic City, 609-347-2001); after you've seen your fill, browse the Pier Shops at Caesars (One Atlantic Ocean, Atlantic City, 609-343-9902) for luxury brands like Gucci and Louis Vuitton or the two-story IT'SUGAR candy store.
Snack Attack
The Original Fudge Kitchen
Watch the masters at work in the big picture window and try the sweet whipped fudge, chocolates and salt water taffy, made fresh at the store daily. 728 Beach Drive, Cape May, (609) 884-4287
Kohler's Bakery
Fill the craving you've been dreaming about all winter. Get there early to avoid the crowd and indulge in their macaroons, Irish soda bread and those famous sweet cinnamon sticky buns. 2709 Dune Drive, Avalon, (609) 967-3694
Curley's Fries
Classic French fries and the boardwalk have always gone together, and Curley's is no exception. Large buckets of the crispy fresh-cut fries are a must. 25th and Boardwalk, Wildwood, (609) 522-3900
T & M Monkey Bread
The gooiest, stickiest sweet treat on the boardwalk, Monkey Bread is a mix between a cinnamon roll and a sticky bun, designed to be pulled apart and shared with all your favorite people. 972 Boardwalk, Ocean City, (609) 391-0113
Custard's Last Stand
See those lines out the door? All those people can't be wrong. Cool off with an over-the-top ice cream cone, waffles and a rainbow of water ice flavors. 107 N Dorset Ave., Ventnor City, (609) 823-4033
Junior's Donuts & Dogs
Right off the beach, Junior's has fresh, fluffy donuts and great hot dogs with free toppings—perfect for a midday snack. 9315 Amherst Ave., Margate, (609) 823-8790
Where To Stay
Captain Mey's Inn
This family friendly inn, built in 1890, got its namesake for the famous Dutch captain, Cornelius J. Mey, the founder of Cape May. Located two blocks from the beach, and a half block from shopping at Washington Street Mall. 202 Ocean St., Cape May, (609) 884-7793
Ocean City Mansion
Don't forget the dog! This paws-friendly inn allows the whole family to spend time away without feeling guilty leaving your buddy at home. Enjoy the extra amenities provided by the innkeeper, including spa treatment packages. 416 Central Ave., Ocean City, (609) 339-8383
Windward at the Beach
Just 200 steps from the ocean—they counted!—this newly remodeled Victorian has a whole new vibe. With family week specials throughout the summer, you'll have no trouble kicking back here. 200 S. Atlantic Ave., Beach Haven, (609) 492-4468
Surrey Beach House
Frequently voted Best Shore Motel, you'll find peaceful accommodations at this seaside motel which offers packages like bed and breakfast or a cycling tour of Ventnor for up to four people. 109 S. Surrey Ave., Ventnor City, (609) 822-6550
The Admiral Motel
Before you head to the town's free beaches, you can play a poolside game of pingpong at your four-story motel or play a round of nine-hole mini golf. 7200 Ocean Ave., Wildwood Crest, (609) 522-7704
Published (and copyrighted) in Suburban Family Magazine, Volume 3, Issue 3 (May, 2012).
For more info on Suburban Family Magazine, click here.
For information about advertising in Suburban Family Magazine, click here.
To find out where to pick up your copy of Suburban Family Magazine, click here.