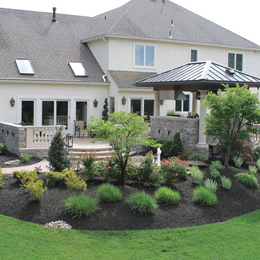 Gill's Landscaping: From Vision to Reality
Gill's Landscaping brings your dream project to life.
As the last stretch of winter comes to an end, it's right about that time to begin thinking about spring: warmer weather, budding trees and plenty of time to tackle all those big outdoor projects. Luckily, there are experts awaiting in our own backyards. With an in-house, certified horticulturalist and landscape designer, plus more than 20 years of experience, Gill's Landscaping has everything homeowners need to bring their dream project to life. The South Jersey-based company's fully licensed and qualified staff knows how to translate customer vision into reality and how to perform around each individual customer's budget.
Whether looking to install a beautiful garden, patio space for outdoor entertaining, a luscious pool area, or any number of other landscaping endeavors, Gill's design team will meet with clients to see what best fits each home's space and style, bringing years of experience and professionalism to the job. Gill's offers a wide selection of accents, colors and materials that can let customers make their property's hardscapes an integrated part of their landscaping vision.
Bringing the Project to Life
A garden only remains beautiful if it gets all the sunlight and water it needs, and a crisp, well-manicured lawn only keeps its bright color and visible-from-the-street quality if it gets just the right amount of irrigation, explains owner Brian Gill. And while irrigation provides a certain amount of reliable automatic upkeep, every landscaping job can benefit from consistent protection and manicuring.
With Gill's maintenance services, customers can expect Gill's skilled technicians to preserve their sense of pride and accomplishment in their lawns and gardens—and that includes state-licensed pesticide implementations and lawn-cutting plans.
Lighting is another great way to accentuate a property's new or pre-existing beauty. Gill's lighting packages, like all of their services, are fully-customizable, and can be designed and installed around your home's exterior to maximize visibility, security and curb appeal.
Plenty of Financing Options
Gill's Landscaping has partnered with John Deere Credit to offer qualifying customers six months without payments or interest, subject to certain terms. They have additional financing options as well, and can work with each customer to find the solution that works best for them.
That means that whether you are building the backyard of your dreams from the ground up or you just want maintenance services on landscaping work previously completed, Gill's can work with your budget to make your goals affordable.
The company maintains a NJ Home Improvement Contractors License, a DEP Pesticide License, and an IANJ Irrigation License.
Top Quality Service and Results
Customers usually have a very good idea of what they want, but one of the most important aspects of Gill's Landscaping's customer service philosophy is being clear about how and why certain tasks must be completed on a particular project. They take keeping their customers fully informed very seriously. "The end result is to save the customer money in the long run by being proactive in our approach," says Gill.
Gill's Landscaping understands that the desire to beautify your property doesn't always come cheap. After all, you only get what you pay for.
And while prices are highly competitive, the company doesn't do "cheap" work—it's just not their style. When contractors cut corners, "the end product usually requires costly repairs to the customer," Gill says.
"Unfortunately, a lot of people are misguided by the 'fly-by-night' operations that offer to do the job 'at a great price,'" Gill says. Gill's Landscaping's customer-oriented design process is meant to produce the best long-term implementation of a customer's vision.
That's how they consistently produce results they can be proud of today, and customers can be proud of for many, many years.
Gill's Landscaping 240 Commissioners Road |?Mullica Hill |?(856) 223-9770 |?GillsLandscaping.com
Published (and copyrighted) in Suburban Family Magazine, Volume 3, Issue 1 (March, 2012).
For more info on Suburban Family Magazine, click here.
For information about advertising in Suburban Family Magazine, click here.
To find out where to pick up your copy of Suburban Family Magazine, click here.