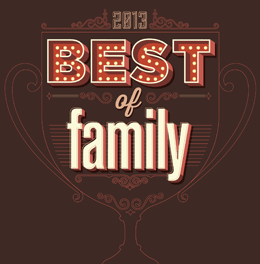 Best of Family
Our first-ever Suburban Family Best of Family contest is here, with our picks for best family businesses and community resources, like family doctors, dance studios or best restaurants for kids. Thanks to hundreds of nominations and votes from our loyal readers, plus selections from our panel of editors, we present our first annual Best of Family winners.
ARTS, CULTURE and SPORTS
BEST DANCE INSTRUCTION
Jazz Unlimited
Fun and education meet in this 1,500 student studio, from their signature jazz lessons, to tap, hip hop and contemporary.
201 Route 73 S., Suite B, Marlton
(856) 983-6608
IBJazz.com
BEST CLASSICAL BALLET INSTRUCTION
The Dance Academy
Learn grace and poise by sought-after instructors who will help your pint-sized Pavlova grow, with classes for three-year-olds on up.
1465 Brace Road, Cherry Hill
(856) 795-9255
DanceAcademy.com
BEST JAZZ
Chez Dance
The electric energy of jazz pours out of the doors of this soulful studio. Offering jazz hip hop with an emphasis in funk, dancers aged seven and up dance with the best.
224 Fries Mill Road, Turnersville
(856) 875-4475
ChezDance.com
ACTING LESSON
Renee's Studio
Everyone deserves their moment in the spotlight. Through scene studies, improv classes and more, actress Renee Weisband gives South Jersey stars the tools needed to outshine the competition.
875 Cox Road, Moorestown
(609) 220-7537
Renees-Studio.com
FUN FOR TEENS
Cherry Hill Skating Center
The roller rink is a source for parent's nostalgia and a hot spot for teens to this day. Your teen will never again be bored on Friday nights with the rink's late night open skating sessions.
664 Deer Road, Cherry Hill
(856) 795-1919
CherryHillSkatingCenter.com
FAMILY THEATER
Moorestown Theater Company
This group's motto says it all: "Where families have fun performing musical theater together." It was even cited as a reason why Moorestown was once named one of the America's best places to live by CNN's Money Magazine.
704 Kings Highway, Moorestown
(856) 778-8357
MoorestownTheatercompany.org
BEST COMPETITION DANCE SCHOOL
Nancy Mulford Dance
When the competition is heating up you need the best. Mulford's dance companies have performed countless times across the country, dropping competitors with their dedication and talent.
245 S. Black Horse Pike, Mount Ephraim
(856) 931-1830
MulfordDance.com
BEST TAP INSTRUCTION
Dance! by Debra DiNote
Ballet-tap and ballet-tap-jazz combinations are offered for children ages six to nine, while DiNote's intensive classes focus in mastering the art of tap dancing.
5360 Route 42, Turnersville
(856) 227-9414
DancebyDiNote.com
FAMILY FITNESS CENTER
Cherry Hill Health & Racquet Club
When New Year's resolution time rolls around, you can find us here, getting fit on one of 65 cardio machines or in Zumba fitness (one of 90 classes offered weekly).
1820 Old Cuthbert Road, Cherry Hill
(856) 429-1388
Chhrc.com
BEST GYMNASTICS
Champions United Gymnastics Academy
Boys and girls learn the importance of health and safety in the academy's state-of-the-art training area. Lessons are offered in a variety of different gymnastics techniques, like trampoline, tumbling and beam.
824A East Gate Drive, Mount Laurel
(609) 865-6810
Champions-United.com
SPORTS RECREATION PROGRAM
Israeli Krav Maga
The art of Israeli street defense hits the gym, offering students of all ages defense strategies and tactics perfected by professional defense and security forces.
2020 Springdale Road, Cherry Hill
(856) 428-5728
IsraeliKrav.com
SPORTS TRAINING CENTER
Velocity Sports Performance
Whether working to make the varsity team or bulking up that batting arm, Velocity trainees have what it takes to get stronger, tougher and faster.
2005 Marlton Pike, Cherry Hill
(856) 874-9700
VelocitySP.com
FAMILY FOODS
BEST PASTA
Al Dente Italiana
This Moorestown eatery may still be fairly young, but the packed dining room lets you know it's made a quick impression. Moms and dads can share the standout spaghetti and meatballs and the shrimp scampi, while the little ones feast on lasagna and cheese ravioli from the kids' menu.
1690 Nixon Drive, Moorestown
(856) 437-6593
AlDenteItaliana.com
BEST DESIGNER DESSERTS
Classic Cake
From the delectable bite-size offerings to the rich cakes, there's something for every sweet tooth here. You could go elsewhere, but Chef Robert Bennett is a world-renowned chocolate expert. Need we say more?
100 Hurfville-Crosskeys Rd., Sewell
(856) 262-7400 and
480 Evesham Rd., Cherry Hill
(856) 751-5448
ClassicCake.com
BEST MEXICAN
La Esperanza
La Esperanza serves unique tastes of Mexican cuisine the way it was meant to be enjoyed: full of bold flavor and without pretension. Go for the mole poblano or the shrimp soup with rice, onions and cilantro.
40 E. Gibbsboro Rd., Lindenwold
(856) 782-7114
MexicanHope.com
BEST PIZZA
Montagnaro's
Finger foods like chicken fingers and fries will satisfy the kids, while the adults tackle specialty pizzas with toppings from artichoke hearts and prosciutto to eggplant and ricotta cheese.
2999 Evesham Rd., Voorhees
(856) 751-1166
MontagnarosPizza.com
BEST AMERICAN FOOD
Cool Dog Cafe
Gourmet hot dogs have followed burgers as the hot new culinary trend. At this Cherry Hill fast-casual spot where the franks can come topped with mac and cheese and pulled pork, they prove some trends have staying power.
2091 Route 70 E., Cherry Hill
(856) 424-0400
TheCoolDogCafe.com
BEST APPLE PIE A LA MODE
Lillian's Cafe
Whether coming for lunch, dinner or the stellar Sunday brunch; don't skip out on this dessert. The mouthwatering pie is a shining example of comfort food done right.
34 W. Merchant St., Audubon
(856) 547-1902
LilliansCafe.
BEST ITALIAN RESTAURANT
Iliano Cucina Mediterranea
Medford's Iliano Cucina Mediterranea has been a family-owned-and-operated business for more than two decades, which means they know a thing or two about bringing people together for a quality meal.
200 Tuckerton Rd., Medford
(856) 985-2721
IlianoCucina.com
BEST BREAKFAST
The Pop Shop
It's a well-known fact that the "squirts" love coming here for the oversized pancakes, the perfectly melted grilled cheeses and the fountain sodas. But parents love it here just as much.
729 Haddon Ave., Collingswood
(856) 869-0111
ThePopShopUSA.com
BRAIN POWER
STANDARDIZED TEST PREP CENTER
Huntington Learning Center
Prepare your child or teenager with the tools to get through some of their biggest educational milestones. Huntington offers specialty SAT, PSAT and ACT prep courses to high school students who want to do what it takes to secure a bright future.
1990 Marlton Pike East, Cherry Hill
(856) 751-1548
860 Route 168, Turnersville
(856) 227-0033
HuntingtonLearning.com
BEST MATH LEARNING CENTER
Mathnasium
Help your children make sense of math with the best tutoring options available. The center's one-on-one learning environment gives students the most comfortable learning experience so they can focus without fear.
1892 Route 70 E., Cherry Hill
(856) 874-0050
Mathnasium.com
BEST TUTORING
Tutoring Center
Using a rotational-learning approach combined with one-on-one lessons, the Tutoring Center provides optimal learning in all areas of study.
700 Haddonfield-Berlin Road, Voorhees
(856) 435-7000
TutoringCenter.com
HOME GOODS
INTERIOR DECORATING
Rooms in Bloom
Lusting after what you see on HGTV? With experience in home redesign as well as real estate staging, Rooms in Bloom gives you that polished look.
Moorestown
(856) 722-1505
RoomsinBloom.biz
BEST FLORIST
MaryJane's Flowers and Gifts
When we're in need of a pretty pick-me-up for any occasion, here's where we'll turn for beautiful bouquets.
111 W. White Horse Pike, Berlin
(856) 336-2912
MaryJanesFlowersandGifts.com
STORAGE
Hampshire Self-Storage
A full house comes with a house full of clutter. Clear out your closets and free up some extra garage space with one of Hampshire's many low-cost and climate-controlled rental spaces.
20 Rockhill Road, Cherry Hill
(856) 437-5601
HampshireSelfStorage.com
PET GROOMING
The Dog House
When our pets need a touch-up, this vet-recommended groomer spares no detail, with grooming for cats and dogs, teeth brushing, trendy coloring services and perks for new customers.
315 E. Atlantic Avenue, Audubon
(856) 547-8716
BEST RESIDENTIAL SOLAR COMPANY
Solar Works of New Jersey
Adding solar panels to your home can provide a lifetime of savings; Solar Works provides an environmentally-friendly form of energy to South Jersey families.
900 Route 168, Turnersville
(856) 232-6363
SolarWorksNJ.com
BEST FAMILY CAR DEALERSHIP
Burns Hyundai
Pull up to the next ballet recital or soccer game in style. Burns Hyundai has any style car at a variety of prices so that families large and small will be able to find a classy, comfortable and safe car to fit their lifestyle.
500 Route 70 w., Marlton
(856) 322-1101
BurnsHyundai.com
BEST FAMILY INSURANCE
McDyer Insurance
Nothing is more important than the safety and security of your loved ones. Michael McDyer and his dependable insurance agency give you one less thing to worry about.
649 Stokes Road, Medford
(609) 654-1426
FEELING YOUR BEST
PEDIATRICIAN
Advocare Township Pediatrics
This team of doctors cares for your family from birth through college, with convenient early morning and evening hours from Mon. through Sat.
123 Egg Harbor Road, Suite 206, Sewell
(856) 227-5437
AdvocareDoctors.com
ORTHODONTIST
Frank Batastini Orthodontics
With treatment options ranging from traditional braces, to alternatives like clear porcelain or Invisalign systems, Dr. Batastini will make sure your family ends up on the office's smile wall-of-fame.
300 Chester Avenue, Suite 107, Moorestown
856-231-0900
188 Fries Mill Road, Suite F-3, Turnersville
856-262-0500
BracesBraces.com
[ Readers' Choice ]
Euksuzian Orthodontics
30 Jackson Rd # B2, Medford
bracesbydre.com
BEST FAMILY DENTIST
Mary Farren, DMD
Scared to get your teeth cleaned? You'll feel right at home in this cozy private practice, with waiting rooms that feel more like your own living room.
1908 Springdale Road, Cherry Hill
(856) 751-6606
MaryFarrenDMD.com
BEST FAMILY REHABILITATION CENTER
Innova Health & Rehab
Trust in one of Innova's three locations, specializing in post-acute illness and injury rehabilitation services for stroke, hip replacement, mobility and much more.
3718 Church Rd., Mount Laurel
(856) 235-7100
InnovaHealthAndRehab.com
BEST NEUROLOGICAL CENTER
Center for Neurological and Neurodevelopmental Health
Named an Autism Clinical Enhancement Center by a state council, this center helps families living with autism, through a pragmatic approach to treatment and therapeutic practices for infants, children and adolescents.
250 Haddonfield-Berlin Rd., Suite 105 Gibbsboro
(856) 346-0005
Thecnnh.org
BEST PHYSICAL THERAPY
Star Physical Therapy
The staff here knows a thing or two about orthopedic and post-operative physical therapy – everything from spine conditions to sports injuries are fair game, with optional personal training or transitional fitness programs for young and old.
127 Ark Road, Suite 21, Mt. Laurel
(856) 608-7733
StarPT.net
(other locations in Medford and Cherry Hill)
BEST NEUROLOGICAL CENTER
Center for Neurological and Neurodevelopmental Health
Named an Autism Clinical Enhancement
Center by a state council, this center helps families living with autism, through a pragmatic approach to treatment and therapeutic practices for infants, children and adolescents.
250 Haddonfield-Berlin Rd., Suite 105, Gibbsboro,
(856) 346-0005
Thecnnh.org
FOR PARENTS
For families in the "sandwich generation," making decisions for aging parents can be difficult. But these facilities make transitional periods healthier, happier and less stressful.
BEST ASSISTED LIVING
Collingswood Manor
460 Haddon Avenue, Collingswood
(856) 854-4331
CollingswoodManor.org
BEST INDEPENDENT LIVING APARTMENTS
Woodbury Mews
122 Green Avenue, Woodbury
856-599-4221
kapdev.com
BEST MEMORY CARE
Juniper Village
1640 South Black Horse Pike, Williamstown
(856) 740-4444
500 Southern Boulevard, Chatham
(973) 966-5483
JuniperCommunities.com
LOOKING YOUR BEST
COOLEST GIFTS FOR KIDS AND PARENTS
Mixellaneous
The word "boutique" might imply that a store specializes in just one thing, but not at Mixellaneous. Here, you'll find an eclectic mix sure to please anyone on your gift list.
Designer's Court, 947 Route 73 S., Marlton
(856) 574-4310
DiscoverTheMix.com
CHILDREN'S HAIRCUT
Kids Kuts
Getting your kid to sit still for a haircut isn't always the easiest task, but Kids Kuts is a different story. Think toys in the waiting area, cool seats shaped like trains and animals, and kids' movies playing nonstop.
Multiple locations throughout South Jersey
KidsKutsRUs.com.
[ Readers' Choice ]
Tantrum Spa
21 N. Maple Ave., Marlton
(856) 983-7800,
TantrumSpa.com
FAMILY SALON
Rizzieri Studio Salon
If you want a salon where the whole family can go, affordability is key. That's what you'll find at Rizzieri, along with the standard services such as cuts, styling, coloring, hair treatments and more.
8101 Town Center Blvd., Voorhees
(856) 985-5500
RizzieriStudioSalon.com
BEST FAMILY JEWELER
Family Jewelers
This family-owned store, which now includes four generations, offers beautiful, specialty jewelry or pieces from trendy lines like Pandora. But what also makes them extra special is their involvement in the community, like annual fundraising for our troops.
65 E. Route 70, Marlton
(856) 983-6337
FamilyJewelers.com
DANCEWEAR BOUTIQUE
Attitudes
Whether you're looking for something for your little ballerina or gymnast, Attitudes has you covered. There's clothing and accessories for dance, cheerleading, gymnastics, skating and even liturgical wear.
444B Route 70 W., Marlton
(856) 985-7270
AttitudesNJ.com
DISCOUNT CHILDREN'S CLOTHING
Once Upon A Child
This store, which buys and sells used children's items, is the place to go when clearing out clothes from your kids' closets. You know, the ones you bought that only fit for six months.
450 S. Lenola Road, Maple Shade
(856) 235-5439
OnceUponaChildMapleShade.com
CHILDREN'S CLOTHES
Ragamuffins
An impressive list of designer collections—combined with impeccable customer service—makes Ragamuffins a top choice for fancy and casual kids' clothing.
2999 E. Evesham Road, Ste. 12, Voorhees
(856) 751-9333
Ragamuffinsnj.com
FOR LITTLE ONES
KIDS' PLAY PLACE
Monkey Town
With convenient open play hours, Monkey Town's inflatables, obstacle courses and Velcro wall provide a safe, fun environment for your little ones to burn off energy.
5360 Route 42, Whitman Plaza, Turnersville
(856) 227-5867
MonkeyBusinessnj.com
BIRTHDAY PARTY PLACE
BounceU
Check your stress at the door and let BounceU help pull off a birthday everyone will remember. Watch the kids enjoy the activities, and smile knowing you don't have to clean up a thing.
1205 Warren Ave., Cherry Hill
(856) 429-6400
BounceU.com
[ Readers' Choice ]
Tilt Studio
1580 Voorhees Town Center, Voorhees
(856) 782-6572
www.tilt.com
BEST DAYCARE
Colors of the Rainbow Learning Center
Their philosophy? Children learn best through play. With that principle, kids ages 6 weeks and up learn here through age-appropriate playful activities.
401 N. Kings Highway, Cherry Hill
(856) 667-0962
ColorsInRainbows.com
FAMILY COMMUNITY CENTER
Katz JCC
Go beyond the standard realm of daycare, fitness programs, sports and recreation. JCC's festivals, educational and cultural programs reach out to the community as whole, making it a destination for many families.
1301 Springdale Road, Cherry Hill
(856) 424-4444
KatzJCC.org
BEST TOYS
The Happy Hippo
This little toy shop hasn't been around for 30-plus years by chance. While there are newer selections, the highlights are the mainstays and trinkets from many a parents' childhood, a stock of toys that stand the test of time and are sure to please any child—and the young at heart.
135 W. Main St., Moorestown
(856) 234-1974
Moorestown.com/hippo
FAMILY CENTER FOR THE ARTS
Mainstage Center for the Arts
There is always something going on for every member of the family at Mainstage. Brand new performances, workshops, festivals and concerts from a variety of teachers and performers cram their calendar on a daily basis, keeping your family constantly entertained.
311 College Drive, Blackwood
(856) 232-1012
Mainstage.org
BEST WEEKEND ACTIVITY
Springdale Farms
Cherry Hill's last working farm is a one-stop shop for those looking to fill up a Saturday or Sunday afternoon. Hayrides, a corn maze and pie tastings are just some of the activities on hand. On some occasions, you can even get a family portrait taken by a local photographer.
1638 Springdale Rd., Cherry Hill
(856) 424-8674
SpringdaleFarms.com
THINGS TO DO
BEST RAINY DAY ACTIVITY
Adventure Aquarium
Here you can hang with a hippo, swim with the sharks and pet a sting ray. You can also catch live entertainment and shows and fill up in the cafeteria before starting out on your next tour. This spring, the aquarium will introduce a new interactive KidZone.
1 Riverside Drive, Camden
(856) 365-3300
AdventureAquarium.com
BEST ICE SKATING
Igloo Ice Rink
The "coolest place in town" offers lessons for beginners, public skating times and open ice for hockey matchups. There's also a snack bar and a pro shop for all your skating needs.
3033 Fostertown Rd., Mount Laurel
(856) 638-0801
SkateIgloo.com
BEST OUTDOOR AMUSEMENTS
Funplex
Mini golf, bumper boats, go karts and water slides are just some of the reasons why when the weather is nice you'll catch us here.
3320-24 Route 38, Mount Laurel
(856) 273-9666,
FunplexMountLaurel.com
BEST WATERPARK
Sahara Sam's
Families can slide down "Mount Kilimanjaro" on a raft, or kids can navigate the larger than life ropes course at this indoor water park where getting wet is a given and having fun is mandatory.
535 N. Route 73, West Berlin
(856) 767-7580
SaharaSams.com
TOP SCHOOLS
You voted, we listened. Here's where area kids go to smarten up.
BEST EARLY CHILDHOOD EDUCATION PROGRAM
Malvern School
5 Eayrestown Road, Medford
(609) 654-4500
MalvernSchool.com
BEST PRESCHOOL
Rancocas Friends School
PO Box 104, Rancocas
(609) 267-1265
RancocasFriendsSchool.org
BEST PRE K-12 PRIVATE SCHOOL
Moorestown Friends
110 East Main Street, Moorestown
(856) 235-2900
MFriends.org
BEST PRE K-8 PRIVATE SCHOOL
Haddonfield Friends
47 North Haddon Avenue, Haddonfield
(856) 429-6786
HaddonfieldFriends.org
BEST PRIVATE HIGH SCHOOL (9-12)
Camden Catholic High School
300 Cuthbert Road - Cherry Hill CamdenCatholic.org
BEST SPECIAL NEEDS SCHOOL
The Y.A.L.E. School
Nine locations in New Jersey
(856) 795-3566
YaleSchool.com
BEST FRANCHISE DAYCARE
Learning Experience
401 South Burnt Mill Rd, Voorhees
(856) 346-4140
TheLearningExperience.com
Published (and copyrighted) in Suburban Family Magazine, Volume 2, Issue 9 (November, 2011).
For more info on Suburban Family Magazine, click here.
For information about advertising in Suburban Family Magazine, click here.
To find out where to pick up your copy of Suburban Family Magazine, click here.