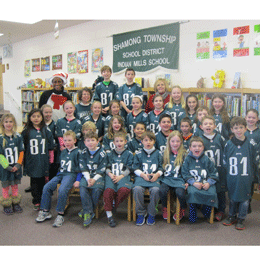 Star Students: October, 2011
John Gilligan
, Medford
Gilligan (pictured), a senior at Shawnee, has qualified as a National Merit Scholarship semifinalist. As the only Shawnee semifinalist he is among an elite group of students to qualify for this competition and must maintain high academic standards and requirements to advance to the finalist level in February.
Joe DeMarco, Burlington
DeMarco, a junior at Doane Academy, was named the school's Head Boy Ambassador this year. This top student also leads Burlington County in soccer goals this season, with 9 scored during the team's first 3 games.
Luke Szyszkiewicz, Cinnaminson
This St. Charles Borromeo School fourth grader caught the acting bug early. He will soon appear as Peter in the musical MAME at Burlington County Footlighters. After performing in Holy Cross High School's production of The Wizard of Oz in the spring, he has gone on to play more involved roles in community theater productions in Cinnaminson.
Sydney Hatton, Rhett Barnes, Gabriella Raspanti and Colson Gonzalez, Washington Township
Thomas Jefferson Elementary School Principal Jeffery Pollock recognized these four fourth-graders for September's Students of the Month. The pupils were rewarded for demonstrating responsibility, respect and displaying excellent character traits.
Raymond Wos, Washington Township
Wos won the Bunker Hill Middle School's Constitution Day contest, a school wide trivia game about our nation's history. For correctly answering every question, the middle school student won passes to the National Constitution Center in Philadelphia.
Sarah and Hannah Pike, Voorhees
These 17-year-old twins won the Voorhees Teen Film Festival with their short flick, "Devil Take the Hindmost," based on the celebrated story and musical "The Phantom of the Opera." The festival, sponsored by the Camden County Library System, encouraged teens to promote their favorite books, combining a love of reading with modern technology.
David Jacobowitz, Emma Van Dervort and Michael Zaleski, Haddonfield
These Haddonfield Memorial High School students are semifinalists in the 2012 National Merit Scholarship Competition. Out of 1.5 million students who entered by taking the PSAT and National Merit Scholarship qualifying exam last year, these three students scored high enough to reach semifinal levels – representing less than one percent of U.S. high school seniors.
Maryia Oreshko, Cherry Hill
Oreshko, a seventh grader and chess wiz, has qualified to compete in the 2011 World Junior Chess Championship. The Rosa Middle School student placed fifth in her age group at last year's championship.
Nicholas Poaletti, Moorestown
Poaletti, a Moorestown High School student, worked hard volunteering all summer to create a flourishing butterfly garden at Wigmore Acres, filled with plants, shrubs and benches for visitors. He was recently honored with his Eagle Scout award for the hours of service completed.
Will Van Fossen, Timmy White, Matthew Gavin, Delaney Wallace and Alex Ing, Moorestown
The Quaker Noats boys' a cappella group, started by these four Moorestown High School students, performed "God Bless America" at a Camden Riversharks game in Sept. during the seventh-inning stretch. The group was selected to sing by the Riversharks' staff, after a local church recommended them.
10,000 Minute Club, Marlton
This summer, 16 Van Zant Elementary students individually read 10,000 minutes each over the summer, helping the school log 607,340 minutes in the Scholastic Summer Reading Challenge. The school placed 15th out of 3,000 schools participating nationwide, earning them a spot in the 2012 Scholastic World Record Book.
Laura Wooding, Mount Laurel
Wooding, a retired Army veteran, is a non-traditional student pursuing a career in nursing at Burlington County College. She received the inaugural Dr. Robert C. Messina Jr. Wilmington University Scholarship this September, which grants a full academic scholarship to a bachelor's degree student with extreme financial burdens, a high GPA, and who has already completed an associate's degree at BCC.
Published (and copyrighted) in Suburban Family Magazine, Volume 2, Issue 8 (October, 2011).
For more info on Suburban Family, click here.
For information about advertising in Suburban Family, click here.
To find out where to pick up your copy of Suburban Family, click here.