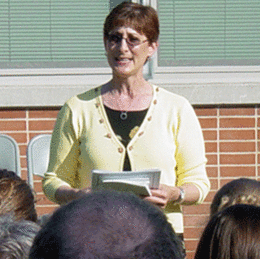 Star Teachers: October, 2011
Al Siedlecki (pictured, with Lee Buono)
, Medford
This Medford Memorial Middle School science teacher was featured on NPR's StoryCorps program this month with former student Lee Buono, now a neurosurgeon. Buono told the story of reconnecting with the teacher who inspired him to pursue medicine some 22 years ago, thanks to a frog dissection project after school. Buono and Siedlecki were invited to the White House, to share the story for the launch of StoryCorps' National Teaching Initiative.
Ashley Wills, Washington Township
When she was 15, Wills personally collected more than $6,000 dollars for families affected by the 9/11 attacks. This year on the 10th anniversary, the now substitute teacher at Birches Elementary taught a class of fifth grader students about the events of 9/11 in a lesson about the heroes of that day and personal kindness.
Meg DeRespino, Medford
Kindergarten teacher DeRespino, of St. Mary of the Lakes School, is showing her students the importance of reading. Her students participated in an early literacy program, "One World, Many Stories" through a visit to the Pinelands Library and all 21 students received their own library cards.
Drew Potter, Marlton
Potter was named Cherokee High School South Employee of the Month for September, thanks to his innumerable hours spent getting all computers, data projectors, DVD players, and technical equipment prepared for students and staff to return to school last month. "He is always quick to respond to any request and does so in a truly professional manner," says assistant principal Justin Smith.
Denise Lewis, Voorhees
Art teacher Lewis, of E.T. Hamilton School, undertook a "Pinwheels for Peace" project with her classes as part of the International Day of Peace. More than 100 students made pinwheels as a lesson on finding peaceful resolutions to conflicts and expressing feelings of tolerance and respect in the classroom.
Jeff Snyder, Ron Lucarini and Joe Hoopes, Washington Township
These Orchard Valley Middle School teachers led their 8th grade social studies students in Foreign Policy Research Institute's educational webcast, "What Students Should know about 9/11: Ten Years Later." Students learned about the attacks' ramifications and effects on foreign policy today, followed by a teacher-led discussion.
Mike D'Ascenzo, Moorestown
D'Ascenzo, assistant principal at Upper Elementary School, is now the anti-bullying coordinator for the Moorestown Public School District. As part of a state-wide effort to crack down on bullying in the school system, he launched a comprehensive strategy to make the district's six schools "bully-free" through counseling, investigation and reporting methods.
Carolyn Messias, Cherry Hill
English teacher Messias has quite a positive impact on her pupils. Student Christin Pfaff won the statewide NJEA Trenton Thunder essay contest, with her essay titled "My Hero Works at School," saying Messias "looks more at who I am and not who she thinks I am." The three winning teachers and students were the honored guests of the NJEA at a Thunder game in September.
Pete Townley, Washington Township
Bunker Hill Middle School science teacher Townley taught his sixth, seventh and eighth grade students to reach for the stars in a whole new way. Townley coordinated a special after-school teleconference with Mark Wetzel, the lead astronomer for the McDonald Observatory in Texas. Students learned about astronomy, the sun and our solar system.
Steve Beyer, Sean Morrissey and Justine Schlett, Mount Laurel
Social studies teacher Beyer, language arts teacher Morrissey and math teacher Schlett spearheaded Mix It Up lunches for seventh and eighth grade students as a way for students to make friends, break up cliques and meet new people. On Sept. 30, students were seated according to birthdays throughout the school's cafeteria and were given a questionnaire to fill out and hand in for prizes. The lunches will become a monthly tradition, beginning in Oct.
Shelley Spicer, Mount Laurel
Eighth-grade language arts teacher Spicer created the Random Acts of Kindness chain. Her students wrote down ways they could be kind to others on strips of paper. Those messages were joined together in a chain that stretched around Harrington Middle School's cafeteria, creating a powerful message of kindness.
Michele Sehdev and Roberta Laidig, Haddonfield
These co-chairs for Haddonfield Middle School's "Project Focus" have raised $1,500 to equip classrooms in the sixth, seventh, and eighth grades with ceiling mounted LCD projectors. The Haddonfield Rotary Club presented Sehdev and Laidig, with a check supporting the technology fundraiser at a meeting this September.
Published (and copyrighted) in Suburban Family Magazine, Volume 2, Issue 8 (October, 2011).
For more info on Suburban Family, click here.
For information about advertising in Suburban Family, click here.
To find out where to pick up your copy of Suburban Family, click here.