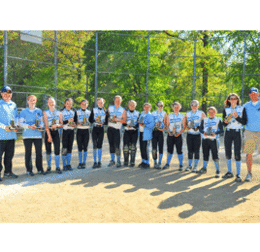 Star Athletes: October, 2011
Paige Propp, Hunter Hurst
, Cinnaminson, Medford
For Propp and Hurst (pictured), sailing is practically embedded in their DNA. Both girls are descendents of Yacht Club Commodores and have been sailing since they were 8 years old. The duo just clinched the Mid Atlantic Yacht Racing Association's South Jersey 420 Championship title, and earned the "Travelers Award," given to sailors who have participated in the most regattas along New Jersey's coast during a single season.
Alayne Corum, Medford
Corum, a captain for her gymnastics team, has qualified to compete in all events at the State Sectional Championships in Nov. The Seneca senior qualified by achieving a high score in each event during at least two competitions this season.
Catherine Senopoulos, Haddonfield
Senopoulos, who plays in the No. 1 doubles position at Haddonfield Memorial High School, won her fourth consecutive Camden County doubles championship in Sept. She also broke the school record with her 141st career victory in Haddonfield's 5-0 win over Moorestown.
Aleksandra Brittain, Cherry Hill
This Cherry Hill East junior is now No. 8 in the country in silver-level solo ice dancing, after performing at the third annual National Solo Dance Championships in Sept. After months of training for two hours a day, the 16-year-old lifelong skater competed – and finished 8th – at the third-highest level in this national competition.
Jaime Silverberg, Cherry Hill
Silverberg is ranked No. 1 on her team at Cherry Hill East and has been undefeated for every team match this season. This tennis powerhouse also maintains her spot in the school's top 5% in academics, according to Coach Mary Lynn Jewett.
Kyle Wigley, Medford
Wigley, a two-year football starter and three-year lacrosse starter, has a lot on his plate. Though he recently suffered a season-ending torn ACL, Wigley is a team tri-captain and was honored this year with the prestigious #44 jersey to commemorate the late Nick Garner, a former MYAA football player. In addition to sports, the Shawnee senior stays on top of his 4.73 GPA and AP class schedule, and volunteers for several organizations including MYAA Football and Special Olympics.
Brianne Waters, Washington Township
Brianne Waters, goalkeeper for Washington Township High School's field hockey team, made 17 saves each in two games against Eastern. The senior has made 51 saves this season, more than any other goalkeeper in South Jersey Group 4.
Morgan Venuti, Washington Township
Venuti, ranked No. 1 on Washington Township High School's gymnastics team, placed first in all four events at a recent meet, earning 37 points to help the defending Olympic Conference champions score their first win of the season.
Kate Deutsch, Marlton
This 10-year-old has quite a batting arm. Deutsch won the Marlton Elks' state-level Batter Up competition for her age group, following first-place wins in the regional, district and local competitions.
Morgan Burns, Voorhees Burns, a Voorhees Middle School student, is a captain of the GVAA Cheerleaders' competition squad. She was also selected this year to join the team's all-star squad. In between daily practice and responsibilities as captain of the competition squad, Burns also holds a spot on her school's principals list.
Maura Trotman, Haddonfield
Trotman, the Haddonfield Memorial High School field hockey goalie, saved four shots on goal in the final minute of play, stopping the comeback attempt by West Deptford on Oct. 6. Haddonfield, now 12-0 for the season, won the game 2-1, clinching the Patriot Division.
Jack Inglis, Moorestown
Cross-country runner Jack Inglis was named a team leader for the boys' varsity division. This Moorestown High School senior recently placed first in a Batch Meet against Rancocas Valley, Delran, Medford Tech and Westhampton Tech, with a time of 17:11.
Published (and copyrighted) in Suburban Family Magazine, Volume 2, Issue 8 (October, 2011).
For more info on Suburban Family, click here.
For information about advertising in Suburban Family, click here.
To find out where to pick up your copy of Suburban Family, click here.