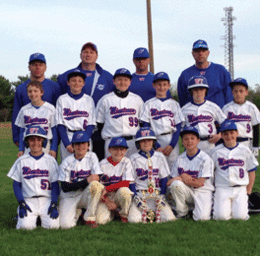 Star Coaches: August, 2011
Adam Gerber
; Moorestown 8U District Baseball
The Moorestown 8U District recreation baseball team (pictured) won the Cal Ripken South Jersey Championship for players aged 8 and younger, held in Hamilton, after beating Marlton 9-6. Coach Adam Gerber's team of elementary school-aged athletes went undefeated for 20 straight games, advancing to the Mid-Atlantic Regionals in Great Kills, N.Y.
Vinnie McMahon; Mount Laurel Heat
McMahon's basketball team advanced to the United States Basketball Association National Tournament in Myrtle Beach, S.C. The team of 14-year-old players went undefeated through the tournament and walked away with a 60-57 win in the final game against West Virginia's Pony Express team.
Bob Shissler; Marlton Cardinals 12U Baseball
Coach Bob Shissler's Cardinals won the Cal Ripken South Jersey 12U State Championship, clinching the title with two victories over Gibbsboro-Voorhees. The team also finished the first-ever Marlton Mayhem Tournament in June with an undefeated 4-0 record.
Jillian Mulderig; South Jersey Gators
Two years ago Jillian Mulderig, a Washington Township High School grad, took over the role of assistant coach for the South Jersey Gators, an 18- and-under Amateur Softball Association team, while still enrolled as a student at William Paterson University. Now the head coach, Mulderig this season saw her team advance to the league semi-finals at the New York/Tampa Showcase.
Glen Furman; Marlton Chiefs Baseball
Furman's Chiefs tournament team won two championships in one week. The 7-year-old players beat Marlton's other 7-year-old tourney team in the Bob DiDonata Glendora Little League tournament, then conquered Washington Township's team in the Medford Killer B tournament.
Mike Swain & Bill Groble; Cherry Hill Atlantic Little League Girls 9-10 Softball
Head coach Mike Swain and manager Bill Groble saw their team take home the title of Atlantic champs for the second year in a row. The girls defended their title in the District 13 tournament by defeating the Rancocas Valley team.
Wilbur Fennal; Washington Township High School Football
Gloucester County Sports Hall of Fame member Wilbur Fennal was recently honored with the "Legend Award" by the South Jersey Football Coaches Association. Fennal, a former running back at Clayton High School, has been a football coach at Washington Township High School for more than 10 years and also previously served as assistant football coach at Rowan University. Fennal is also a member of the Clayton Athletic Hall of Fame.
Emily Kennedy; Moorestown High School Girls' Swimming
Moorestown High School girls' swim coach Emily Kennedy had six girls qualify for the state swim meet this past season, even with the team's best swimmer out due to injury most of the year. Five of the six girls were sophomores, too, making next season's outlook a positive one. The team also came in third at the South Jersey Coaches Invitational meet this past season.
Jim Balzan, Mike Carvin, Dan Dengler & Spence Epstein; Medford 10-year-old Baseball
The team, lead by Balzan, Carvin, Epstein and Dengler, captured the 10-year-old Southern New Jersey Cal Ripken championship and went to the Mid-Atlantic Regional Tournament. This is the third straight year the Medford squad has advanced to regional play. They won as 8-yearolds and again last year as 9-year-olds, also winning the regional title last season. Medford wrapped up the title with an impressive 8-0 win over Bayshore and then triumphed over Mount Laurel in the final, with a score of 7-0.
Devin Kirby; Sturbridge Stingrays Swim Team
Kirby's team, a co-ed recreational summer group in Voorhees, competed in the Suburban Swimming Association of South Jersey league championships this summer, pulling ahead in the first meet with a total of 343 points.
Sean Cassel; Seneca High School Baseball
Cassel, a fourth-year coach, led his varsity baseball team to their second state title in school history, clinching the Group 3 state championship.
Pete DiPol; Haddonfield Memorial High School Wrestling
Pete DiPol, who led the Haddonfield Bulldogs wrestling program to its most successful season in school history, is moving on to coach at the college level, at Gloucester County College. DiPol's successes include a Colonial Conference title last season, and achieving 200 career wins as a coach.
Know a Star Coach? Tell us about him or her at Family@SouthJersey.com
Published (and copyrighted) in Suburban Family Magazine, Volume 2, Issue 6 (August, 2011).
For more info on Suburban Family Magazine, click here.
For information about advertising in Suburban Family Magazine, click here.
To find out where to pick up your copy of Suburban Family Magazine, click here.