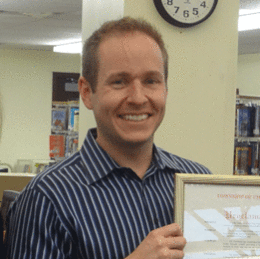 Star Teachers: August, 2011
Christy Marella-Davis
, Cherry Hill
Marella-Davis (pictured) founded the National History Day program at Rosa Middle School, which has run every year since 2007. Each year students complete a historical research project, which they turn into a collaborative documentary. This year the humanities teacher and her students entered a historical documentary contest at the University of Maryland. Their film, The Road To A More Perfect Union, finished second in the junior group documentary category, against 90 other teams.
Inez Korff, Cherry Hill
Korff, a Carusi Middle School teacher, was selected from more than 400 applicants to participate in the Songbirds of the Rocky Mountains Expedition through the Earthwatch Institute. The educator spent nine days in Jackson Hole, Wyo., researching and tracking songbird populations in the area.
JoAnne Lerch, Washington Township
Lerch, a kindergarten teacher at Grenloch Terrace Early Childhood Center, shaped and encouraged young minds for three decades. Now, the seasoned educator is retiring, after teaching in the Washington Township school system for 31 years. Lerch graduated from Glassboro State College (now Rowan University) with a degree in elementary education and has worked in the district for her entire career.
Kathleen Haines, Mount Laurel
After 14 years as an elementary and middle school teacher, Haines was named principal of Harrington Middle School. She replaced Christopher Clarke, who resigned in June to accept a position in another district.
Terry O'Brien, Moorestown
O'Brien, a fourth-grade teacher at Upper Elementary School, teamed up with the Moorestown Barnes & Noble to hold a family game night for "Young Strategists and Critical Thinkers." O'Brien doesn't like to rest during the summer holidays—instead he runs a summer camp for children ages 5 through 15, using strategic board games, chess and puzzles to hone critical thinking skills and sharpen young minds.
Ayala Varadi, Voorhees
Varadi received the Herman Fraint Memorial Award for Jewish Day School Teaching Excellence, an annual award established to recognize teachers who possess a love of Judiasm and a commitment to education. Varadi, a native Israeli, has taught at Kellman Brown Academy in Voorhees for 10 years. She currently teaches Hebrew and Jewish studies to grades three and five.
Ray Kucklinca, Moorestown
Kucklinca led a high-energy summer camp this month, offering a week of scientific lessons for kids from first through sixth grade. Camp Invention takes campers through three modules: a biology session studying animals and humans; decoding puzzles built to improve math and logic skills; and a module about the elements, exploring atoms, compounds and molecules.
Sharon Tinucci, Marlton
Tinucci was named Teacher of the Year for Cherokee High School South. Tinucci was recognized for her leadership, initiative and compassion as an educator, including more than 20 years of coaching freshman, JV and varsity lacrosse, basketball and field hockey teams. The physical education teacher's work has been paramount in developing an adaptive physical education program for students with special needs.
J.D. Munday, Cherry Hill
Munday's Cherry Hill West Latin students placed first at a state competition, the New Jersey Junior Classical League's State Convention. Students took written tests on Greek and Roman mythology, Roman history and daily life, Latin grammar, Latin vocabulary and English derivatives.
Karen Joy Shultz, Haddonfield
Shultz will be taking over as the new principal of J.F. Tatem School after Gino Priolo leaves to become principal of the middle school. The former third-grade teacher was previously at Elizabeth Haddon Elementary and has worked in the district since 1993.
Carolyn Messias, Marlton
Messias had such a positive effect on her students, one of them decided to write about it. Messias will be honored as an excellent educator by the New Jersey Education Association. The Cherry Hill West English teacher was selected for this ceremony based on an essay written by a student, Christine Pfaff, explaining how her teacher positively influenced her life. Both will be recognized during a ceremony at the Aug. 27 Trenton Thunder game.
Susan Roussilhes, Cherry Hill
Roussilhes, of Woodcrest Elementary School, participated in the 2011 South Jersey Summer Institute for Educators sponsored by the Chamber of Commerce Southern New Jersey. The three-week course exposes teachers to the South Jersey economy and the skills businesses look for when they hire employees.
Published (and copyrighted) in Suburban Family Magazine, Volume 2, Issue 6 (August, 2011).
For more info on Suburban Family Magazine, click here.
For information about advertising in Suburban Family Magazine, click here.
To find out where to pick up your copy of Suburban Family Magazine, click here.