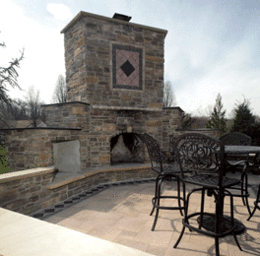 KS Greenday Inc.
KS Greenday Inc. can transform any homeowner's property into a private sanctuary.
The imminent arrival of another East Coast summer will likely bring with it a wave of concerns for many homeowners, especially those with underused outdoor spaces and busy social calendars. Some might even find themselves saying things such as, "With all the holiday weekend get-togethers and graduations, we should really put in a pool," or "The backyard desperately needs to be spruced up—especially the patio," and, most important, "Who can I get to help with all this?"
Answering this question is enough to make one long for the return of winter, because few have the time to track down all the contractors and subcontractors needed to build the pool, handle the landscaping, renovate the patio, install the lighting, put in a fire pit and build a cabana. Then, there's the issue of managing several parties who have different schedules and areas of expertise—and little idea as to how to work together to make the homeowner's life worry-free.
Fortunately, residents have the option of calling KS Greenday Inc. Originally formed as a landscaping company in the late 1990s, they now offer every service imaginable, in expert fashion, to transform backyards into peaceful sanctuaries for relaxing and entertaining. This includes in-ground pools—featuring a fashionable array of patios, pool decks, walls and fencing worthy of a four-star hotel—as well as cabanas that allow for luxurious places to unwind after toweling off. Proof can be found on the company's website, KSGreenday.com, or in the growing ranks of thrilled customers.
Artists at Work
Any agreed-upon work is done solely by KS Greenday Inc., which has more than 40 employees—including a construction division. "When you sign with us for a project, we're in it from beginning to end," says Eric Konyves, the company's president.
Adds vice president Tom Schreiber, "When we go out to appointments, we treat the job as if it's our own house."
That thoughtful attitude starts even before the first shovel pierces the earth, when a KS Greenday Inc. employee visits a prospective client's home for a free consultation. The staffer snaps photos, then uses three-dimensional CAD software to allow each client to see—at no charge—exactly what the finished renovation would look like. There are no surprises: KS Greenday Inc. provides exactly what a client sees on the screen.
"We're not the kind of company that's going to hard-sell the pool and then leave the client three business cards to handle the hardscaping, landscaping, and cabana/grill stations," Konyves says. Having one company deal with everything also means that the client and contractor can easily consider and make changes. For example, a traditional pool installer may not consider landscaping or other construction issues, which can lead to unexpected costs and unnecessary headaches. "We can get a job done in six weeks that would take four contractors 12 to 14 weeks to complete," Konyves says.
Never Too Early
KS Greenday Inc.'s reputation is third-party verified. The company belongs to several associations that demand first-rate customer service, including the Better Business Bureau, the Northeast Spa and Pool Association, and the Association of Pool and Spa Professionals. And, new hardscaping installations such as patios, walls and driveways come with a 10-year warranty from owner-operated KS Greenday Inc.
The dedication to detail extends beyond zoning ordinances and environmental safety measures, according to Konyves: "We're proactive in taking the whole project into account, even if they can't afford it right now."
KS Greenday Inc. can renovate in phases, giving clients the chance to use the same trustworthy, skilled labor whenever they decide to resume. And regardless of the phase, artistry is the company's calling card. "We're heavily into the design aspect of the job," says Konyves, who describes KS Greenday Inc.'s work as upscale. "When you're going with us, you're not looking for a cookie-cutter project."
One of KS Greenday Inc.'s services is the construction of cabanas, which have gained popularity in recent years. These additions can feature such perks as granite-topped bars, entertainment centers and outdoor kitchens. A cabana holds a distinct advantage over moving the party inside, where wet bathing suits, dirty feet and spilled beverages can wreak havoc on furniture and floors.
It's never too late to get a yard in shape for the summer. (Both Schreiber and Konyves suggest scheduling construction as soon as possible to ensure that permit issues are handled in a timely fashion.) KS Greenday Inc. is available year-round for counsel and inspiration.
After the initial consultation, homeowners might find themselves reciting new lines, such as, "I can't wait to host Labor Day weekend this year," "My friends will be amazed when they see my new pool and patio," and, finally, "What would have I done without KS Greenday Inc.?"
KS Greenday Inc.
(215) 702-9876
KSGreenday.com
Published (and copyrighted) in Suburban Family Magazine, Volume 2, Issue 3 (May, 2011).
For more info on Suburban Family, click here.
For information about advertising in Suburban Family, click here.
To find out where to pick up your copy of Suburban Family, click here.