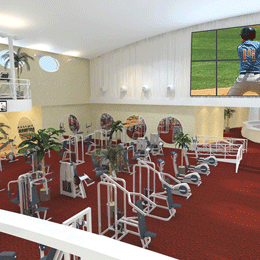 Future Fitness Centers
Everyone's already told you… it's the best fitness center in New Jersey.
Although location is one important consideration in choosing a fitness center, it's not the only one. Service, monitoring by professionals, diversity of equipment, attention to crowding, cleanliness, facilities and atmosphere are all variables important to your lasting enjoyment and ongoing results. We all have limited discipline—if we don't continually see improvement, exercise quickly loses its appeal. With 656 muscle groups in the body and thousands of muscle fibers (cells) in each group, we need to change exercises every four to six weeks to maximize muscle hardening, increase your basal metabolism and fat burning or we will plateau. Plateaus lead to boredom and to the discontinuing of your exercise regimen.
Variety is essential to maximize results.
Look for a club with at least eight different lines of equipment. Any slight change in angle will work new muscle fiber. When we continually work the same muscle fiber by doing the same movements over and over, the body adapts and progress ceases. It's an all-too-familiar syndrome.
We all need help.
Try to find a club with nationally certified trainers who will train you free for an hour every month. If you have to pay $30 to $50 per hour you may not use them. If they are free, you will use them and you will get results, continue to progress and stay excited about exercise. Progress checks are essential for motivation.
Nurses should be on staff to regularly and systematically record your progress on computer printouts. Your awareness of your own progress is essential in goal setting and for sustained motivation. Heart rate, blood pressure, lung capacity, muscle strength, percentage of body fat, basal metabolic rate, weight, measurements and flexibility are variables that change month to month provided you are exercising properly.
Cardiovascular machines are key to prolonged success.
The most efficient way to improve your heart and lung strength is by regularly using elliptical machines, treadmills, bikes, climbers, recumbent steppers and incline walkers. But some people find machines boring. Choose a club with televisions on each piece of equipment so you can watch whatever you wish. The newest invention is to actually have the Internet with touch screens along with the television on your cardio machine! You can check your e-mail, surf the Web, play CDs, watch TV, or even observe the club's daycare on each cardio machine!
Look for classes galore!
The more options the better. Yoga, Pilates, Zumba, swimming pool classes, tai-chi, step, dance, boxing, kickboxing, Bosu, toning, abs, boot camp and spinning should all be available... to name a few!
What about the crowds?
If the club is crowded, if you have to wait for equipment, if there are time limits on the equipment, if you have to sign up for classes, your results will suffer. Most clubs are overcrowded and their guest policies are too liberal. The only thing worse than filling your club with too many members is filling it with too many nonmembers.
What types of extras should my club have?
Swimming pools are important to some people. Daycare, especially televised daycare throughout the club, is of value to parents of younger children. Free nutritional guidance—virtually all of us could use that. Cleanliness to most people is not an extra: it's essential! Most people like a club with strict rules that are enforced by the staff—i.e., no dropping of weights, weights must be returned, towels must be used on all equipment, and no loud noise of any kind while exercising.
When joining consider:
Most people prefer memberships that are renewed month-to-month instead of long-term contracts. Having the opportunity to put your membership on hold (freezing) can also be of value. Choosing a club with facilities that you can use while traveling or vacationing may fit your lifestyle. Read the membership agreement fully to be aware of what you are buying into.
You'll find all of the above at Future Fitness Centers, with two locations in Cherry Hill, (856) 857-0333 and (856) 751-5177; Mount Laurel, (856) 778-5900; Mullica Hill, (856) 478-0060; Turnersville, (856) 401-1885; and West Berlin, (856) 753-1800. For more information about the fitness centers' many amenities, visit its Web site at FutureFitnessCenters.com.
Published (and copyrighted) in Suburban Family Magazine, Volume 2, Issue 3 (May, 2011).
For more info on Suburban Family, click here.
For information about advertising in Suburban Family, click here.
To find out where to pick up your copy of Suburban Family, click here.