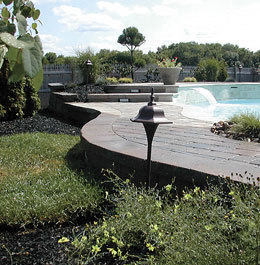 SLS Landscaping
SLS Landscaping can turn your backyard into a luxurious retreat
As the summer season kicks into high gear, more South Jersey residents are looking to breathe life into their winter-ravaged backyards and transform them into gathering places for family and friends to enjoy. If you yearn for a more serene, fun and functional outdoor space, now's the time to make that dream a reality.
SLS Landscaping of Lumberton is in the business of designing, building and maintaining incredible outdoor living spaces. They have been serving South Jersey since 1992, creating both residential and commercial exterior spaces customized to each owner's specifications. Their ultimate goal is to provide customers with a healthy and thriving landscape.
Bringing Living Space Outdoors
One of the newer trends in home and landscape design is moving the comfort and convenience of indoor living to the backyard, and it has never been easier or more rewarding. SLS Landscaping works with homeowners to make that transition.
Steve Stranz, SLS landscape architect, enjoys the challenge of working with homeowners to achieve an outdoor landscape that satisfies all of their families' needs.
"Building an outdoor kitchen is the No. 1 priority on many homeowners' wish lists," says Stranz. These can include elaborate grills or stoves, as well as built in refrigerators and sinks alongside spacious seating areas. "Outdoor entertaining areas are an integral part of a well-designed landscape, as they allow you to stay in the midst of your friends and family, and keep an eye on your children as well. The yard not only becomes an extension of the home's living area, but also smoothly extends the home's atmosphere beyond the walls of the house. In addition, a beautiful and useful outdoor space will greatly increase the value of your home whenever you plan to make your next move."
As well, water features, such as a waterfall lit by low-voltage lighting, are popular among those seeking outdoor serenity. "Our customers work long hours at stressful jobs," Stranz explains. "They want their outdoor space to mimic a tranquil oasis." A soothing waterfall accented with strategically placed lighting can make all the difference in reducing your stress, while keeping energy bills in check.
Changing Needs
As with every other home improvement, homeowners' needs change as the family moves through its lifecycle. According to Stranz, young families tend to have yards packed with plastic toys, waterslides and jungle gyms. "You can start with just a small section of your backyard, and as your family's needs change, your outdoor space can evolve. The area that had a large swing set can have a fire pit, and the area that had a trampoline can accommodate a pond with fish. A new look brings a wealth of new experiences for your family and friends to enjoy."
Stranz believes that the decision to make major changes isn't easy. The selection of a landscape management company that can truly offer a complete range of services for the design, implementation and maintenance of your re-imagined backyard is crucial. "The test of a good landscape company is their commitment to practicality," he says. "We want our landscapes to stand the test of time. Our main strength is our reliability. The service element in the care of the landscape is key, as is the relationship with the owner of the property."
Design and Craftsmanship
SLS Landscaping prides itself on its ability not only to listen, but also to hear what its customers want and need. "We feel that a landscape is more than something to look at; it needs to be inspirational to all that enjoy it," Stranz says. "At SLS, our ideas and plans are logical, and our installations are a great value."
Homeowner Patrick Fletcher of Mount Laurel is very pleased with SLS. They put together a competitively priced plan for Fletcher's bluestone patio, and presented him with an outstanding landscape design that included several options such as lighting, sitting walls and edging. "It was very evident to us after meeting with several contractors that SLS had the best ideas and options for us. The SLS design and craftsmanship were excellent in every regard. They worked in a timely manner, were efficient, and met all of our expectations of the project."
Fletcher and his family experienced some trepidation when they learned they would have to leave town for a few days on a prior engagement while SLS was doing work. "But seeing the results upon our return erased any doubt that we had about not being on site to manage the project," Fletcher says. "I would recommend SLS to everyone."
SLS Landscaping is located at 641 Eayrestown Road in Lumberton. They can be reached at (609) 518-5263 or SLSLandcsape.com.
Published (and copyrighted) in Suburban Family Magazine, Volume 2, Issue 3 (May, 2011).
For more info on Suburban Family, click here.
For information about advertising in Suburban Family, click here.
To find out where to pick up your copy of Suburban Family, click here.