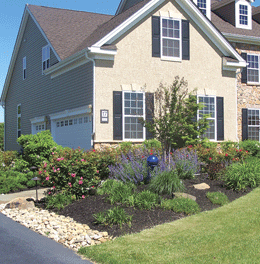 Gill's Landscaping
Gill's Landscaping can turn your wish for a perfect outdoor space into a reality.
We all want our outdoor spaces—patios, lawns and backyards—to be just as appealing, inviting and relaxing as our indoor spaces. Each year, as spring approaches, we long for that perfect landscape of lush green grass, fragrant flowers, towering trees, perfect paths, ponds, waterfalls and beautiful lighting to accentuate it all. Well, spring is here. It's now the time to stop wishing and take action by calling in a team of professionals. That team is Gill's Landscaping, which offers expert staff, high quality services and the knowledge necessary to realize your landscaping dreams.
As an industry leader serving South Jersey for more than 20 years, Gill's Landscaping has carved out a niche as the consummate full-service landscaping, hard­scaping and maintenance company in the region. The experts at Gill's not only understand the mechanics of creating magnificent outdoor spaces for their customers, but they also take the time to understand what each of their customers wants, needs and can afford. This commitment to stunning spaces customized to clients' needs makes them South Jersey's ultimate landscape specialist.
Customized for each client
Landscaping isn't just about pretty flowers and soothing sounds of waterfalls. "There are many considerations when planning a project, including site conditions and limitations, and the more feedback and involvement we have with the customer, the better the results," says owner Brian Gill. Consequently, Gill's always asks the important questions first, and then customizes projects accordingly. "Asking ques­tions and really listening to the answers allows us to take away all the guesswork and frustration homeowners can experience if they try a project on their own," says Gill.
Gill's in-house certified horticulturalist and landscape design­ers take the time to interpret your needs, and fashion those goals into a concrete plan of action. They take into consideration how you and your family plan to use this new beautiful exterior space.
Sometimes your vision for a space might not quite match how you actually will want to use it. And that's why Gill's goes above and beyond to be sure each client will be satisfied with the result. The questions they consider include: What colors relax and stimulate you? Do you like quiet and serene landscapes, or bold fragrant flowers and babbling brooks? Do you have young children who need space? Do you have a beloved pet who loves to dig in your garden or who needs to be safely secured behind fencing? "So many pieces of your life need to co-exist with the landscape plan that is ultimately presented to you," says Gill.
Gill's takes all of the information obtained from the initial, free, in-home consultation, and employs it in creating a custom design for each client. One recent customer described his new backyard as "a beautiful bit of paradise"—which is just what Gill's hopes to offer to each and every client.
Myriad options
Once you've decided to take a proactive approach to obtaining the backyard of your dreams, Gill's Landscaping will take you through the process from start to finish. Their experts will educate you about all the elements of your particular landscape and what can be done to make that space uniquely your own. The team will also teach you what will be required from you to keep the newly designed or renovated gardens looking as pristine as possible for years to come.
Landscaping: Do you require just a comfortable garden, or are you looking for an incredible entertaining space? Are you looking to replace shrubs or plant additional bushes or flowers? The range of projects can vary greatly depending on what you want to achieve and your budget. From annuals and perennials to plants and bushes, Gill's will help you decide what options will best fit your landscape, depending on factors such as sun, shade and the size of your garden. For more elaborate landscaping projects, Gill's will advise you on planning space to fit trees or large plants, including those that may grow substantially. Knowing where to place decorative rocks and pavers also takes careful consideration. Gill's offers a wide variety of these to help achieve the right balance for your project.
Hardscaping: The options are endless. Is your preference interlocking pavers or stamped concrete? Gill's can show you all the options in color, style and pattern, too. Whether you want paver-lined driveways and walkways or a patio with a fireplace or an outdoor kitchen, Gill's will design and install it all with expertise and professionalism.
Night Lighting: To fully enjoy all the newly landscaped areas surrounding your home, night lighting is an essential element. Dramatic and effective spot lighting will illuminate the way for guests coming to your home and add the warm, glowing ambiance to quiet intimate dinners on your patio. All the latest options can be part of your landscape package.
Water Features: These can be part of your garden or your pool, or they can stand alone. Do you want a flowing waterfall or a pond? Gill's will offer advice on what would be the safest type of water feature for families with kids or pets playing in the yard. The proper materials and construction of a water feature by Gill's will help ensure that it stays beautiful and is low maintenance for years to come.
Maintenance: The team at Gill's will keep your lawn green and gorgeous with their full-service lawn maintenance program. Customers receive year-round lawn maintenance from Gill's, starting in the spring, with sprinkler system start-up and adjustments, garden clean-up and pruning, mulching and fertilization. Fall services prepare the landscaping for the winter and include seeding, sprinkler system shut-down, pruning and the final steps of a fertilization process.
"Along with these seasonal steps, we believe in educating the customers about the care and main­tenance of their landscaping," adds Gill. "By teaching customers what they need to look out for in their landscaping, we will be saving them some money down the road. Our goal is to develop long-term relationships with our customers, so we will always go the distance for them."
Lasting relationships
As professionals, Gill's understands that not all of the elements of your grand plan may be accomplished with one summer make­over, depending on the size of the project. They will work with you to create a plan in stages that will result in exactly what you dreamed. One client related: "I have been a happy customer of Gill's for five years. We started a master landscape plan and, over the years, have done a portion of that plan each year. Now that we have completed the big picture, I want to say 'thank you' for five wonderful years dealing with true professionals. We started with a vision and we have realized my family's dreamscape."
That level of satisfaction starts with quality products. Inferior plant material and mulch can lead to gardens with a short life expectancy and beds filled with unsightly weeds. With Gill's, each customer receives only the highest quality plant and bedding materials. Repair and replacements always end up costing the customer more in the long term. Gill's Landscaping maintains a New Jersey Home Improve­ment Contractors License, DEP Pesticide License and an IANJ irrigation License to ensure quality service and much needed expertise.
As well, Brian Gill recognizes the importance of giving back to the community he has called home for over 20 years. The Bank Make A Difference Day is just one of the beneficiaries of his company's generosity, which included the donation of mulch and shrubs to beautify the local community.
When considering an outdoor makeover, your decision to work with Gill's Landscaping is a step in the right direction. Their longstanding mission of total customer satisfaction is the foundation upon which the company was built. To them, each job is unique, each customer is special and each project is an opportunity to showcase their incredible skill and creativity while making each customer happy in the process.
Gill's Landscaping is located in Mullica Hill. To reach them, call (856) 223-9770 or visit them on the web at www.gillslandscaping.com.
Published (and copyrighted) in Suburban Family Magazine, Volume 2, Issue 3 (May, 2011).
For more info on Suburban Family, click here.
For information about advertising in Suburban Family, click here.
To find out where to pick up your copy of Suburban Family, click here.