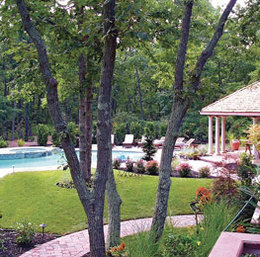 Young's Landscape Management
Young's Landscape Management: Living Spaces
Young's Landscape Management creates an entertainment hub right in your backyard.
Entertaining at home has never been more popular. With summer right around the corner, everyone wants to enjoy more time outside. Whether day or night, the right exterior living environment can become the perfect backdrop for quality time spent with family and friends.
"An outdoor living environment should be a natural extension of the home. The difference is it's simply a living space without walls," says Steve Katz, licensed landscape architect and designer with Young's Landscape Management.
"With this trend towards spend­ing more time at home, there are clearly certain 'must have's in an outdoor living area," he continues. "Somewhere to cook, a place to relax and an area to have fun."
For nearly 20 years, Young's has been on the cutting edge of the landscape industry. The company's skilled craftsmen and professional design team excel in creating landscapes that blend lush, colorful plantings with elegant hardscapes, accent lighting and water features. Katz adds, "The key is to design a functional space that blends well within the environment, style and taste of the home."
What's cooking
Forget the standalone barbecue of the past: homeowners are looking for much more. "At the top of the list is a complete outdoor kitchen that rivals one inside," says Katz. "From a dual-burning grill to wet bar and storage areas, everything is easily at arm's reach."
Today, grills are available in all shapes and sizes: some with burners, others with rotisseries and many with both. For those who love to cook, additional amenities include searing areas, built-in smokers and warming trays.
Katz says, "Based upon the home's interior kitchen design, we look to incorporate the same style and materials, such as a similar granite or other stone. We introduce manmade elements and fixtures in a way that blends with the natural landscape."
Time to relax
When you get home from a long day and want to kick back for a bit, an outdoor terrace can be paradise. No longer a flat 10-foot-by-10-foot patio, this space is now one that has grown in size and scope, resulting in a mix of larger areas for entertaining and tranquil nooks to escape the daily routine.
For families with kids, this is also a great place for children of all ages to enjoy with friends. Whether it's a small group grabbing a snack after school or full-fledged birthday bash, an outdoor living environment is the perfect area for entertaining in the safety of the home.
"We use intricate shapes to create levels and provide a separation similar to that within a home," explains Katz. "A place for adults to converse and another for teens to have fun."
He adds, "These areas are most often designed with comfortable yet durable furniture to look beautiful yet withstand inclement weather. Many homeowners look to include a fireplace or sunken fire pit for some added warmth.
It's playtime
Kids love to play, and adults do, too. "At Young's, our Y-Turf division specializes in fun with the installation of revolutionary synthetic turf to create an entertainment or sporting environment right in the backyard," says Katz. "A putting green, short game practice area, bocce court and ultimate playground area are possible."
Today's synthetic yard surfaces offer a safe, beautiful alternative to grass. It's lush, vibrant and lifelike with a fresh-cut appearance and soft pleasing feel. Virtually maintenance free, these surfaces require no water, fertilizers, mowing or weeding to retain their pristine appearance. For homes with less yard space, Katz adds that play structures remain a backyard standard. "They are great for families and there are so many options. These outdoor playrooms can combine swing sets, slides and climbing walls as well as forts, sandboxes and monkey bars or rings."
Subtle differences
Within an outdoor living environment, the smallest details create uniqueness so no two homes look the same. One such amenity is the use of artistic lighting to accentuate details and ensure safety.
According to Katz, "LED lighting provides a more 'green' alternative, using less electricity than regular low voltage bulbs. While the initial cost may be greater, the long-term savings make LED more cost-efficient, but selecting the best possible products is important."
Another design element is introducing a pond, waterfall or fountain to bring the entire scene to life. Even the smallest of fixtures offers a quiet trickling sound and peaceful flow. To extend its use beyond the warmer weather months, outdoor heaters and lighting are often considered in the design.
"At Young's, we become a partner in creating outdoor living spaces for year-round enjoyment," Katz says.
Published (and copyrighted) in Suburban Family Magazine, Volume 2, Issue 3 (May, 2011).
For more info on Suburban Family, click here.
For information about advertising in Suburban Family, click here.
To find out where to pick up your copy of Suburban Family, click here.