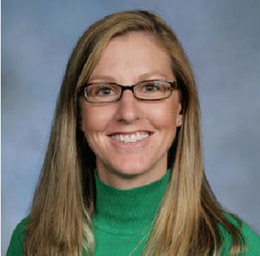 Star Coaches: May, 2011
Neil Hartmann & Janice Milley; Mount Laurel
Neil Hartmann, anchor for Comcast SportsNet and coach of a Mount Laurel Basketball third-grade boys' team, and Janice Milley, president of Mount Laurel Basketball and coach of fifth-grade and ninth- and tenth-grade boys' teams, ran a Mount Laurel Basketball clinic and fund raiser. The event included former Philadelphia 76ers head coach Larry Brown and professional players and Mount Laurel natives Jason and Ryan Thompson. The clinic raised approximately $2,000 for Philadelphia Coaches vs. Cancer and Mount Laurel Basketball's Erin Craig fund.
Jim Mark & Jennah Delp; Cherry Hill
Music directors Jim Mark and Jennah Delp took the Cherry Hill West vocal and instrumental groups to Boston, Mass., to participate in the Heritage Music Festival. Competing against schools from all over the United States, the West Singers and West Jazz Ensemble each took home first prize in their respective division.
Beth Ritter; Medford
The Shawnee High School girls' distance medley team, coached by Beth Ritter (pictured), won first place at the Woodbury Relays, with a time of 12:45.55. For having the fastest time on the track, the distance medley relay team was also honored with the Browning Ross Memorial Award.
Bob Angradi; Marlton
Bob Angradi, coach of the Marlton Thunder Red 12U softball team, led his team to victory, winning the 12U Red AM bracket in the Thunder Storm spring 2011 tournament. Overall, 48 teams participated in the weekend full of softball.
April Wagner; Rancocas Valley
April Wagner, coach of the Rancocas Valley High School dance team, led her dancers to win nationals this year. The team placed fourth in high kick, and won a technical excellence award at the championships in Florida. Wagner's team also placed first in the nation in their team performance dance.
Christina Richardson; Washington Township
Dance teacher Christina Richardson led her students to showcase their talent in Washington Township High School's dance performance, titled "Tell Me a Story." In its eighth year, the performance included pieces from Alice in Wonderland, Cinderella, Where the Wild Things Are and The Wizard of Oz.
Jeff Holman; Haddonfield
The Haddonfield Memorial High School boys' tennis team went 17-2 through the first few months of the season, defeating multiple opponents in straight sets. Against West Deptford, first singles freshman Max Oberholtzer defeated Paulo Parente in three sets, serving Parente his first loss of the year.
Nick Avgousti; Mount Laurel
The Mount Laurel girls' softball team, led by Avgousti, has started out the season with five wins and one tie. The team competes in the Minor league and consists of fifth-and-sixth-grade students.
Tim O'Reilly; Moorestown
Tim O'Reilly, head coach for the Moorestown High School golf team, has led his team to start the spring season with a record of 9-1. They are tied for first in the Burlington County Liberty division.
Jamie McGroarty; Voorhees
The Eastern Regional High School softball team, coached by Jamie McGroarty, has enjoyed a mid-season record of 8-2, including a five-game winning streak.
Joshua Zagorski; Marlton
Marlton Middle School wrestling coach Joshua Zagorski led his team to win the first-ever South Jersey Middle School Wrestling League Championship, beating Delran Middle School, 45-44.
Mike Perekupka; Cinnaminson
The Cinnaminson High School boys' tennis team, coached by Mike Perekupka, beat Moorestown Friends 4-1, continuing their season with a record of 12-1.
Published (and copyrighted) in Suburban Family Magazine, Volume 2, Issue 3 (May, 2011).
For more info on Suburban Family, click here.
For information about advertising in Suburban Family, click here.
To find out where to pick up your copy of Suburban Family, click here.