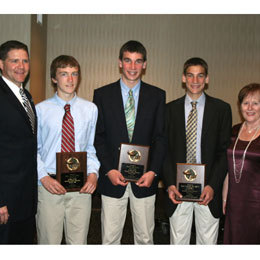 Star Students: May, 2011
John Gilligan, Brian Delancy and Matthew Delancy; Medford
Shawnee High School junior John Gilligan, sophomore Brian Delancy and senior Matthew Delancy (all pictured) were honored at the Burlington County Academic Achievement Dinner, presented by the Burlington County Principals and Supervisors Association. Awards are given to students who represent the highest standards of academic achievement and educational excellence as of the end of the first semester.
Christina Fath, Peyton Kelly, Dominick Lamonica, Grace Panto and Gianna Puglia; Washington Township
Bells Elementary School fifth-grade chorus students Christina Fath, Peyton Kelly, Dominick Lamonica, Grace Panto and Gianna Puglia traveled to Haddonfield Middle School to participate in the ChildrenSong of New Jersey performance program. The students learned about the didgeridoo and other Australian aboriginal instruments.
Shannon Herbst; Mount Laurel
Lenape High School senior Shannon Herbst was selected as one of the school's students of the month. Herbst dedicates her time as an EMT volunteer and helped create a series of webpages for Lenape's Academic Partnership Organization.
Ricky Kushay and Jackson Propp; Cinnaminson
Ricky Kushay and Jackson Propp, both age 12, helped to organize the Cinnaminson Library used book sale, one of the largest in the Delaware Valley. The sale raised funds to buy new library shelves and support the children's programs.
Maya Krwawicz; Voorhees
E.T. Hamilton Elementary School student Maya Krwawicz was the first-place winner in the 2011 Abilities Awareness Week Poster Contest. There were 16 semi-finalist submissions from four Voorhees elementary schools and the Voorhees Middle School.
Brittany Ghicondey; Marlton
Eleventh-grade Cherokee High School student Brittany Ghicondey has been selected as a 2011 New Jersey Scholar, as part of the New Jersey Scholars Program. Out of 329 applicants from throughout the state, 39 were selected to attend a five-week academic program at The Lawrenceville School titled, "Human Rights: Past. Present. Future."
Asher and Lara Weinstein; Haddonfield
Seniors Asher and Lara Weinstein helped to organize a "Die-In For Darfur" demonstration before school. The Haddonfield Memorial High School Taking Action Now for Darfur club students worked to raise awareness about genocide in Darfur, and sold T-shirts at a discount to those who signed postcards urging Rep. Rob Andrews and Sens. Robert Menendez and Frank Lautenberg to push for action in Darfur.
Julia Langmuir; Cherry Hill
Fourth-grade Sharp Elementary School student Julia Langmuir took first place in the "My Favorite Teacher" essay contest at Barnes & Noble in Cherry Hill. Langmuir wrote about first-grade Sharp teacher Sarah Anderson. She was honored at an awards ceremony in April.
Emma Burns; Moorestown
William Allen Middle School eighth-grade student Emma Burns won first place for New Jersey in the national Letters about Literature competition, run by the Center for the Book in the Library of Congress. Burns' letter was then entered into a national competition.
Marielle Pappaterra; Moorestown
Third-grade Roberts Elementary School student Marielle Pappaterra played a solo piano recital at Moorestown School of Music, playing the entire Suzuki Method Book One from memory.
Brendan Ruskey; Mount Laurel
Sixth-grade Mount Laurel Hartford Upper Elementary School student Brendan Ruskey was the only South Jersey student to make it to the finals at the annual New Jersey edition of the National Geographic Bee, open to students in grades four through eight. Ruskey was one of the two sixth-graders to advance to the finals, finishing in eighth place.
Jason Thorpe; Washington Township
Sixth-grade Orchard Valley Middle School student Jason Thorpe was named a New Jersey Geographic Bee Semifinalist by the National Geographic Society. Thorpe was the Orchard Valley's school-wide winner and was one of 100 students selected to compete at the 2011 New Jersey Geographic Bee.
Published (and copyrighted) in Suburban Family Magazine, Volume 2, Issue 3 (May, 2011).
For more info on Suburban Family, click here.
For information about advertising in Suburban Family, click here.
To find out where to pick up your copy of Suburban Family, click here.