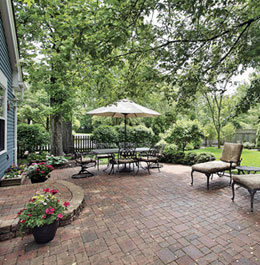 Field of Dreams
We've come a long way since the backyard was little more than just an empty lawn with a charcoal grill for cooking. Today, our outdoor spaces are family hangout spots: the place to play ball, climb on the swing set and eat dinner outside. More homeowners are turning their backyards into outdoor oases, with full kitchens, cabanas, gardens and play areas. From creating a master plan, to irrigation, plantings, hardscaping and yard maintenance, our local experts offer a step-by-step guide to building the backyard of your dreams.
1. Create a Master Plan
Whether your backyard needs a facelift or a complete overhaul, a master plan allows you to stay organized, be on top of the project and stick to your budget. Tom Schreiber, vice president of KS Greenday Inc., emphasizes that a master plan will ensure that even phased projects result in a cohesive design.
"If you have a master plan, if you can't do the whole entire job in one phase, they can phase their work in or can at least get the full quote to get the budget together. It's always better to do the master plan in one shot and try to fit it within your budget," says Schreiber. For example, a master plan can include designs and placements for a pool, outdoor kitchen and patio area. That way, you can tackle a part of your yard each year, without having to redesign or rearrange completed elements.
2. Irrigation and Planting
Irrigation is a key factor in determining what types of planting your backyard can handle. It is important to consider drainage, the scope of your sprinkler systems, and the amount of sunlight in determining your landscape design.
"Since plants react differently to environmental elements and climate, it is important to evaluate sunlight exposure, soil conditions and drainage. This will help determine the optimum plantings for the landscape area," says Jim Langenstein, landscape architect for Young's Landscape Management in Moorestown and Lumberton. Hydrangeas are very popular this season and offer a long bloom period, and the cutleaf maple tree is also a favorite for its colorful foliage.
3. Patio Areas
An outdoor patio is a nice addition to the backyard that allows families and friends to enjoy the outdoors, relax in the sun and host great barbecues. Michael Pasquarello, degreed landscape architect for Elite Landscaping in Berlin, says that multiple-level patios are increasingly popular. "It adds interest into the patio and it makes the patio feel like there's different spaces within the patio because they are at different levels," says Pasquarello. "You would have the patio near the house that is elevated slightly, and then, when you got close to the pool area, you step down. Now you feel that you have those two separate patio spaces."
4. Outdoor Kitchens
One of the most striking trends in outdoor living is the appearance of kitchens, including a sink, refrigerator, oven, stove and grill, all built right into the patio. "Homeowners are trending toward outdoor kitchens that are attached to the home, or in a freestanding structure with a roof, so they can get the most out of their investment even on rainy days," says Brian Gill, owner of Gill's Landscaping, Inc. in Mullica Hill. Outdoor kitchens are also great investments that allow outdoor cooks to avoid going in and out of the house for supplies, tracking water and dirt.
5. Maintenance
Building your outdoor oasis may be the hard part, but maintenance is vital. To prepare for the summer months, your grass, plants and shrubs should be fertilized, watered and trimmed. Sam Waddell, owner of SLS Landscaping in Lumberton, offers an eight-step fertilizer program that will bring your lawn out of its cold winter dormancy and help it thrive with a deep green and weed-free appearance through the hot summer months and well into the fall. Regular, consistent watering is encouraged to keep the grass hydrated and lush. "Our plant health program provides timely feedings and insect control, along with winter protection that will promote healthy growth and protection from mother nature throughout the summer and winter months," says Waddell. Now all that is left is to enjoy!
Published (and copyrighted) in Suburban Family Magazine, Volume 2, Issue 3 (May, 2011).
For more info on Suburban Family, click here.
For information about advertising in Suburban Family, click here.
To find out where to pick up your copy of Suburban Family, click here.