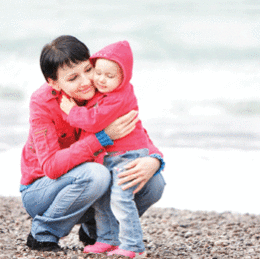 Modern Family
Science, social norms and international relations have all transformed the nature of adoption in South Jersey in recent years. But one thing hasn't changed: local couples' determination to become parents.
In 2004, after five years of failed fertility interventions, Teresa and Matt Riordan* of Mount Laurel resigned themselves to a sobering reality: A biological family was not in the cards. Exhausted—but still determined to become parents—the couple began pursuing international adoption.
"I'm Hispanic and Mexican, so Mexico was our country of choice," Teresa explains. "We thought adopting from there would be easier than adopting domestically."
With the guidance of an agency, the process picked up steam and the adoption appeared imminent. But the couple's job demands stalled the extended trip necessary to move the process forward, and by the time they were able to find a month-long window of time to visit the country in early 2005, the Mexican government had passed new laws restricting adoption by non-Mexican citizens. The Riordans' hopes of parenting a Mexican-born child were crushed. "It was so depressing," Teresa says. "We felt like we'd hit a brick wall."
But instead of giving up, the Riordans only widened their search. "And that point—purple, green, white, black, boy, girl—we let go of any defined notions of what kind of child we wanted," Teresa says. "We just wanted a kid."
Like many South Jersey couples, Teresa and Matt were surprised to learn that the face of adoption has changed rapidly in recent years. Over the past two decades, international adoption—long considered the norm—has been losing frequency. In its place, they're discovering a throwback to what, a few generations ago, was the norm for adopting in the United States: A domestically-based pregnant mother unwilling or unable to raise her child finds—through an agency, her own family or social connections—a person or couple eager to take on the parental role. However, contemporary domestic adoptions often come with a modern twist, as agencies and parents approach the process in different and more nuanced ways than ever before.
Domestic Revival
"International adoption has undergone tremendous changes in the last few years," notes Jared N. Rolsky, executive director of Cherry Hill-based Golden Cradle Adoption Services. "It's tanked. The number of children arriving from other countries has been reduced by 55 to 60 percent."
Maxine Chalker, founder and executive director of the nonprofit Adoptions From the Heart, concurs: "We used to send 12 families a month to China. Today, unless a family wants to wait six years, which most don't, they adopt domestically." Adoptions From the Heart, which has eight offices in six states, including one in Cherry Hill, stopped offering international adoptions altogether in 2008, after 23 years.
"The sentiment that children shouldn't leave their country of origin is spreading; countries fear the implication they can't take care of their own," Rolsky says. "Russia is cutting back [on the number of children available for international adoption]; Korea is cutting back and talking about closing their doors entirely. Until March 5, I would've called Ethiopia adoption-friendly, but it just instituted a procedure that reduces the number of children leaving the country by 70 [percent] to 80 percent."
These factors add up to one result: "If somebody wants a younger child or newborn, the only reliable option today is domestic adoption," Rolsky says.
Fortunately, as crippling as international regulations may be to the adoption process, here in New Jersey couples like Teresa and Matt have a comparatively easy time securing domestic adoptions. "New Jersey is an adoption-friendly state," says Donald Cofsky, partner at Haddonfield's Cofsky & Zeidman and one of only 10 attorneys statewide recognized by the American Academy of Adoption Attorneys. "Both private and agency adoptions are legal in New Jersey."
Accredited, nonprofit adoption agencies typically give birth mothers their choice of an approved family, and then the agency walks the matched parties through everything from counseling to determining the openness of the adoption.
An Era Of Openness
Transparency in domestic adoptions has increased drastically in the past 30 years, Chalker notes. In fact, when Chalker founded Adoptions From the Heart in 1985, it was the first agency to introduce open adoptions to the East Coast.
An adoptee herself, Chalker made that decision after years working in the Children and Youth Service agency in Delaware County, Pa. "I frequently encountered grown adoptees looking for birth parents," she says. She also embarked on a search for her own birth mother—and found her. "I have contact with my biological brother and sister. I learned my medical history. I felt it was really important that all adoptees have this information available to them. At first, attorneys were resistant; they thought adoptive parents wouldn't want it."
They were wrong. Today, completely closed adoptions are uncommon. "Generally, birth parents and adoptive parents agree on something closer to the 'open' end of the open-closed continuum," Rolsky says.
And it is a continuum, one that ranges from exchanging photos to sharing information to allowing visitations. When prospective adoptive families apply with agencies, they fill out profiles describing their level of willingness to communicate regularly with a prospective child's birth mother, and, when applicable, birth father.
"When we first started looking at agencies, we didn't know much about adoption—and, to be honest, were hesitant to agree to meet our future child's biological parent regularly," remembers Meghan Scott of Haddon Heights. "But the more we learned, the more we realized how unfair it would be to say to our child, 'You're adopted, but we don't want you to meet your birth parents.'"
Scott and her husband, Dan, agreed to one meeting a year with the mother of their son, Ryan. When Ryan was placed with them last October, they followed Adoptions From the Heart's blanket policy of sending photos and letters to the agency once a month for the first six months of his life. His birth mother can read the letters and see the photos at her discretion. Ryan is now 6 months old, and the Scotts and his birth mother have tentatively scheduled a meeting for this summer.
"She hasn't decided yet whether she wants to, but she's open to it," Scott says. "We'll see." Private placements are adoptions that take place without an agency's assistance.
"A private placement is direct," Cofsky explains. "The birth parents know someone, or know someone who knows someone else, who connects them with a birth parent willing to surrender parental rights. This is perfectly legal, as long as intermediaries are not paid." A preliminary hearing, in which birth parents' parental rights are terminated, takes place about two to three months after the birth, and a final hearing happens about six months after that.
Weighing the Options
Agency and private adoptions each have their pros and cons. An obvious upside to a private adoption is avoiding agency fees. But a major drawback—for adoptive parents, at least—is that a birth mother's relinquishment of her parental rights is not irrevocable until the preliminary hearing. While birth parents in all cases are allowed 72 hours for a change of heart, through agency adoptions, birth parents generally relinquish rights within a week after the child is born. That relinquishment can be overturned only if the mother proves fraud or duress on the part of the agency.
However, private adoptions can be expedited through other legal procedures, or by enlisting a licensed agency. Involving an agency in the legalization of a private placement is referred to as an identified adoption, and is essentially a hybrid of agency and private adoptions. In identified adoptions, the irrevocability of parental relinquishment applies.
Even when enlisting an agency, though, adoptive parents are vulnerable to changes of heart. It's not uncommon for a mother who had anticipated giving up her baby to change her mind within 72 hours.
"We were chosen as adoptive parents a few times for adoptions that fell through," Teresa Riordan remembers. "It got to the point where we agreed that the agency should only contact my husband with news, good or bad. I couldn't handle the ups and downs."
Finally, in March 2006, Matt received a phone call that brought news of a mother who'd given birth the day prior, two months shy of her due date—and who had selected the Riordans from the agency's roster of adoptive parents.
"We went to the hospital and met our son. He was the most beautiful thing in the world," Teresa remembers through tears.
As for the years of fertility treatments, trips to Mexico, disappointments and red tape, all that faded away the second her son was placed in her arms. "I bonded with that child the minute he was handed to me," Teresa says. "He's ours."
Published (and copyrighted) in Suburban Family Magazine, Volume 2, Issue 3 (May, 2011).
For more info on Suburban Family, click here.
For information about advertising in Suburban Family, click here.
To find out where to pick up your copy of Suburban Family, click here.