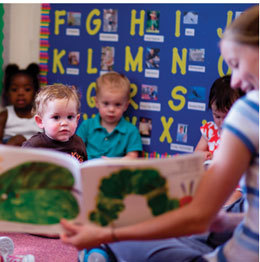 The Malvern School
A nurturing and engaging environment for children
Parents seeking out the ideal school environment for their children must consider many factors: the quality of the facilities, the credentials of the educators, and the philosophy behind the program. As an independent school that provides outstanding early education in a safe and secure environment, The Malvern School is a perfect choice.
The Malvern School offers year-round early-childhood educational programs in Pennsyl­vania and New Jersey for infants and toddlers, as well as pres­chool, pre-kindergarten and school-age children. With 20 schools, seven of which are NAEYC accredited, the curriculum is designed to exceed the highest standards of excellence in early childhood education. The Malvern School provides a caring learning environment with developmentally appropriate curriculum, college-degreed teachers, policies that focus on health and safety, and state-of-the-art facilities and equipment.
"At The Malvern School, we cherish each and every child and our relationship with their families," says Diane Morgan, an administrator who has been with the school since 2002. "We value the early childhood years as a unique stage of life during which children make significant developmental strides."
A Highly Respected Staff
Malvern's unwavering commitment to superior early childhood educational program begins with its qualified early childhood educators. Each head teacher is required to have a degree in education or child development. In preschool and pre-kindergarten, they must have both bachelor's degrees and early childhood certifications.
"Our teachers are degreed in early childhood education and/or elementary education and have a wealth of experience in the field," explains Morgan. "Our head teach­ers plan, supervise and implement an early childhood program in accordance with the Malvern School philosophy and NAEYC [National Association for Education of Young Children] standards. Along with the assistant teacher, they plan developmentally appropriate activities that take into account each child's individual skills, interests, talents and special needs. Our teachers create a safe, supportive, healthy and child-centered educational environment that promotes a love for learning."
Along with superior teachers, each Malvern School has an executive director who is responsible for the overall operation of the school and leads each school with a team of qualified educators. The director ensures that a superior early childhood program is found in every classroom.
Additionally, the director maintains ongoing communication with parents and ensures consistent parental satisfaction. Working along with the executive director is a director of education, a curriculum coordinator and a health and safety coordinator.
The school offers a generous compensation package, ongoing professional devel­opment and opportunities for career advancement. "We believe in the talents of our teachers and have established several programs to award and acknowledge superior efforts and accomplishments," adds Morgan.
The Malvern School Difference
The school's program is centered around best practices in the field of early childhood education. "We also allow our teachers to use their experience and education to develop their own lesson plans, based on a curriculum framework and resources provided," adds Morgan. "This allows them to adapt their activities and lessons for the children in their class, based on their interests and needs, in order to help each child achieve milestones in all development areas."
Malvern offers a comprehensive educational program for each age group, including extracurricular activities like computers, language and large motor activities. "At some early childhood programs, in order to have these activities parents are asked to pay extra for special instruction, but we integrate them into our program so all children have access to the same scope of learning," notes Morgan. "Throughout the year, we also host numerous special events for the children, and these often include the whole family."
Additionally, all schools are designed specifically to meet or exceed all local and national health and safety and fire regulations in a childcare facility. They have secured entrances with an access control system that restricts entrance into the building. Additionally, they have video surveillance to monitor and control admittance into the building. The staff receives specific training regarding the release of children to authorized guardians and non-guardians.
Staying Informed
Malvern provides numerous opportunities to stay informed on the progress of a child's development and to stay up to date on activities occurring at school. Daily profile reports are prepared for each child containing an overview of the activities in which the child participated, as well as information on lunch, nap and toileting. Parent conferences are scheduled twice per year and more often by request.
For the Giglioti girls, ages 3, 5 and 7, attending Malvern has been a wonderful experience. "Our oldest daughter, Joey, is in first grade right now and wishes she could go back to the Malvern School," says Kelli Giglioti. "The children get such personal attention. They care about the children and it truly shows. Choosing a school for your young child is a tough decision. The Malvern School has been just perfect for our family."
Malvern strives to continually improve their programs by conducting ongoing quality standards assessments at every school. During the assessments, the quality assurance team evaluates the overall program and concentrates on developmentally appropriate educational curriculum; a safe, healthy and stimulating physical environment; open communication and collaborative relationships with parents and staff development; and effective teaching practices.
"Feedback from parents and staff plays an instrumental role in the high quality of the program," Morgan comments. "Twice a year, parents and staff receive surveys to complete as part of Malvern's continued effort to meet parent, children and staff needs."
Continually Growing
Malvern has opened new schools and has waiting lists at many locations. "There are many options in the early childhood world and each parent must choose what is best for their family," says Morgan. "We believe that our school's philosophy and the re­quirements associated with that results in better qualified teachers, higher expectations in all areas of programming such as curriculum and health and safety, and a knowledgeable and committed management team."
With locations in Pennsylvania and New Jersey, The Malvern School can be reached at 1-877-MALVERN or online at www.malvernschool.com.
Published (and copyrighted) in Suburban Family Magazine, Volume 2, Issue 2 (April, 2011).
For more info on Suburban Family, click here.
For information about advertising in Suburban Family, click here.
To find out where to pick up your copy of Suburban Family, click here.