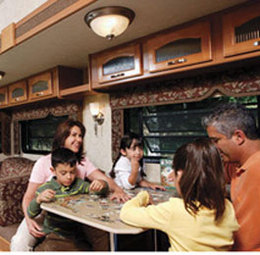 Hitch RV
Offering families an affordable, quality travel alternative
In the hustle and bustle of today's hectic world, it turns out that spending quality time with one's family is a value that has not gone out of style.
Hitch RV aims to keep it that way, offering families an affordable, comfortable and economical travel alternative to pricy shore homes or hotels. Hitch RV targets families who want to spend time together, whether on a weekend outing or an epic road trip.
Hitch RV is a family-owned and -operated, customer-friendly business that sells and services a wide array of recreational vehicles (RVs). One just needs to visit the 10-acre lot, conveniently located on Route 42 in Turnersville, to realize that there truly is an RV to suit just about any family. And, these investments need not deplete one's hard-earned savings.
With more than 40 years of combined expertise in the industry, Hitch RV's co-owners/operators are Timothy Waters and Donna Levesque. They are directly involved with customers and all day-to-day operations.
"We are the premier New Jersey dealer, and have an RV that fits every need and budget," says Waters. "Customers will find that RV vacations are hassle-free, fun and the most affordable way to go."
"We carry an enormous selection of brands and models," explains Nikia Skinner, the company's controller, who wants to dispel the myth that RVs are only for the wealthy. "There are a multitude of choices; the RV industry offers so much more than just luxury motor homes. Hitch RV sells pop-ups, travel trailers, toy haulers, fifth wheels and park models."
Affordable Financing and Customer Satisfaction
Hitch RV is all about offering inexpensive travel alternatives for families, from as little as $99 a month. The company also prides itself on maintaining relationships with many banks and offers customers competitive financing choices.
In addition to selection, Skinner believes it is "superb customer service" that sets them apart from other RV dealers in the region.
"It is the way we take care of our customers that has contributed to our success," notes Skinner. "We pride ourselves on service after the sale. A customer's relationship with Hitch RV doesn't end after they purchase a unit." Sales representatives introduce customers to service and parts department staff, thus making for a smooth transition and extremely satisfied consumers.
One satisfied customer is James Raphaely of West Deptford. Raphaely, an investment consultant, purchased his first RV, a travel trailer that sleeps six, in February 2009. Raphaely, his wife and their two sons, have traveled extensively in the RV throughout the East Coast. "Our RV is literally our home away from home. We absolutely love it," beams Raphaely. "It is very affordable, accommodating and comfortable to sleep in." Traveling to various locations, yet having the convenience of their own food, kitchen and beds, has made a world of difference to Raphaely and his family.
And from a financial perspective, Raphaely explains, "Whether traveling locally or afar, an RV is an economic, affordable and comforting alternative to hotel travel stay."
Above and Beyond
Raphaely loves his RV, yet he was equally impressed with Hitch RV's sales and maintenance staff. "Our salesperson, Tom Robson, was knowledgeable and friendly," recalls Raphaely, adding that he helped him decide which unit to purchase based upon his family's needs and budget.
Recently, Raphaely brought his camper in to be serviced. During his visit, the service staff of certified RV technicians conducted a thorough inspection of the camper and noticed a flaw in the unit.
"Hitch RV restored the panel to its original manufacturer's specifications and then reinforced it with Diamondplate," explains Raphaely. "The installation of this high-quality, specialized material exceeded manufacturer's specifications. As a customer, going that extra mile was something that I truly appreciated. They went above and beyond."
Components and Service
All Hitch RV products, except the park models, hitch onto the back of a truck, sport utility vehicle or minivan. All are equipped with the basic essentials, such as a kitchen, bathroom and beds. Hitch RV also offers the option of delivery of a unit to a customer if they are not equipped with a hook-up capability.
Another unique aspect of Hitch RV is that they offer field service. Not only do customers maintain ongoing relationships with Hitch RV staff and depend upon their service expertise, but they can also call upon technicians if a problem or mechanical issue occurs when they are not in the local area. For example, field representatives have been called upon to service units at the Jersey Shore. A customer places a phone call during business hours and schedules an appointment for a technician to travel to their destination to resolve the issue.
Best of all, RVs make vacations affordable. Traveling in an RV, a family would merely have to pay for fuel for their truck or van, propane for the RV and fees to park their unit.
With more and more families facing the challenges of a harsh economic reality, having the convenience and comforts of home hitched onto the back of one's vehicle make purchasing a Hitch RV a wise decision.
Hitch RV is located at 4121 Route 42 in Turnersville, New Jersey. They're open Monday through Thursday, 8:30 a.m. to 8 p.m., and Friday and Saturday, 8:30 a.m. to 5 p.m. The service department is open Monday through Saturday, 9 a.m. to 4 p.m. For more information, call (856) 629-7400, (888) Hitch RV, e-mail at sales@hitchrv.com or log onto www.hitchrv.com.
Published (and copyrighted) in Suburban Family Magazine, Volume 2, Issue 2 (April, 2011).
For more info on Suburban Family, click here.
For information about advertising in Suburban Family, click here.
To find out where to pick up your copy of Suburban Family, click here.