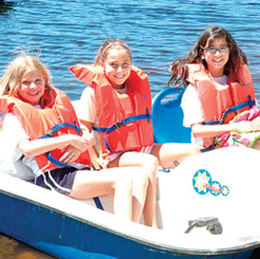 Great Times Day Camp
Offering fun for campers and flexibility for families.
Families love Great Times Day Camp because it is the perfect mix of safe fun for kids and convenience and flexibility for their families. When Mike Kernan, founder and director of Great Times, started the camp in 1977, his objective was to help families flow from the end of one school year to the beginning of the next as easily as possible. "We're a family-owned business, so parents and children get a lot of special attention," insists Kernan. "We try to accommodate the needs of the family."
Now in its 34th season, Great Times, located in Waterford, has found many ways to do just that. For starters, campers, ages 3 to 15, can attend either three, four or five days each week, for anywhere from two to nine weeks. They can choose the weeks and days that best meet their family's summer schedule.
It's that flexibility that keeps families like the Friedmans, who live in Cherry Hill, coming back year after year. Jaime Friedman's three boys have enjoyed Great Times for as many as eight years, and the younger boys are still campers there. "I'm a working mom, and Great Times offers an extra week over most other camps," Friedman explains. "They include lunch and trips every week for each camp level. I wish I didn't have to work and I could be there as a counselor, let alone being a camper."
All campers are picked up and dropped off at their homes, unless the standard timing is inconvenient. If necessary, extended hour programs are available free of charge. Three satellite sites in Voorhees, Cherry Hill and Mount Laurel are available for parents to drop kids off as early as 7:30 a.m. They are then bused to the sprawling Great Times campus. Families also have the flexibility of changing their pick-up location. For example, campers vacationing at the shore for a couple of weeks can get picked up and dropped off at their vacation homes. If children are at a grandparent's home or their parent's office, the bus can pick them up there.
Experienced Teachers
Parents feel secure knowing that their children are being supervised by teachers who serve as counselors at Great Times. "When I started the camp," explains Kernan, a teacher himself, "I hired teachers, and we've expanded to the point where we have over 75 teachers working here now over the summer. You get into teaching because you enjoy children, and at camp teachers work well with the children."
Many teachers have experience in special education classrooms while others are regular classroom teachers. Some also bring with them backgrounds in coaching varsity sports in high schools, and can share that knowledge with campers of all skill levels.
Understanding that kids have varied interests and abilities, Great Times makes sure they focus on each individual. "Our goal is to take all children from a Point A to a Point B," explains Kernan. "For example, our sports programs are set up to give 15 or 20 minutes of instruction to give children a chance to first learn a skill. Then, they'll get a chance to do some scrimmaging, but from a learning standpoint."
That ensures that beginners have an opportunity to further their skills, while more advanced kids can brush up on their skills in a non-competitive environment. Building confidence is equally as important as having fun.
Food and Fun
Kids enjoy lunch similar to a typical school lunch each day, with alternative choices if they'd prefer something else. Form­ulated by a nutritionist, meals are balanced while appealing to children's appetites. A hot lunch, such as pasta or a hot dog, is always accompanied by a vegetable and fruit. Turkey, cheese and PB&J are always on hand as substitutes.
For children preferring to bring their own lunch, the camp will keep them refrigerated until meal time. Snacks and drinks are also provided. The staff is sensitive to kids with food allergies, taking great pains to keep all campers safe.
Though lunchtime may be some kids' favorite time of day, there are tons of activities to help them work up an appetite. There are many sports venues to choose from, including 10 basketball courts, a street hockey court, soccer fields, tennis courts, an archery range, a ropes course and five ga-ga courts.
Great Times even offers pony rides for kids up to 8 years old for no additional charge. There are plenty of water activities, includ­ing swimming lessons, two water park areas and a 25-acre lake for boating, fishing and tubing. For the more adventurous campers, one- and two-night campouts are offered to give kids the opportunity to have a bonfire and sleep overnight in a wooded camp environment.
For those more into the arts, an air-conditioned arts and crafts space is popular on hot and humid days. A creativity program allows campers to star in a talent show led by a teacher with 20 years' experience teach­ing high school music. An extensive arts and crafts program encourages kids' creativity, and cooking classes allow them to explore in the kitchen. A treehouse encourages nature study.
Kids in fifth grade and above can choose the activities they prefer, designing the perfect camp day for themselves. Campers also take part in weekly field trips to movies, bowling, Pump It Up and the skating rink. "Our trip schedule reinforces that learning experience that they get during the summer, keeping their minds fresh and active," suggests Kernan. "That's an important part of what camp offers."
A Family Tradition
Great Times takes great pride in watching families grow, as siblings come to camp for many years. "There are counselors here now who were campers, graduated college and became teachers," says Kernan. "Parents know their children are well taken care of and safe all day. They know they'll be well-fed, enjoy swimming and have fun."
Parents have peace of mind knowing that they can drop by to watch their kids in action. During the summer, Great Times Day Camp has an open door policy where parents may visit their children at any time. Yet, all visitors are supervised to ensure camper safety.
"The most important thing that keeps us coming back is the comfort we get knowing that they are a family-owned business and the friendly, constant family faces," concludes Friedman.
For more information, call (609) 567-2166 or visit GreatTimesDayCamp.com.
Published (and copyrighted) in Suburban Family Magazine, Volume 2, Issue 2 (April, 2011).
For more info on Suburban Family, click here.
For information about advertising in Suburban Family, click here.
To find out where to pick up your copy of Suburban Family, click here.