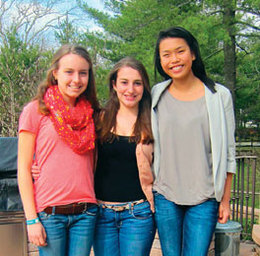 Star Citizens: April, 2011
Allison Kaye, Amanda Zajac and Amanda Wu
, Moorestown
Moorestown High School sophomores Zajac, (left), and Kaye, along with junior Wu are bringing attention to the issue of global warming by spearheading the project "Lights Out in Moorestown." The students are asking residents to turn off their lights on May 14 from 7-8 p.m., in order to save energy and positively effect the environment.
Amanda Merovitz, Cherry Hill
First-grade Woodcrest Elementary School student Amanda Merovitz recently donated 10 inches of her hair to Locks of Love. Merovitz, along with her mother Melissa, has also been designing rhinestone shirts to raise money so that the organization can make wigs. The pair raised $1,000, the cost of one wig.
Cassidy Forlenza, Jessica Haya and Lauren Trunfio, Cherry Hill
The fifth-grade class at Bret Harte Elementary School decided to help the Voorhees Animal Orphanage for their yearly service project. Teaming up with Brownie Troop 30053, the students gathered towels, sheets, blankets, food, treats, cleaning products, toys and money to donate to the orphanage. Forlenza, Trunfio and Haya, (from left), personally delivered the donations.
Caitlin Knight, Voorhees
After being diagnosed with Juvenile Rheumatoid Arthritis at the age of 6, Voorhees Middle School seventh-grade student Caitlin Knight joined the volunteer efforts at the Arthritis Foundation. At the foundation's 2011 Advocacy Summit in Washington, D.C., Knight joined 350 other advocates and spoke with both New Jersey Senators and local Congressmen about the disease. Due to Knight's efforts, Rep. Robert Andrews agreed to join a newly established arthritis caucus.
Bobby Briggs, Mount Laurel
Eleventh-grade student Bobby Briggs was honored as one of Lenape High School's March students of the month. Briggs helped Holiday Village residents clean off their cars and shovel driveways and sidewalks during a snowstorm. Briggs is also a member of the National Honor Society and Students Against Destructive Decisions.
Fred Vassallo, Medford
Fred Vassallo, a professional hip-hop dancer and instructor, came back to his hometown of Medford and spent two days teaching dance to the students at the Haines Sixth Grade Center. Vassallo brings the The Hip Heart Program to schools nationwide, with a mission to combat childhood obesity through dance.
Payton Anderson, Gemma Miller, Sabrina Miller, Kirsten Regan, Caitlin Regan and Tylin Regan, Haddonfield
The third-grade Central Elementary School students wanted to give back, so they spent the day knitting 50 headbands for patients battling cancer at the Children's Hospital of Pennsylvania. The girls personally delivered their donations to the Hematology/Oncology outpatient clinic in Voorhees Township.
Nicholas Fuzer, Mount Laurel
Lenape High School senior Nicholas Fuzer wanted to help combat White Nose Syndrome, which wakes bats from hibernation, causing fatigue and leading to death. For his Eagle Scout merit badge project, Fuzer built 60 bat houses, which hold 80 bats each. Twenty were placed along the Rancocas Creek and 40 were donated to the Conserve Wildlife Foundation of New Jersey.
Hannah Kahn, Cherry Hill
After being diagnosed with a rare heart condition in first grade, Hannah Kahn, now 13, donated $1,000 from her Bat Mitzvah gifts to help purchase an automated external defibrillator for Croft Farms Art Center in Cherry Hill for emergency safety. Mayor Bernie Platt honored Kahn with a proclamation at the dedication ceremony.
Stuart Platt, Voorhees
After 10 years of dedication to Holocaust education in the state of New Jersey, Voorhees resident Stuart Platt has been appointed to the State of New Jersey Commission on Holocaust Education. The commission works through the Department of Education in assisting schools with aspects of Holocaust and genocide education.
Cameron Pendino, Kyle Thumar, and Nikhil Thumar, Moorestown
Seventh-grade William Allen Middle School student Nikhil Thumar and Moorestown High School ninth-grade students Kyle Thumar and Cameron Pendino led the South Jersey Boys Read program, for boys in first and second grade, at the Moorestown Library. The students introduced the book Robert Zot by Jon Scieszka and organized crafts and activities surrounding the book.
Lauren Talvacchio, Washington Township
Twenty-two-year-old Chestnut Ridge Middle School graduate Lauren Talvacchio returned to her middle school to share her story with band and chorus students. Talvacchio, the reigning "Miss Atlantic Shores," was diagnosed with Crohn's disease, and shared how that battle did not stop her from pursuing her dream of studying music.
Published (and copyrighted) in Suburban Family Magazine, Volume 2, Issue 2 (April, 2011).
For more info on Suburban Family, click here.
For information about advertising in Suburban Family, click here.
To find out where to pick up your copy of Suburban Family, click here.