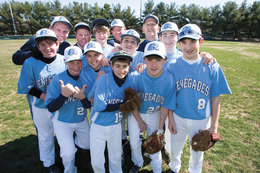 Spring Into Action
Meet South Jersey's teams to watch in our annual spring sports review.
Jeff Holman once had a second-place boys' tennis team in the Colonial Conference. That was in 1978, the year he became the head boys' coach at Haddonfield Memorial High School. Now, entering his 34th year with the program, Holman hasn't seen second place since. As a matter of fact, the only view he's had has been from the top of the standings.
Not only have the Bulldawgs won outright or shared 32 straight conference championships, they also can boast eight consecutive South Jersey titles. And despite losing several key players from last year's team—which went 25-6 overall and 14-0 in the Colonial—they expect more of the same in 2011, if not more.
"I don't know if I mention that we've won a certain number of conference titles or a certain number of sectional titles," says Holman of his new squad, which includes three returning varsity players and two freshmen.
"Our ultimate goal is always to win the state title. That's something our girls have done with more consistency lately than our boys have.
Our boys have not won a state title since 1994, so it's been a somewhat long time since we've been able to reach that ultimate goal. I'm hoping that maybe this is a team that can contend."
Holman's squad is not the only local team with great expectations heading into the scholastic spring season. From the premier softball teams at Washington Township and Eastern to the talented Lenape baseball team, the stacked boys' volleyball teams at Cherry Hill High School East and Moorestown to the promising girls' track team at Cherokee, the area is primed for another exciting year.
Following is a look at 10 of the most intriguing area teams to keep an eye on this spring.
Eastern Regional High School Softball
After leading the Vikings to the South Jersey Group 4 championship and an appearance in the state final last spring, coach Jamie McGroarty announced his resignation. He changed his mind over the summer, and it's easy to see why. Despite losing ace pitcher Sam Lemm to graduation, Eastern returns a number of key players from last year, including junior catcher Gen Gaynor, sophomore second baseman Madison Tiernan and junior outfielder Cherelle Chambers.
"Our catcher is a very good defensive catcher and her offensive game is coming around," McGroarty says. "She allows us to kind of keep teams at bay as far as running, because she's very good defensively and she has a very good arm. It helps that teams can't really run on us, and that's probably our biggest strength—we have so many kids that can fly. We put a lot of pressure on defenses and we're very aggressive."
Stepping in as the new No. 1 pitcher is junior Steph Vuono, the Vikings' shortstop a year ago.
"I don't know if we can make a run again —everything fell perfect for us [last year]," McGroarty says. "We're better in a lot of positions, but pitching is 99.9 percent of the game. We have a good one—if [Vuono] can step up and do close to what Sam [Lemm] did last year, we should be good."
Shawnee High School Girls' Lacrosse
The Renegades, a perennial power in the area, are coming off a tremendous season in which they went 20-2 and won the South Jersey Group 3 championship with a 7-6 upset over Moorestown. That victory snapped the Quakers' nearly 11-year win streak against South Jersey opponents. Shawnee went unbeaten in the Olympic Conference Patriot Division and advanced to the Group 3 state final before losing to Mendham. All-South Jersey junior attack Nicole Troost leads a terrific group of returning players after scoring 73 goals as a sophomore. Five other players who scored at least 30 goals in 2010 also return to the program.
Lenape High School Boys' Tennis
Despite losing two-time South Jersey Player of the Year Nikola Kocovic to graduation, the Indians are primed to make a run at their third straight South Jersey Group 4 championship. They're also hoping to win the first state title in school history after falling in the final last year. Replacing Kocovic in the No. 1 singles spot will most likely be senior Mike Humes, who went 38-2 at second singles last year and is 94-15 for his career. Head coach Tony Guerrera reports that Humes "should compete for an individual state title" after finishing ninth and 17th, respectively, the last two seasons. Seniors Mike Sha and Marc Reynaud and junior Dan Sha are other key players to watch in 2011.
Lenape High School Baseball
Included in the Indians' impressive 23-5 season from 2010 were championships in the Olympic Conference American Division and the Diamond Classic. While several top players graduated from that team, senior pitcher Jeff McGarry and senior shortstop Stefan Kancylarz— both All-South Jersey selections—are back to lead a young team. "We're a little bit untested, but we're hungry," Lenape coach Phil Fiore says. "We want to do at least as good or better than we did last year. It's gonna be difficult, but I think the kids are up to the task."
Fiore says filling out the pitching staff behind McGarry will be the biggest challenge for Lenape. If the Indians are successful, competing for a sectional title is a realistic goal. "I wish we could win that Group 4 title, that would be nice," Fiore says. "Before I stop coaching I'd like to win that Group 4 title and maybe even a state championship."
Moorestown High School Boys' Volleyball
The Quakers had a down year—by the standards of their program—by going 11-9 overall and 7-2 in the Olympic Conference Patriot Division last season. But they did win a playoff match before losing to eventual Tournament of Champions winner Southern Regional, and that experience should pay dividends in 2011 as they look to unseat Clearview atop the division standings.
Washington Township High School Softball
After posting a 17-10 record in 2010 and advancing to the South Jersey Group 4 semifinals, the Minutemaids will look to go even further behind senior pitcher Alissa Schoelkopf, (pictured). As a junior, Schoelkopf went 14-9 with a 0.90 ERA and 215 strikeouts. Veteran coach Tracy Burkhart hopes that an improved offense, combined with the Minutemaids' star pitcher, will lead to big things in 2011.
Cherry Hill High School East Golf
The Cougars have high hopes after finishing 17-2 overall and 12-1 in the Olympic Conference American Division last year. Junior Vince Kwon enjoyed a breakout season in 2010 and will look to continue his rise this year. Last season, Kwon finished second in the Camden County Tournament and tied for fifth in South Jersey Group 4.
Haddonfield Memorial High School Boys' Tennis
Holman may have lost four of his top seven players from last year, but with the tradition he's built at Haddonfield, the Bulldawgs can be expected to contend for several championships once again. Juniors Matt Godlewski, Luke Grabiak and Sean Campbell are standout returning players, while freshmen Max Oberholtzer and Isaac Anderson are also expected to be key players. Oberholtzer has already won the first singles spot.
"He's very committed to the sport: he's one of these kids who plays throughout the year," Holman says of Oberholtzer. "He's not the world's biggest or strongest kid right now—he'll obviously get bigger and stronger. But he's a very consistent player, he has a very good tennis mind. Both his father and grandfather are very accomplished players, so he has the advantage of coming from a tennis family. With that background, he's tennis-wise beyond his years."
Even with a potential star in Oberholtzer, Holman thinks the Bulldawgs will keep on winning the same way they always do—with contributions up and down the lineup.
"We've been successful more with depth than by having superstar players," he says. "It's very unusual that someone comes in as a No. 1 kid as a freshman. We usually have kids that work their way up, and we rely on the depth of the program. Only by having a strong JV can we develop those players that become the depth of the team in future years."
Cherry Hill High School East Boys' Volleyball
Repeating a magical 2010 season—when the Cougars went 23-3, set a school record for wins and went undefeated against South Jersey competition—will be a tall order. It helps that they return senior Eric Zaun, the reigning South Jersey Player of the Year. The outside hitter is coming off a season in which he recorded 308 kills, 52 aces and 52 blocks—numbers that are even more impressive when you consider that Cherry Hill East played the maximum three games in just two matches all year. The Cougars will be hungry to return to the sectional final after losing a heartbreaker to Southern last year.
Cherokee High School Girls' Track
The Chiefs have the largest turnout in head coach Mark Jarvis' eight seasons as they look to build on a 4-1 season in dual meets from a year ago. Cherokee finished second to Lenape in the Olympic Conference American Division in 2010. Two important returnees for Jarvis are senior Melissa Lake, who took second in South Jersey Group 4 in the javelin, and sophomore Jessica Woodard, who placed fourth in South Jersey Group 4 in the shot put. Both throwers qualified for the Meet of Champions last year.
Competitive Kids
Area youth teams are ready to make their mark this spring.
Here are four teams poised for success.
The Medford Renegades (pictured), a travel baseball team made up of eighth- graders, play in the Tri-State Elite League, which consists of teams from New Jersey, Pennsylvania and Delaware. While many of their opponents pull players from multiple towns, the Renegades are all Medford residents. They reached the quarterfinals of their league playoffs last year—advancing further than any other town team—and won over 30 games on the season.
The Washington Township Minutemen, a 14-and-under travel baseball team, also play in the Tri-State Elite League. The Minutemen played in the Babe Ruth World Series in 2006 under head coach Dan Barbara, who is returning to the team this season after a one-year absence. Last season, the Minutemen were district champions and reached the state semifinals.
The Cherry Hill National Little League softball program, which began in 2001, has had a fine showing in the postseason over the last several years. Among the highlights were five straight District 13 championships for the Junior League team from 2004-2008. Perhaps the biggest accomplishment belongs to Cherry Hill National's Senior League team, which won District 13 in 2009 and went on to become state champions.
The Marlton Thunder softball program—which fields nine teams from under-8-years-old to under-18—enjoyed tremendous success in 2010 at all of its levels and this season figures to bring more of the same. Last year, the Thunder sent three teams to nationals in addition to crowning 11 first-place finishers in various tournaments.–M.C.
Published (and copyrighted) in Suburban Family Magazine, Volume 2, Issue 2 (April, 2011).
For more info on Suburban Family, click here.
For information about advertising in Suburban Family, click here.
To find out where to pick up your copy of Suburban Family, click here.