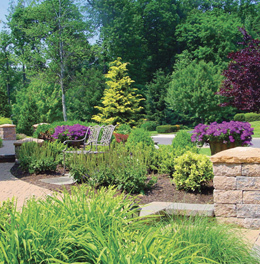 Young's Landscape Management
Creating living spaces without walls
An outdoor kitchen with dual-burner grill and wet bar. An oversize tiered terrace for adult conversation and teenager-friendly fetes. An elaborate entertainment area and a whimsical play structure. Outdoor living environments can be many different things, but the best outdoor spaces share one thing in common: they are all natural extensions of a home. "At Young's, we view a home's exterior as a living space without walls," says Steve Katz, licensed landscape architect and designer with Young's Landscape Management, a full-service firm specializing in all aspects of landscaping, hardscaping and lawn care.
For nearly 20 years, Young's high-quality craftsmen and professional design team have been creating landscapes blending lush, colorful plantings with man-made hardscapes, accent lighting and water features. "There are certain 'must have's homeowners seem to gravitate towards when creating an outdoor living area," Katz adds. "The key is to design something functional yet unique: a setting that blends well within the environment, style and taste of the home."
What's hot
At the top of the list is the outdoor kitchen. No longer simply a standalone barbecue for summer, this area has evolved into a full-fledged culinary hub with a number of components that offer year-round use. Grills are available in all shapes and sizes with various amenities, including traditional burners and even rotisseries. There are searing areas, built-in smokers and warming trays.
So that outdoor cooks no longer need to run in and out of the home, many outdoor kitchens have a refrigerator as well as storage areas, so all the ingredients and utensils are within arm's reach. A wet bar is also a popular feature, and a plus for entertaining family and friends. To extend the kitchen's use beyond the warmer months, outdoor heaters and lighting are often considered in the design.
Katz says, "As with interior kitchens, we have clearly seen a trend in the use of granite and other stone. Our goal is to blend man-made elements and fixtures with the natural landscape, creating a sculptured setting that is both beautiful and functional."
A second key fixture is the outdoor living space. The once-boxlike patio has now grown in size and scope. It is home to sitting and eating areas, including larger gathering spaces and intimate, quiet nooks. From furniture to fire pits, the design options are endless.
"We introduce intricate shapes and topography into the terrace design, creating levels to provide a separation similar to that within a home," explains Katz. "A place for adults to converse and another for teens to dance."
It's playtime
Kids love to play, and play structures remain a backyard standard for families. Available in a variety of configurations, these outdoor playrooms often combine swing sets, slides and climbing walls. Other fun features can include forts, sandboxes and monkey bars.
Yet, it is not only children who enjoy playtime at home. At Young's, the designers have an ideal solution. "Our Y-Turf division specializes in fun with the installation of revolutionary synthetic turf to create an entertainment or sporting environment right in the backyard," says Katz. "A putting green, bocce court and ultimate playground area are possible."
For golfers, synthetic turf provides authentic golf greens with unparalleled quality, durability and performance regardless of the season. The nylon turf can be customized to fit a home's backyard, and offers putting speeds of up to 11 on the stimp meter. For those looking for something more, Y-Turf will design and install a short game practice area with EZTee®—one of the most authentic and highly sought after synthetic hitting surfaces available today.
"Y-Turf installed a synthetic putting green and practice area at my home about two years ago," says Brian Bohling of Moorestown. "The convenience has enabled me to improve my game and added a real boost in confidence. And, my family enjoys it, too!" Far from the fake-looking sports turf of years past, today's synthetic yard surfaces offer a safe, beautiful alternative to the constant upkeep of lawns. Modern synthetic turf is lush, vibrant and lifelike, with a fresh cut appearance and soft, pleasing feel. It is virtually maintenance free, requiring no water, fertilizers, mowing or weeding to retain its pristine appearance.
Subtle details make a difference
Within an outdoor living environment, the smallest details create uniqueness, so no two homes look the same. The use of artistic lighting to accentuate highlights and ensure safety, blended with ponds, waterfalls and fountains, can bring the entire scene to life.
"I find that even the most simple of water features provide a sense of serenity," Katz says. "Whether it is an elaborate waterfall or a small prefabricated ceramic fixture in the shape of a vase or globe, the quiet trickling sound and peaceful flow has a calming effect."
He adds, "To further set the mood, low-voltage lighting is a popular trend. We evaluate the landscape setting and views from inside and out, to create just the right accents." Any landscaping and hardscaping project should begin with a detailed discussion about the homeowners' goals and expectations. It should also involve an exploration of the current environment and a discussion of the client's lifestyle and motivation for the project.
Ideally, the meeting will take place at your home in order to view the current environment and see first-hand the area for enhancement. Details regarding character, trends and lifestyle, as well as your likes and dislikes, must be part of the conversation. In short, consideration is given to every aspect, from the big picture to the finest detail.
"At Young's, we become a partner in creating outdoor living spaces and help homeowners protect their investments with various products, services and advice for years to come," Katz says. "I think Dan Young, our owner, says it best: 'Coming home should be the best part of your day.'"
With locations in Moorestown and Lumberton, Young's professional team regularly offers consultations at clients' homes throughout South Jersey. For more information or to take the first step in the planning process, call (609) 654-5441 or visit YoungsLandscape.com.
Published (and copyrighted) in Suburban Family Magazine, Volume 2, Issue 1 (March, 2011).
For more info on Suburban Family, click here.
For information about advertising in Suburban Family, click here.
To find out where to pick up your copy of Suburban Family, click here.