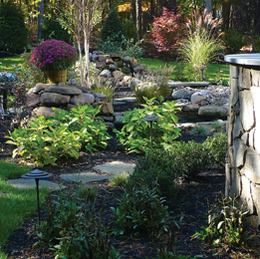 Elite Landscaping
The Look of the Landscape
It's been another rough winter—especially on your landscaping. Snowstorms have blown through this year, leaving behind downed trees, broken branches, ruined shrubs and unsightly yard debris. With spring almost here, it's time for homeowners to not only embark on an annual cleanup, but also to enhance the existing landscaping, adding new features like paver patios, elegant water features or even a whole new redesign.
Whatever the project, Elite Landscaping, an award-winning design/build company, has a solution. Located in Berlin, it operates year-round, offering many residential and commercial services. These include weekly and seasonal plant care and maintenance, custom landscape designs and installations of any size, irrigation and nightscaping and commercial services to offices, municipalities and homeowners' associations. "We have a full staff of landscape professionals that can handle any type of outdoor project,
delivering it on time and on budget," says owner Dave Feast. Regardless of a project's scope, Elite's friendly, knowledgeable and professional staff always employs what Feast calls the "Grandscape Process."
That process includes:
Pre-Planning: Elite will customize a landscape design/project and give you a written proposed budget, description of work and written contract for you to review. "The first thing you need to do is decide what type and size of a project you are planning, and whether to do everything all at once or break it up into phases," Feast says.
Preliminary Design: Elite's professionals will take an inventory, analyze your site, determine all the environmental conditions and recognize how they can best be utilized for your desired landscape project. Homeowners are then presented with a conceptual plan and construction costs for their re­view and approval.
Final Design and Installation: Details are added to the conceptual plan and materials are se­lected for installation. "We want to know what the homeowner envisions for his or her outdoor environment," Feast says. "For ex­ample, you may love a certain type of plant, but your backyard is not conducive for that particular plant to thrive. Our clients' wish lists are often extensive… we can fulfill many of those wishes while educating the homeowner at the same time."
When looking to hire a professional landscape designer, experience is key. At Elite Landscaping, you get professional landscapers/designers who have been designing for more than 20 years. Feast re­quires that his employees become members of many prestigious trade organizations and take part in continuing education classes and certification programs to ensure they will be able to offer homeowners an advanced degree of skill and service.
In addition, the company is a Certified Home Improvement Contractor through the State of New Jersey Division of Consumer Affairs and employs a licensed pesticide applicator on-staff. It is also pleased to provide its clients with proof of liability insurance and workers' compensation. Elite Landscaping and its employees are also members of the Interlocking Concrete Pavement Institute, the National Concrete Masonry Association, the Irrigation Association of New Jersey and the New Jersey Turfgrass Association. "The assets in our company are not the trucks or the equipment," Feast says. "Our assets are our people. Elite has experienced, educated, trained people who care about their profession."
When Elite client Bryan Miller wanted to make some improvements to the front and back yards at his Lumberton home last summer, he called several landscaping companies to get estimates and information. For Miller, Elite Landscaping stood out above the rest. A landscape architect from Elite, Mike Pasquarello, met with Miller to go over his vision and create a master plan together.
"Elite really took the time to understand what my needs were," Miller says.
"Other guys, they wanted to sell me what they wanted to sell. With Elite, Mike was there with a notepad and pen, and said, 'Tell me what you want.'"
Together with Elite Landscaping, Miller designed a multi-phase plan for his property that began with a stone walkway from the street to his door, and included new flower beds and lighting that would accent key points of the property. Boulder steps were added in Miller's backyard to create a pathway, accented by more new plants, flowers and a stone retaining wall. Miller says the crew from Elite did the job right the first time, with no surprises.
"I am not one to brag about a service, but these guys were phenomenal," Miller says. "They always left the job site immaculate. They were there every single day—never an excuse. And Mike was at the job site at least twice a week. Everything was exactly as described."
Miller says his experience really stood out.
"I've had a lot of experience with contractors," Miller says. "If they were all as good as Elite, people would pay a premium for this kind of service—and be happy to do so."
Customers who choose to hire Elite Landscaping can always expect the highest in craftsmanship and materials," Feast states. "We carefully choose materials that are highly rated and tested to ensure a professional, finished product that we are proud of displaying."
The company is also at the forefront of local businesses in terms of its environmentally friendly landscaping practices. Elite's new Go Elite Green program provides organic fertilizers, rain harvesting/rain gardens, compost pit construction, the use of native plants and impervious paver installation.
Whether your project is residential or commercial, overall trust in the landscape company you hire is key. Your landscape is the first impression people see. You need to have faith in the experienced and professional company you choose. "I've had many of my clients tell me that the reason they selected Elite Land­scaping was the confidence they had in my company," says Feast. "Home-improvement projects can be stressful, but if you select the right professional landscape contractor, the only thing you'll need to worry about is finding time to enjoy the finished product."
Elite Landscaping is located at8 Pineview Avenue in Berlin, (856) 753-1944.
For more information, visit the company's website at EliteLandscaping.com.
Published (and copyrighted) in Suburban Family Magazine, Volume 2, Issue 1 (March, 2011).
For more info on Suburban Family, click here.
For information about advertising in Suburban Family, click here.
To find out where to pick up your copy of Suburban Family, click here.